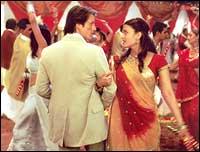 The beautiful bride got a bountiful dowry over the weekend. Never mind what the likes of The New York Times wrote, some 50,000 fans watching Bride & Prejudice on 32 screens in 15 cities were partly lured by Aishwarya Rai's appearances on 60 Minutes and Late Night with David Letterman -- not to forget a handful of solid reviews by major publications.
That's why Gurinder Chadha's film, which also happens to be Rai's first English language movie, grossed an impressive $388,000 in three days, with a terrific $12,125 screen average. It was the 19th highest-grossing film over the weekend.
It is not fair to compare the per screen average of a film in limited release to that of a film showing in over 3,500 theatres. But, for the record, Bride & Prejudice had the second-highest per screen average among the top 20, the leader of the pack being the Will Smith hit Hitch, with a $12,671 average. According to Boxofficeguru.com, the remaining films in the top 20 averaged below $4,000 each, and Bride was the only movie on the list playing in fewer than 350 theatres.
The movie was anything but beautiful to a few major critics. Ash Rai looks gorgeous, The New York Times conceded in its nasty review of Bride & Prejudice, but quickly added she was 'inert.' As for her co-star Martin Henderson, he is 'just inert.'
Talking of appearance, one or two reviewers wrote Henderson had GQ looks but just because he looks like a hunk who could be featured in that magazine does not mean he can act. He could not match Ash, many pointed out.
In New York Post reviewer Lou Lumenick pitted Chadha vs Mira Nair. 'Though nobody will mistake it for the real thing,' he wrote, 'Bride & Prejudice is the best attempt at adapting Bollywood style to Western tastes since Moulin Rouge. It may not be in the same league as Baz Luhrmann's film, but it's a lot more palatable than Mira Nair's disastrous Indian-inflected Vanity Fair. '
Though many reviewers were lured by Ash's looks, at least one thought there was someone more enchanting than Rai in the film.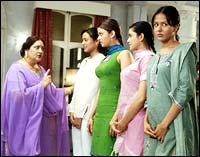 'But while Rai is getting all the attention -- she's been called the world's most beautiful woman by no less an authority than Julia Roberts -- I'm not sure she's prettier than (Namrata) Shirodkar,' wrote Jack Mathews in the Daily News. 'If Shirodkar placed fourth for Miss Universe in 1993, it must have been a great year,' he added.
Compared to reviews from major British publications, American reviewers were quite upbeat on the film, in fact some like Rolling Stone, Daily News in New York and Chicago Tribune were nearly ecstatic, giving the film three (out of four) stars. Even many publications like New York Post, faulting the film for plot holes, gave the film two and a half stars.
But Time magazine's Richard Corliss, who has deep affection for films such as Devdas, thought Chadha failed to bring the vibrancy of good Bollywood films to Hollywood. He also faulted Rai for not able to bring out the complexities of her part. She looked like a still picture, he wrote, not a vibrant actress.
Mathews called the movie 'irrepressible Bollywood romance' in Daily News. Newsday gave the movie two and a half stars.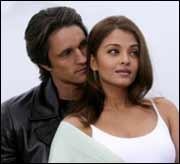 'I'm a hard sell for Bollywood films, those colourful, cornball family musicals produced by the bushel in Mumbai,' wrote Mathews, 'But this English-language entry was conceived as a crossover international film, and it largely succeeds. The lyrics for the musical numbers are delightfully clever, the dancing has an energetic, let's-put-on-a-show quality, and the movie is as gorgeous to look at as its cast.'
In the next weeks, the film will face crucial tests as it will add more screens and cities. In Britain, the film was given a massive launch and it grossed about $3 million in its first week on 376 screens and ended its run with more than $10 million.  
This weekend, the film played to packed houses in such top markets as New York, Los Angeles, San Francisco, Chicago, Dallas and Houston. Whether it could be a sleeper hit like Chadha's previous venture Bend It Like Beckham (that grossed a surprising $32 million in North America) will be known after a month.
But it would be impressive even if Bride & Prejudice were to make half that money. The film, which cost about $8 million, has nearly recouped its negative cost, thanks to the gross from a handful of countries including Britain, South Africa, Italy and India.