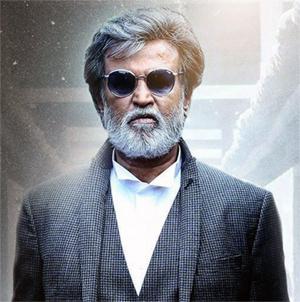 With just a week for the release of Rajinikanth's Kabali, the makers are going all out to cash in on the superstar's popularity.
From planes to telecom companies to T-shirts, mobile cases, coffee mugs and innovative posters, Brand Rajinikanth is spreading like wildfire.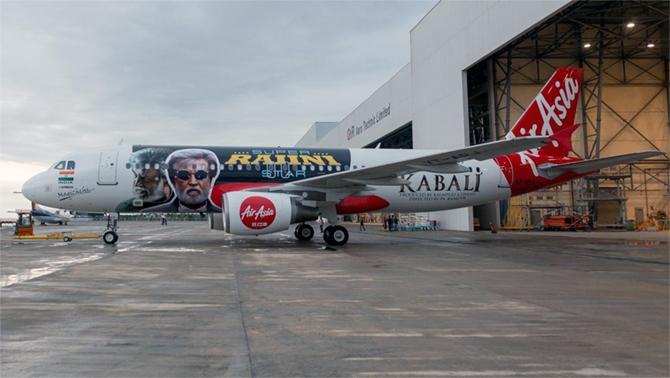 One of the first to announce an association with Kabali was AirAsia, the low-cost Malaysian airline, who will ferry fans from Bengaluru to Chennai to catch the premier show on the day of release -- July 22.
The special flight already has Rajinikanth's image from the film.
Priced at Rs 7,860, the package will be inclusive of the flight ticket, movie ticket, an audio CD, breakfast, lunch and other Kabali merchandise.
Bharti Airtel, the telecom company, who had partnered with the makers of Rajinikanth's Kochadaiiyaan in 2014, have joined this race to capitalise on Rajini mania.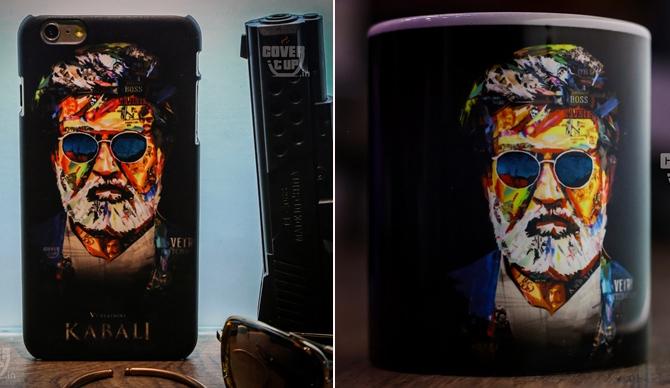 Airtel has launched Kabali recharge packs with unlimited 2G internet, Kabali Hello Tunes and Kabali branded SIM cards.
Fans can also use the exclusive SMS channel to wish the superstar. This is being publicised as the 'Wish Rajini' campaign. George Mathen, Hub CEO, Kerala & Tamil Nadu, says all the messages will be compiled and presented to Rajinikanth as a coffee table book.
Airtel also plans a 3D holographic Airtel Kabali van that will traverse Tamil Nadu, continually running the movie teaser and exclusive bytes from the cast.
The plan is to keep the van going for about a month to promote the film and Airtel's new services.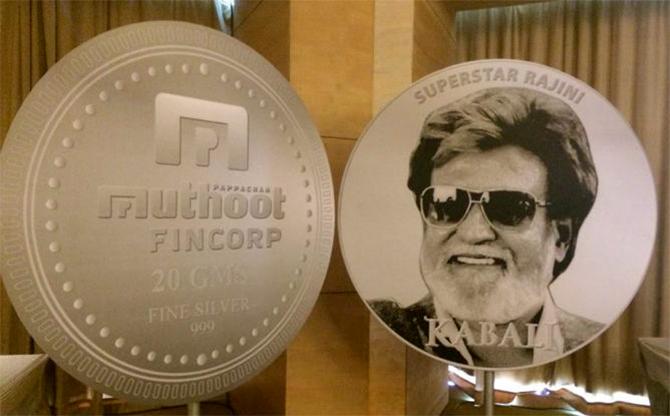 Also joining the bandwagon is the Kerala-based Muthoot Fincorp, which has launched silver coins with an embossed image of the actor that will be available at all its branches across the country.
The coins are available in varying weights of 5g, 10g and 20g and also as pendants, which are priced at Rs 1,400.
For those, who are looking for something more easy on the pockets, there are mobile cases, coffee mugs and posters with the image of the Thalaiva.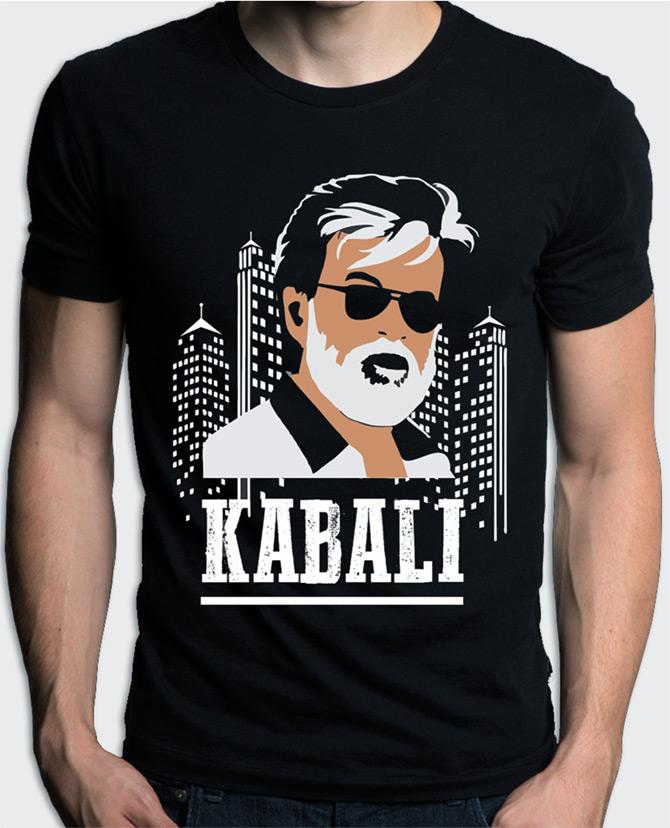 Cover It Up, a mobile accessories platform, offers Kabali cases and skins for mobiles of all models. Its team has created special images of Rajinikanth that will be available on mobile cases, coffee mugs, T shirts and posters in prices ranging from Rs 249 to Rs 499.
For foodies, the Kollywood Cafe in Coimbatore offers special dining surrounded by posters of Rajinikanth in various avatars, not to forget his innumerable punch dialogues.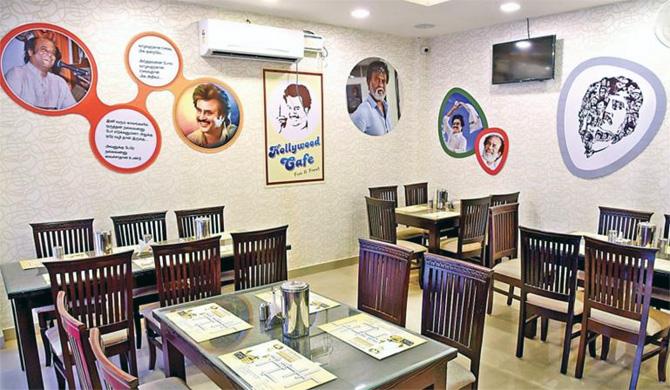 Dedicated to the superstar, the cafe also engages its customers with crossword puzzles based on his life and career offering special gifts to winners in addition to a selfie with a six feet Kabali picture at the cafe.
Cadbury is promoting its popular '5 Star' chocolates as 'Superstar's Five Star', while Amazon has key chains, portraits and wax statues of Rajinikanth on sale.
And if all this isn't enough, Puducherry Lieutenant Governor Kiran Bedi recently announced on Twitter that free tickets to the film would be provided for all those who make use of the public services provided by the government.
This ingenious plan was to help put an end to the menace of open defecation as part of the Swachh Bharat Abhiyan scheme.
In a first, Rajinikanth's Kabali also has a healthcare partner: The newly inaugurated VS hospitals at Chennai have tied up with the film to promote socially responsible healthcare initiatives.
The release date is drawing closer and more Kabali merchandise from China is expected to flood the markets with something for everyone, who wants a part of this frenzy to show their love and adoration for the man who has kept them entertained with his inimitable style and spirit for over four decades -- the one and only superstar Rajinikanth!