The Hollywood superstar and the Bollywood superstar are probably planning a film together, discovers Subhash K Jha.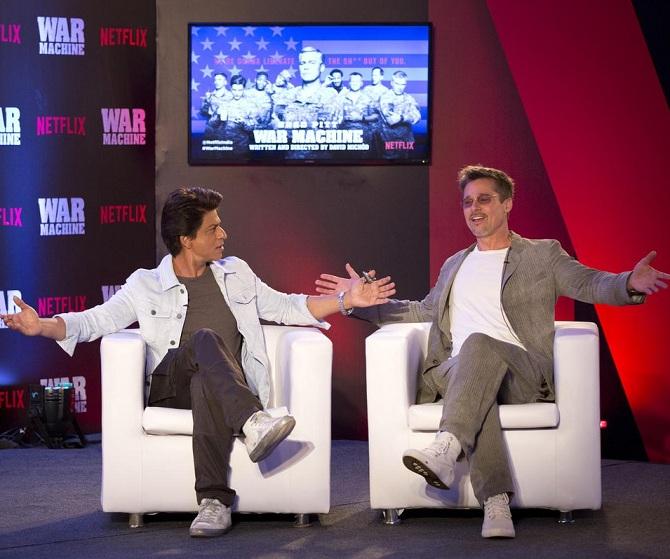 IMAGE: Shah Rukh Khan, left, convinces Brad Pitt, right, to try his signature step. They also discussed the changing nature of cinema. Photograph: Kind courtesy @NetflixIndia/Twitter
It's just as we thought. There's more to Brad Pitt's sudden visit to Mumbai than the promotion of his Netflix original film War Machine.
Sources close to the development confirm that Pitt and Shah Rukh Khan are planning to come together for a film project.
Pitt, a source tells Rediff.com, apparently specially asked for face time with Khan: "India/Mumbai was not even on Brad's promotional map for the promotion of War Machine. He decided to come to Mumbai at the last minute and only on condition that Khan play the unofficial host."
"From what we've gathered so far," the source added, "they are definitely looking at collaborating over a film. It would be a joint production. Both Shah Rukh and Brad are keen to produce out-of-the-box films, not necessarily starring them. And the film they will co-produce will definitely not be typical Bollywood nor mainstream Hollywood."
The two actor-producers -- while SRK owns Red Chillies Entertainments, Pitt's productions include the Oscar-winning 12 Years a Slave and Moonlight -- had discussed their cinematic sensibilities and the need to adapt and stay relevant at an exclusive chat session in Mumbai last week.
Among other things, Khan was vocal about the need for Bollywood to rethink its attitude towards screenplay, writing, and technology if it wanted to stop Hollywood from taking away even more of its market share.
Pitt, who is not too familiar with Indian cinema, is keen to access Khan's know-how of the workings of mainstream Bollywood, the source said.
"The idea to collaborate over a film came from their opposition of ideology regarding cinematic entertainment," the source said, citing Pitt's fascination with Bollywood's signature song-and-dance routines and Khan's opposing view.
"Shah Rukh told Brad that he finds song-and-dance routines to be quite a nuisance and a speed breaker in the Bollywood narrative."
It helps, says the source, that the two superstars also hit it off from the word go.
Pitt apparently loved meeting Khan's family. "Shah Rukh's kids are big Brad fans. They got along like a house on fire."