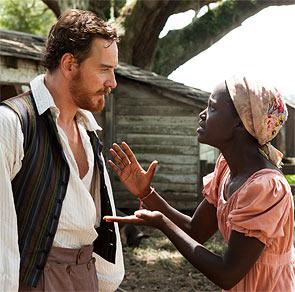 Arthur J Pais analyses Oscar 2014 big wins and losses.

For months now, audiences have been watching the riveting 12 Years a Slave with palpitating hearts and seething emotions at America's shame, and applauding warmly at the triumph of Solomon Northup.

A gifted musician and a free black man Northup was kidnapped from the North and sold into slavery in the South in the 19th century.

This week, the film triumphed at the Oscars too, winning the Best Film award over other critically acclaimed and far more successful films such as Gravity and American Hustle.

In a way, survival was the theme for three major award winners this year.

12 Years a Slave is more than an ode to survival; it is a film about hoping to live in dignity and with human rights.

The space thriller Gravity, which won for Best Director, is also a survival drama.

And Dallas Buyers Club, the small budget ($7 million) film which fetched an Oscar for best actor for Matthew McConaughey and best supporting actor for Jared Leto, is also in a way a survival drama.

McConaughey plays Ron Woodroof, a real life homophobic, rodeo-loving Texan who gets AIDS and becomes an unlikely saviour for gay patients and drug addicts.

Woodroof fought the US government during the early AIDS epidemic of the 1980s to provide patients with medicines he imported from foreign countries, ignoring the Federal Drug Administration ban on much of this medicine.

In one of the best received speeches, the 44-year-old a McConaughey, who got his first Oscar in a Hollywood career of some two decades, said: "First off, I want to thank God, because that's who I look up to... He's graced my life with opportunities that I know are not of my hand or any other human hand. He has shown me that it's a scientific fact that gratitude reciprocates."

Leto, who plays a transgender woman dying of AIDS, also received his first Oscar. He talked about those who have died of AIDS and been persecuted for their sexual orientation. He also mentioned the people of Venezuela and Ukraine, countries in turmoil.

Dallas Buyers Club which is at the end of its run in America, where it has made about $25 million, is yet to open in many countries. The Oscar win will surely boost its box-office.

As in the past decade, the big Oscar winners this year started their awards journey at the Toronto International Film Festival in September.

The long lines at the press screenings followed by strong cheering by audiences at public screenings created big Oscar nomination buzz for 12 Years as well as Gravity.

On the other hand, the much talked about Mandela biopic Long Walk to Freedom did not ignite much passion, either among the critics or the general public. The film is ending its North American run with a paltry $10 million.

12 years grossed $50 million in North America and $90 million worldwide. The three Oscar wins could mean an addition of at least $20 million to the kitty. It won for Best Supporting Actress (Lupita Nyong'o),
and Best Original Screenplay.
The film was made for just about $20 million (
Gravity
which took the best director's award and six technical awards in fields such as best editing and best sound mix, cost $100 million).
Lupita Nyong'o received one of the few standing ovations at the ceremony. She was born in Mexico, raised partly in Kenya and is now a resident of New York.
She is one of about half a dozen black artists to win the Oscar. "Every time I look down at this golden statue," the Yale University drama graduate said, fighting joyous tears, "may it remind me and every little child that no matter where you're from, your dreams are valid."
Unlike most black-themed films which make less money abroad than in America,
12 Years
directed by the British film maker Steve McQueen has become a sizeable hit abroad.
It was co-produced by actor Brad Pitt who plays the real life Good Samaritan in the film who helps a wronged man win his freedom after many years of slavery and reunite with his family in New York.
Gravity,
which has grossed $700 million worldwide and has almost ended its run in most parts of the world, could benefit enormously when it hits the home entertainment market in a few weeks.
The Alfonso Cuaron directed film brought the Mexican director his first Oscar following several nominations in the past decade in categories other than direction.
Cuaron won two Oscars -- for directing and co-editing. This is the first best director Oscar win for a Latin American talent.
It was Cuaron's first nomination in the director category; he had been nominated for the screenplays for
Children of Men
and the coming-of-age drama
Y Tu Mama Tambien
and he also landed an editing nomination for
Children of Men.
Cuaron profusely thanked Sandra Bullock who occupies most of the over two hours of screen time in
Gravity
and whose commitment to the film brought it money from Warner.
Bullock, who was nominated in the best actress category, lost to Cate Blanchett for
Blue Jasmine
. But Bullock is a big time winner in her own right.
According to
The Hollywood Reporter,
her deal with Warner could fetch her some $50 million in addition to the $20 million payment for her work.
Bullock's backend deal with Warner Bros calls for her to make 15 per cent of the studio's share of theatrical revenue and a cut from home video, TV and ancillary sources, the magazine said.
The animation film,
Frozen,
which is at the end of its run in most countries, and which will open soon in Japan, is the most successful of the major award winners.
The Disney film has just this week joined the $1 billion club worldwide. The winner of the best animation crown at the Oscars, it is also the most expensive of the award winners, with some $250 million production cost (and over $100 million spent on publicity).
It has joined a handful of Disney films, including
Alice in Wonderland
and
The Avengers,
in grabbing $1billion at the box office. It will be out on DVD and Blu-ray in a few weeks.
The film, which also took an Oscar for the best song of the year, could be one of the bestselling DVD and Blu-ray editions, pocketing over $250 million worldwide, with its Oscar wins certainly contributing to its popularity.