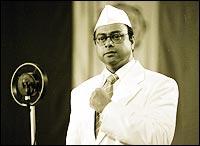 Sachin Khedekar is essaying the lead in Shyam Benegal's Bose: The Forgotten Hero and eagerly awaits the film's release on May 13. This actor of theatre, television, and cinema spoke to Amberish K Diwanji about acting, films, and life.

Why did you choose the Dinanath Mangeshkar Hall (in suburban Vile Parle, Mumbai)as the venue for this meeting?

I just thought it would be more comfortable. I shy away from coffee shops at five-star hotels because I feel whatever I am saying and my personality is not in sync with that location. I become too formal and then I have those fears that I might lie to the journalist just because I am in a plush place (laughs).
Anita Bose Pfaff on her father, Subhas Chandra Bose
What does the Dinanath Mangeshkar Hall mean to you?
It means a training ground for me. Whatever I have learnt as an actor and my discipline as an actor is only because of theatre. I worked in Marathi theatre for 20 years, starting around 1985, and I am used to my life in theatre.
There was a time when I didn't do theatre for six years when I was busy with television. That was a painful period for me because I felt I was acting without training. And I got all these wrong ideas that I know everything until I came back.

You have done theatre, television, and films. How do you compare them?

This is a clichéd question but I'll answer it anyway. I read this quote and I have said this in earlier interviews too though I can't remember whose quote it is. Film is a director's medium; television is by far a writer's medium; and theatre is an actor's medium. I have moved gradually from theatre to television to film. So I am kind of used to my pace of growth and the medium around me.

How much has this neighbourhood, Vile Parle, and Mumbai contributed to your growth as an actor?

I am belong to an extremely orthodox Marathi middle-class background. For three generations my family has been based here. Vile Parle is a very culturally aware kind of a place, filled with Maharashtrians and Gujaratis.
My school and college (education) were done here and the people here have seen me grow, so I am not looked at wide-eyed. People meet me here and tell me that a particular film was okay or outstanding, so there are always some people bringing me back to the ground.

How did you hear about the film on Bose?

I was doing a Gujarati film in Baroda (Vadodara). The cameraman was Rajan Kothari, whose next film was to be Bose. Kothari had worked with Shyam Benegal earlier in Zubeidaa. Screen tests for Bose were on and Rajan asked me to shave off my moustache and appear for the screen tests.
I was very uncomfortable with the idea of shaving off my moustache, for me it was my identity and personality. But I was also convinced of the opportunity and the mileage I'd get (of being a part of Bose). So I bought the book Mahanayak (a book on Netaji by Vishwas Patil) and I went to my friend Jagadish Mali, a photographer.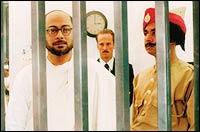 I told him to take my photograph made up as Netaji in his most famous shot (wearing a khaki military uniform) and take my photographs. Jagadish told me shave off my moustache to look the role. Then we went to a shop to rent the clothes of that period, and then, on a Sunday morning at 6 am, we went to the Asiatic Library (in south Mumbai, an area comprising Gothic buildings).
Bahadurdada, my makeup man and also my friend, philosopher and guide, prepared me and Jagadish clicked me in the entire getup. Kids were playing cricket and wondering what was this man all dressed up marching up and down!

And only because of those photographs that I get called for a screen test of Netaji. I look quite similar to Netaji. Benegal had met some 300 odd photographs, and 40 got called for screen tests, and then I got selected. After that, it was all preparation: English classes, putting on weight, shaving off my head, and the reads, of course.

You had to read a lot?

A lot. The script was written by Shyama Zaidi, Atul Tiwari and Shyam Benegal after about two years of extensive work. Mr Benegal had the subject in his mind for years and they had referred to so many books and the same were made available to me. The entire script was available to me, which is an extremely utopian condition on this side of the world. Actors rarely get the entire script before the filming starts and that makes a big difference. Also, all my life I have done roles that were fictional;
here, for the first time, I was playing a real character and a national hero. So there was an added responsibility.

My reading of the 20 odd books was really to understand the man inside out. But there was so much to read and so little time that I used to keep referring to the books during the shoots. When you are shooting, you are shooting key moments. So one shot is October 1942 and then you jump to December 1942. You know what had happened in November but as the script flows, you keep jumping time and thought, and all those thoughts have to be understood well. Mr Benegal told me that while he could technically tell me what to do, if I read the works carefully, I'd know what to do because I'd understand the person.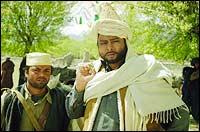 And finally, I had a great director who saw to it that I spoke like Netaji, and thought like him for two years.

Any thing about working with Benegal that comes to your mind?

The actor-director relationship that so many talk about is unique to everybody. In my case, he was my guide and philosopher. He is so senior and has been making films for 30 years and he is so knowledgeable about everything. Every time I sat around him I'd learn so much about making films, about history, about food, about life.

You said you read a lot about Netaji. What stuck you most about Netaji?

The most remarkable quality of Netaji was his most intense and genuine love for the motherland. I cannot explain it in words; every time you hear his speeches, or hear him talk, it was 'Apni ma' (My motherland). I have not seen so much strength in any man that he is moved only by his motherland and that everything he does is for his country and its freedom.

That is the purpose of making this film when you see the apathy of the youngsters towards the motherland today. This film means a lot for us who made the film to make people proud of their motherland. And that comes across strongly in this film.

Bose starts from the Haripura Congress session when he is expelled; his escape from Kolkata to Peshawar; the formation of the INA and the war. So the film is about the last five years, when he was on his own. He was alone and could create a force of 80,000, get funding for it.

Netaji was absolutely passionate about his motherland. He qualified for the Indian Civil Service, but came to India and told his father that he would not work for the British. So he joined the Congress and then was on his own.

Are you looking forward to the film's release?

Very much. But it is more. I looked forward to my past films. I am not sure what Sachin Khedekar gave the roles, but they gave me a lot; taught me a lot. And that experience never leaves you. That is the high of being an actor!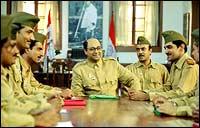 I am waiting for the release and keeping my fingers crossed.
There have been quite a few biopics of late. That is an interesting trend.

You know contemporary commercial film don't lead you anywhere, they are just for the sake of entertainment. Thus, I am impressed with (Sanjay Leela) Bhansali making a film on Mastani (called Bajirao Mastani) or Ashutosh Gowarikar making Akbar-Jodha.
In terms of filmmakers' passion, it would be a huge task to do such films. And these films are cerebral; otherwise you get no thought of what one watches. Entertainment cannot always just be sensory and I am waiting for that audience to develop again. I am not sure if it is actually happening but I do hope it does.

It pains me when I present myself to a producer and tell them I can do a good job but the producer tells me, 'But how do we sell you commercially?' That hurts and makes me wonder what I should do with myself.

What next?

I am a part of an Ashwini Chowdhury film called Fiskian, directed by Guddu Dhanoa, and also starring Neha Dhupia.

I am also doing a Rajan Kothari film.

Do you see yourself moving into direction soon?

I'd love to do that. I am not sure if I can, but I'd love to.