'We strongly object to this kind of intrusive and vulgar journalism.'
'You have to see what the family is going through to understand how much sensitivity they need in this hour of crisis.'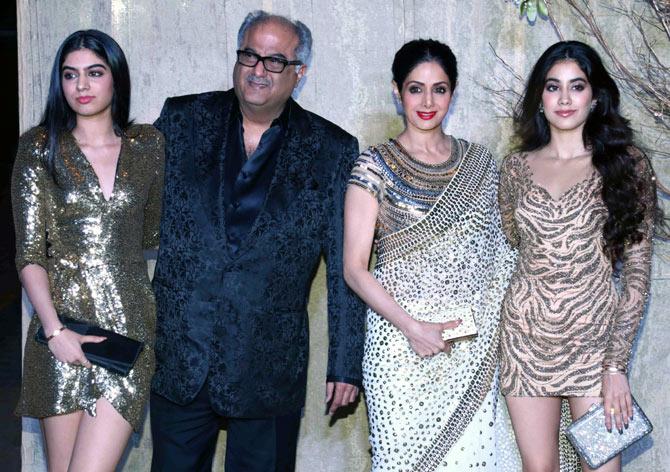 IMAGE: Khushi, Boney, Sridevi and Janhvi Kapoor at Manish Malhotra's birthday party. Photograph: Pradeep Bandekar
"I've just returned from the prayer meeting," says Hema Malini.
Film and common folk said their last goodbyes to Sridevi at the Celebration Sports Club in Andheri, north west Mumbai, on February 28.
"She was looking like a radiant, beautiful, bride. I almost felt like she was acting for a film and she would soon wake up..." Hema breaks off.
Hema has known Boney Kapoor and Sridevi for many years.
"He always advises me on what films to make and not make. As for Sridevi, we met very often. She was very close to me. Dharamji is also very fond of her."
"I don't know why I woke up at 2.30 am on February 24, and checked my phone. There was a barrage of messages telling me that Sridevi was no more. I prayed it was a prank, but it was not," she adds.
"The suffering that Boney's family has gone through. To first lose her and then to be subjected to that whole experience of getting her back to Mumbai from Dubai..."
"My God! Boney is shattered beyond the limits of grief," she continues.
"My heart reaches out to the two girls, Janhvi and Khushi. I am the mother of two daughters. I know what it means to have two teenage daughters growing up and not having a mother around," she says.
She is upset with the way the media has reported the tragedy.
"A section of the media has been extremely insensitive and brutal. At a time like this when the family is suffering so much, how can they be so cruel and mean?" Hema, who is the Bharatiya Janata Party MP from Mathura, asks.
"We, as a film fraternity, are one family and we strongly object to this kind of intrusive and vulgar journalism. You have to see what the family is going through to understand how much sensitivity they need in this hour of crisis," she adds.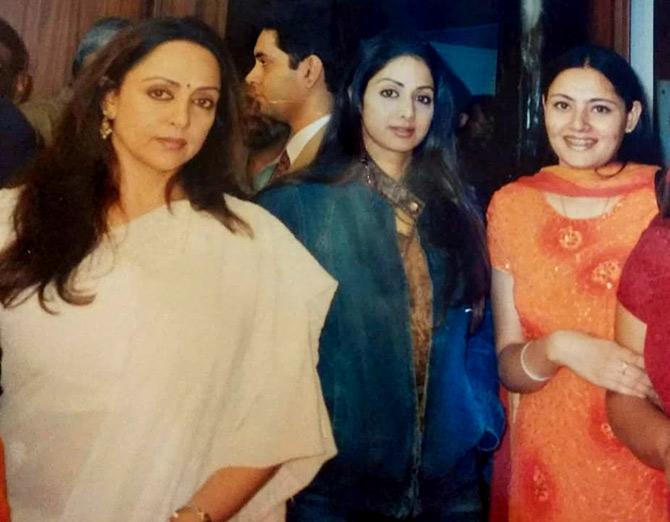 IMAGE: Hema Malini, Sridevi and Agnimitra Paul at a press meet to announce the launch of Koi Mere Dil Se Poochhe in 2001. Photograph: Kind courtesy Agnimitra Paul
"Dharamji is shattered," she says, "He has worked with Sridevi in a few films. He cried like a baby when he heard of her death. 'Aisa kaise ho sakta hai,' he kept asking. That's what we are all wondering. How can this happen?"
"There is a lesson to be learnt for all of us. Be kind to everyone. Live life truthfully and compassionately. And treat every day like the last day of your life."
***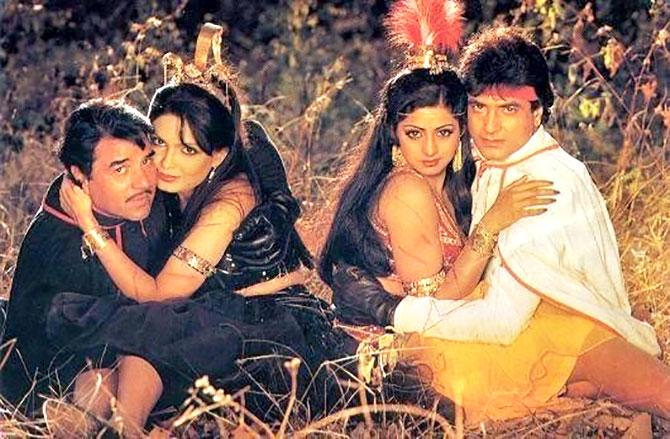 IMAGE: Dharmendra, Parveen Babi, Sridevi and Jeetendra in Jaani Dost.
'Her child-like laughter plays like a chime in my head'
"I am numbed. It's yet to sink in that she is no more with us," Tamil actress and politician Khushboo Sundar says.
"Most of us are still in denial mode. Gone too soon. The most beautiful actor who could put any hero to shame with her charm and talent."
"Warm and beautiful person from within. Her child-like laughter plays like a chime in my head."
"My heart goes out to her husband Boneyji and their two young daughters on the threshold of what the mother always dreamt about."
"As a woman, she will continue to inspire the millions, who have dreams in their eyes. She lived with dignity and commanded respect till the end."