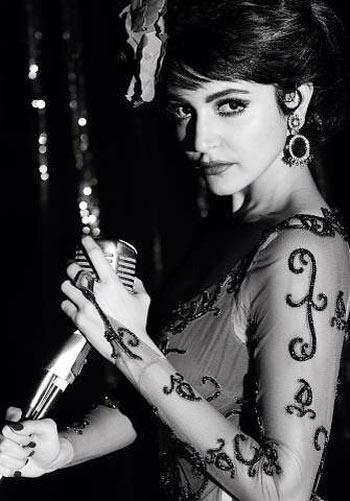 After years of verbally sparring with the Censor Board over various issues, Bombay Velvet director Anurag Kashyap has finally made peace with them, thanks to Censor Board chief Pahlaj Nihalani.

According to sources within the CBFC, Nihalani not only agreed to set up a revising committee for Kashyap's new film to prevent delays in its release, he also made suggestions to make cuts in a manner that the film would be accessible to audiences of all ages.

"Anurag Kashyap was very keen that his Bombay Velvet get a 'UA' certificate.

"But given the gritty content, including violent shootouts , abusive language and smooching scenes, the 'UA' certification seemed out of the question. But Pahlajji made suggestions for the cuts that were incorporated.

"The revision committee passed the film with a 'UA' certificate within no time," the source informs.

"The way a film is certified is an internal matter. I am shocked at how details of someone's film's certification along with cuts are leaked out in the public domain before a film is properly certified. Yes, Anurag's film was viewed by the revision committee and cleared within minutes," says a
rather dismayed Nihalani.
"Sorry to disappoint thrill-seekers , but the certification process was went smoothly. I also read in a section of the media that some censor board members were 'annoyed' by my intervention. Who are these sensitive souls suffering because I am doing my duty?," he asks.
"We are here to certify films according to individual requirements.
Bombay Velvet
contains violent content. But it can't be helped. It's a film about crime. We have allowed the violence. We advised a few cuts that made no difference to the narrative.
"Anurag seemed happy. If that makes some of my CBFC members unhappy then I suggest they look for drama in the films that they see and not in real life," Nihalani reacted to the reports that certain CBFC members were miffed with the
Bombay Velvet
certification.
Anurag Kashyap, who's had quite a few fierce face-offs over censor cuts in his films, admitted things went peacefully.
"The revising committee headed by Mr Pahlaj Nihalani gave us time and space to go back on the editing table and re-cut the material that was objectionable to a 'UA' certification. By doing so, we ensured that the film doesn't look brutalised by the censors and the narrative is not altered. I am thankful to the censor board for that," Anurag says.
Image: Anushka Sharma in Bombay Velvet