The steamiest kisses of the year, up close.
Gone are the days when Bollywood stars shied away from kissing or planted a blink-and-miss peck on their co-star's lips.
More importantly, it's not just Emraan Hashmi's forte any more.
From Shah Rukh Khan to Sunny Leone, silver screen has witnessed them all.
2014 wasn't too thrilling on the movie front but it surely left its mark with these super-steamy screen kisses.
Haider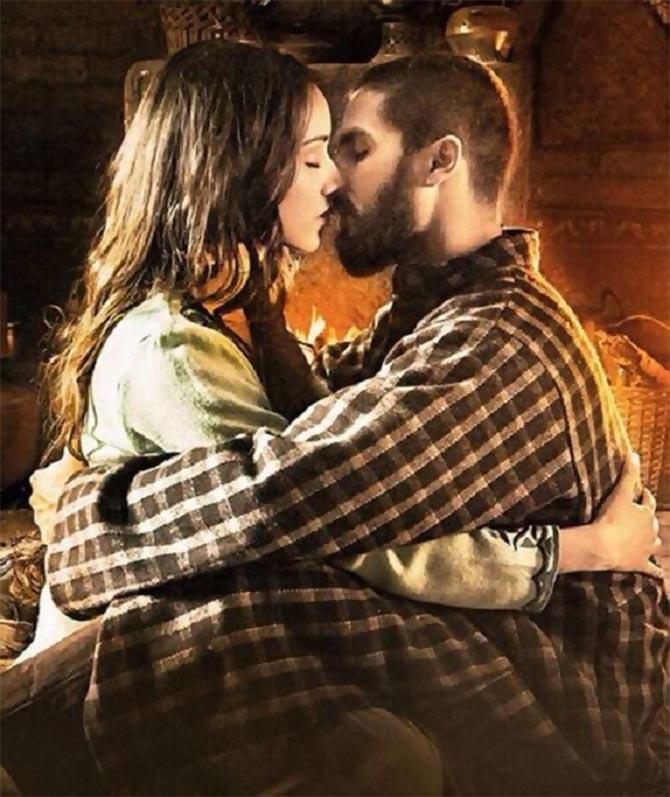 Image: Shraddha and Shahid Kapoor in Haider
Shahid Kapoor's Haider's famously indecisive temperament does not come in the way of his lingering kisses to Shraddha Kapoor's fair Arshia.
Bang Bang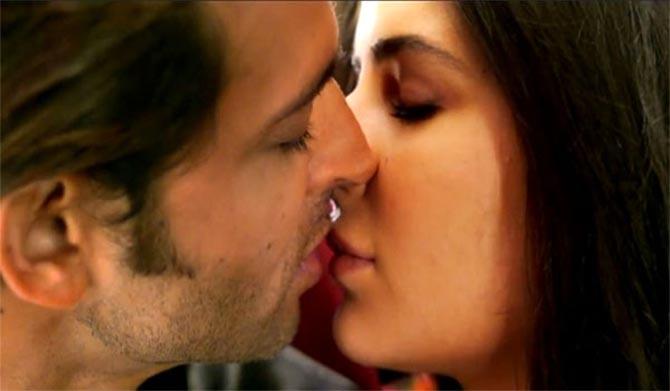 Image: Hrithik Roshan and Katrina Kaif in Bang Bang
One misses the drama and coolth of Zindagi Na Milegi Dobara's on-the-road lip lock between Hrithik Roshan-Katrina Kaif. Especially since a rather juvenile 'never been kissed' conversation leads up to the all-important saving grace moment between Bollywood's hottest duo.
Kill Dil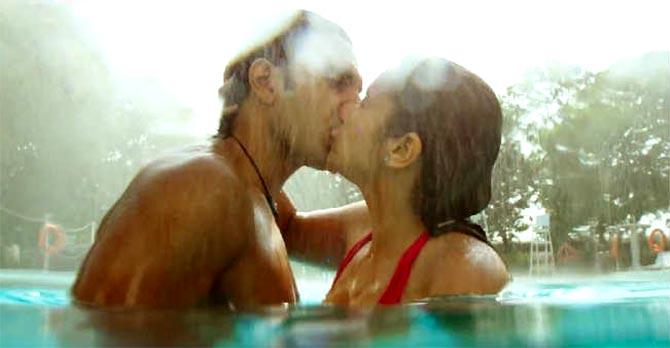 Image: Ranveer Singh and Parineeti Chopra in Kill Dil
After topping most lip-to-lip compilations with Anushka Sharma and Deepika Padukone, Ranveer Singh dives underwater to receive a smack of Parineeti Chopra's affection in Kill Dil.
Humpty Sharma Ki Dulhania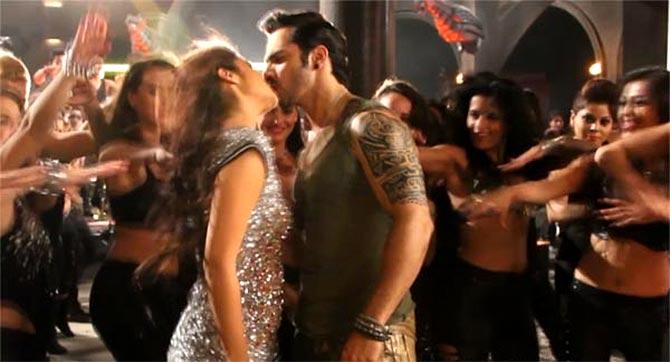 Image: Alia Bhatt and Varun Dhawan in Humpty Sharma Ki Dulhaniya
Alia Bhatt aces another sensual, lovey-dovey kiss with costar Varun Dhawan in Dharma Productions' Humpty Sharma Ki Dulhania.
2 States
Image: Arjun Kapoor and Alia Bhatt in 2 States
Main Emraan Hashmi ki jagah lena chahta hoon, joked Arjun Kapoor while discussing his much talked-about smooching scene with Alia Bhatt in 2 States. Whether he achieves his goal or not, their scorching chemistry sure infused new life in the done-to-death North versus South romance.
Ragini MMS 2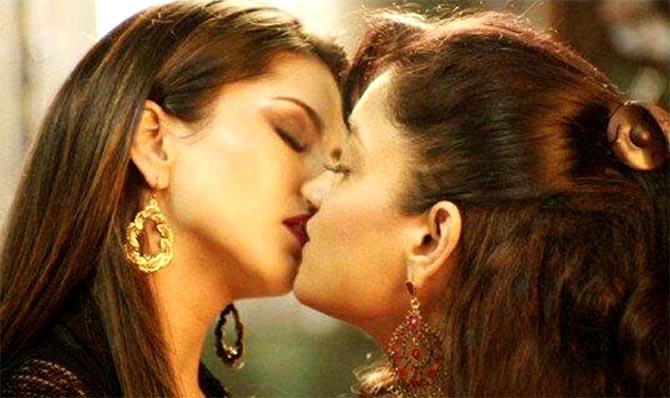 Image: Sunny Leone and Sandhya Mridul in Ragini MMS-2
A horror flick high on sleaze and scares, Ragini MMS 2 succeeds in shocking with some girl-on-girl action courtesy its scorching ladies -- Sunny Leone and Sandhya Mridul Singh.
Finding Fanny
Image: Deepika Padukone and Arjun Kapoor in Finding Fanny
Never one to hold back, Deepika Padukone shows how it's done to a nervous Arjun Kapoor (and equally gasping fanboys in the audience) with a smooch and more among one of the many audacious moments of Finding Fanny.
Rang Rasiya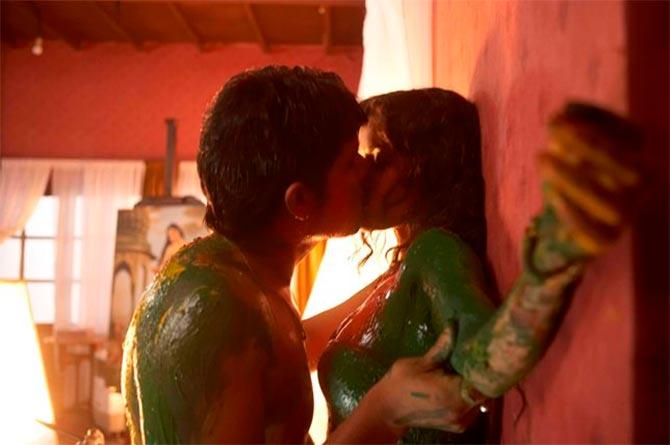 Image: Randeep Hooda and Nandana Sen in Rang Rasiya
Long shrouded in controversy and delay for its bold content, there's no shortage of torrid kissing and carnal love making between Randeep Hooda and Nandana Sen in Ketan Mehta's take on the legendary painter Raja Ravi Verma and his muse.
Bewakoofian
Image: Sonam Kapoor and Ayushmann Khurrana in Bewakoofian
Sonam Kapoor's shocking pink bikini and no-holds barred lip lock sessions with Ayushmann Khurrana are the only two things best remembered about the confused, came, saw, vanished Yash Raj rom-com, Bewaakofian.
Dedh Ishqiya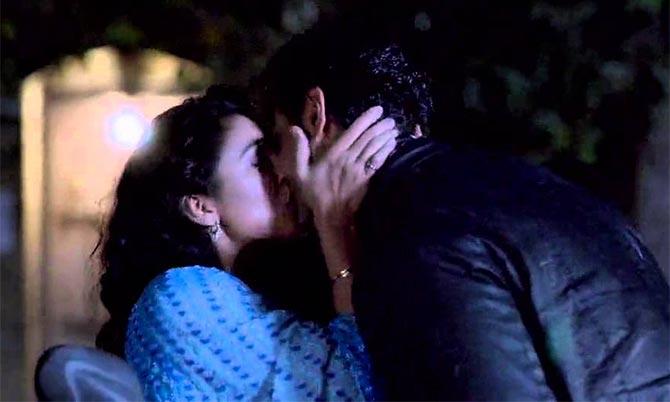 Image: Huma Qureshi and Arshad Warsi in Dedh Ishqiya
W
ith just a torchlight gleaming in a dangerously dark room, Arshad Warsi and Huma Qureshi engage in a minute of wholehearted lust leading up to one of
Dedh Ishqiya
's most seductive scenes.