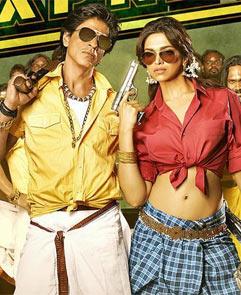 And yet, Sanjay Leela Bhansali and Rohit Shetty share so much in common!
No two filmmakers could be more different.
And yet somehow Sanjay Leela Bhansali and Rohit Shetty share a lot more in common than one would like to believe.
They're not quite the star kids yet both, even if they started out from a rather humble background, grew up around the very world of show business they now call the shots in.
Bhansali's father, Navin, a small-time producer couldn't cope with failure and hit the bottle resulting in his untimely death due to liver cirrhosis.
Meanwhile, Rohit was only 11 years old when he lost his fight master and villain daddy Shetty.
Both felt the pinch of despair and struggle but never lost sight of their celluloid aspiration.
In 1994, when Bhansali was directing songs for Vidhu Vinod Chopra's period romance, 1942: A Love Story, Shetty assisted Kuku Kohli on the Ajay Devgn-Akshay Kumar potboiler, Suhaag. (He continued to assist on various Devgn projects like Haqeeqat, Pyaar To Hona Hi Tha and Raju Chacha establishing a close bond in the process.)
Two years later, Bhansali got his break as director with Khamoshi: A Musical -- a family drama about a deaf-mute couple and their daughter, a gifted singer -- that established his talent as a filmmaker with a keen knowledge of music, visuals and sentimentality.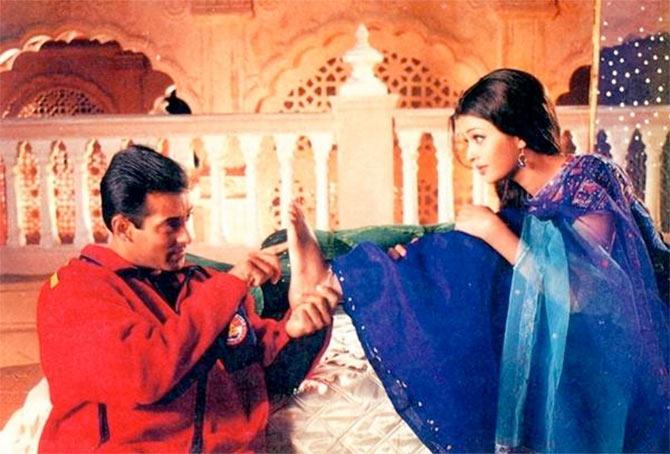 Image: Salman Khan and Aishwarya Rai in Hum Dil De Chuke Sanam
It would be another few years before Bhansali tasted success.
His Hum Dil De Chuke Sanam, a Salman Khan-Aishwarya Rai-Ajay Devgn-love triangle bursting in colours, chemistry and dance gathered accolades from audience and critics.
Interestingly, Shetty went through the same 'second time lucky' route.
His directorial debut Zameen, a hijack drama pitting Devgn and Abhishek Bachchan didn't set the box office afire but his next Golmaal, a madcap comedy, again headlined by Devgn, unleashed enough laughs to extend into a mighty fruitful franchise.
Only a lot of them turned out to be at, what do you know, Bhansali's expense. The latter takes-itself-so-seriously-it's-not-funny storytelling provides perfect fodder for Shetty's cheap shot humour. Black, Sawaariya, he's poked fun at them all.
No soon we start discussing their filmmaking style, all similarity ends.
Sure, they both love stars and overemphasis but their language of cinema, body of work and individual personality is as different as, like the old cliché goes, chalk and cheese.
Let's look into their differences.
In Bhansali's case, he's proud, meticulous and secretive about his projects. He's also touchy and defensive when it comes to criticism of his creations.
Shetty isn't uptight about giving details, indifferent to bad reviews and views things in a more practical, sensible light wherein he wont hold grudges against someone who doesn't share his enthusiasm for scatter-brained entertainment.
Save for Salman's flatulence woes in Hum Dil De Chuke Sanam and Ranveer Singh-Deepika Padukone's corny SMS exchanges in Goliyon Ki Rasleela-Ram Leela, there's serious shortage of comedy in Bhansali's drama-packed scripts.
Shetty, on the other hand, goes offensively overboard with his stack of sillies and slapstick as witnessed in the Golmaal franchise, Bol Bachchan and Chennai Express.
When it comes to art design, few can hold a candle to Bhansali's spellbinding, soaring aesthetics. Every single frame of every single film he's made, irrespective of its content or commerce, is a joy to behold. Yep, even the catastrophic Saawariya. Ridicule his obsession with reds and blues all you want, the man understands the romance between screen and shades.
In complete contrast, the colour palette in Rohit Shetty's film violently pops through the screen. Jarringly saturated or painfully fluorescent, sitting through his fare is an ordeal for the eyes. Needless to say his definition of opulence is exploding, flying cars and jeeps, quite the signature move conspicuous in its presence in all his movies.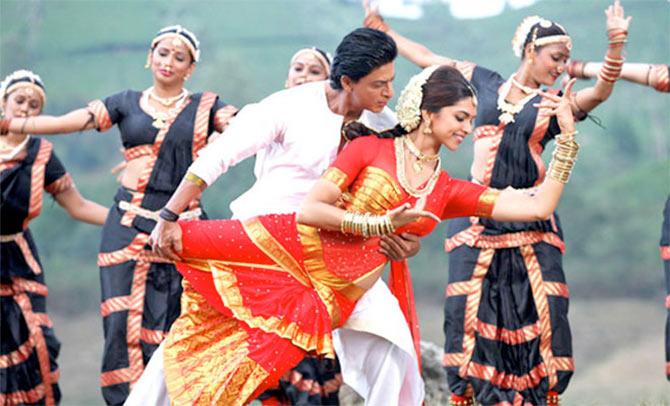 Image: Shah Rukh Khan and Deepika Padukone in Chennai Express
Song and dance renders substantial character and mood to Bhansali's films. Whether composed by him or another, hard to ignore the contributions made through the tender melodies of Khamoshi, the eclectic energy of Hum Dil De Chuke Sanam, the splendour of Devdas, the minimalism of Guzaarish and the passionate exuberance in Ram Leela.
Soundtrack isn't Rohit Shetty's greatest strength, purely relying on catchy but dispensable foot-tappers like title tracks of Golmaal, Singham, Bol Bachchan's Lagao Na Naino Se and Chennai Express' Lungi Dance to attract attention. Nor is their pedestrian choreography.
Although under Bhansali's eye, where even the simple act of a heroine rushing towards the gate is treated like poetry, dance is synonymous with magic. He's got some of the best dancers in Bollywood -- Madhuri Dixit, Aishwarya Rai, Deepika Padukone showcasing their prowess in classical treats.
Speaking of these beauties, women are always central or crucial to his stories. Be it Khamoshi, Black, Hum Dil De Chuke Sanam, Guzaarish, Devdas or Ram Leela, the girls bear soul and aren't for decorative purposes.
Save for the Bokwaas-ranting Deepika in Chennai Express, Rohit Shetty's macho action or boy-bonding comedy gigs seldom have enough meat for the heroine to sink her teeth into.
What's amazing is, of course, Shetty's incredible run at the box office.
With the exception of his early movies -- Zameen and Sunday, everything he's made set the cash registers ringing all the way to the prized 100 Crores club.
Quite a few of Bhansali's films have bombed, faced excessive degree of ridicule and parody but the scale of his dreams have only gotten bigger and better. As has Rohit Shetty's canvas.
This Friday, these two distinctly unique filmmakers clash at the box office with two distinctly unique offerings.
Boasting of blue blood, battles and breathtaking forts -- Bhansali's Bajirao Mastani is an 18th century historical romance starring Ranveer Singh, Deepika Padukone and Priyanka Chopra.
Reuniting one of the most beloved on-screen jodis of this era, Shah Rukh Khan and Kajol in a popcorn entertainer in Shetty's trademark tadka along side Varun Dhawan and Kriti Sanon is Dilwale.
No two films could be more different albeit what they wish to achieve is pretty much the same.
Question is, which one do YOU plan to watch?