Take part in this fun poll now!

In Gene Kelly's words 'You dance love, and you dance joy, and you dance dreams.'
Fabulous ideals to live by, truly.
Technique is great but dancing would be half as effective if it didn't feel as fun.
No wonder some steps are so infectious they become a rage even among the left-footed.

After all, anybody can dance, right?
With ace dancer and filmmaker Prabhudheva's ABCD 2 hitting the screens last Friday, we look at some of the most catchiest dance steps over the years.
Got a favourite? Vote below!

Aaj kal tere mere pyaar ke, Brahmachari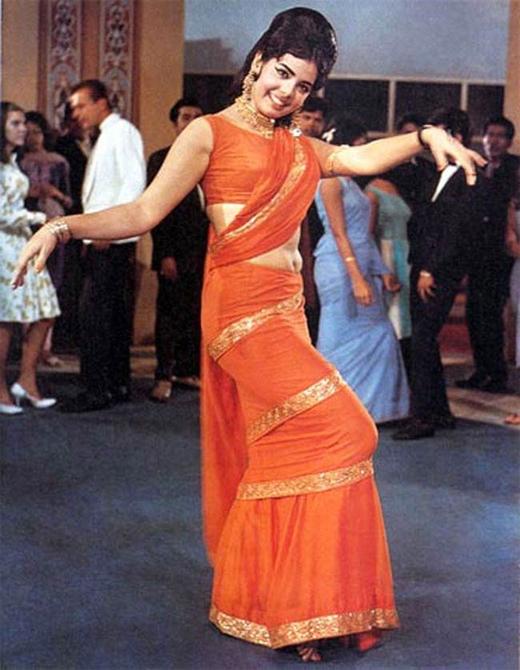 Image: Mumtaz holds centrestage in Brahmachari
When Shammi Kapoor's natural born zing is pitched against Mumtaz's oomph, the screen explodes with a feverish mix of shimmy and rock and roll to the evergreen beats of Aaj kal tere mere pyaar ke charche.

Piya tu ab toh aaja, Caravan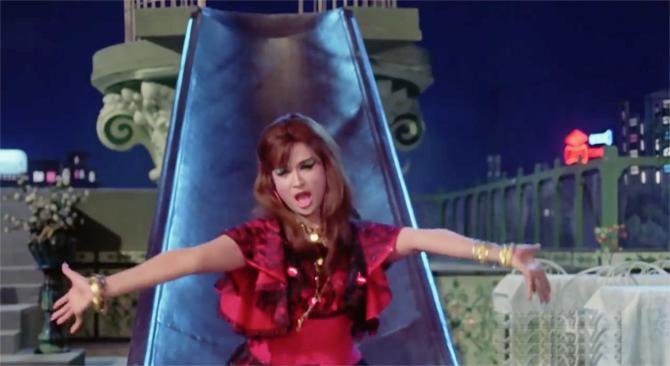 Helen shows off her sexy moves in Caravan
A smouldering Helen offers a master class in seduction through her unique heaving, sighing and swinging in and as the memorable Monica of Caravan.

Jahan teri yeh nazar hai, Kaalia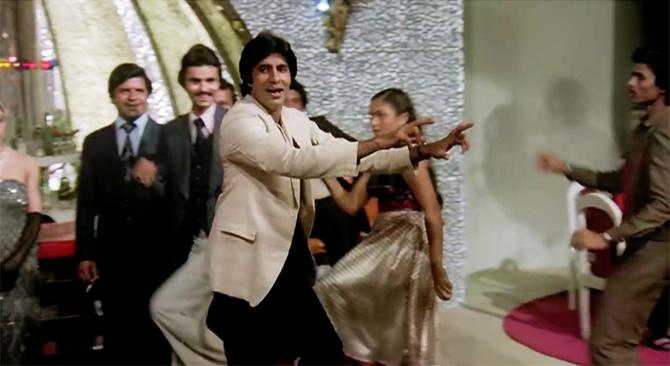 Image: Amitabh Bachchan, throwing lyrical shade at the baddie in Kaalia
One knows Amitabh Bachchan as many things -- actor, singer, orator but not a dancer.

And yet, it's his trademark hand glide movement in Kaalia to vex a surly Amjad Khan that's life of every dance floor.

Mehbooba, Sholay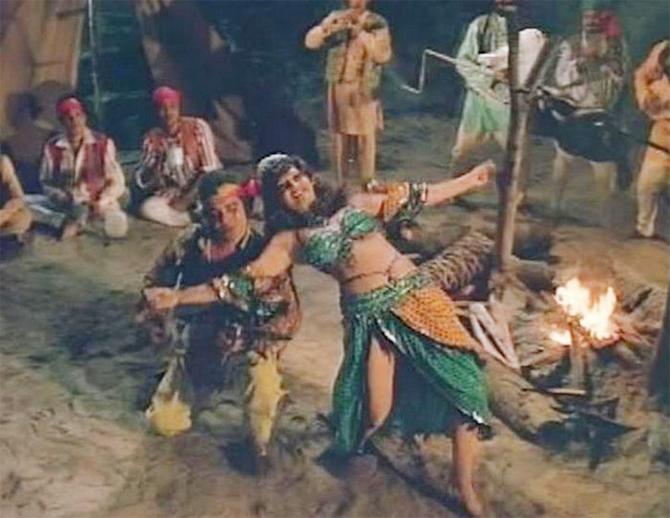 Image: Helen smoulder as the coveted Mehbooba in Sholay
The queen of cabaret could easily mark the A to Z of this listicle so we'll just settle for one more addition.

Everything about nimble, gorgeously timed jiggling to RD Burman's sensational Mehbooba can get the stuffiest of them on the floor.

I am a Disco Dancer, Disco Dancer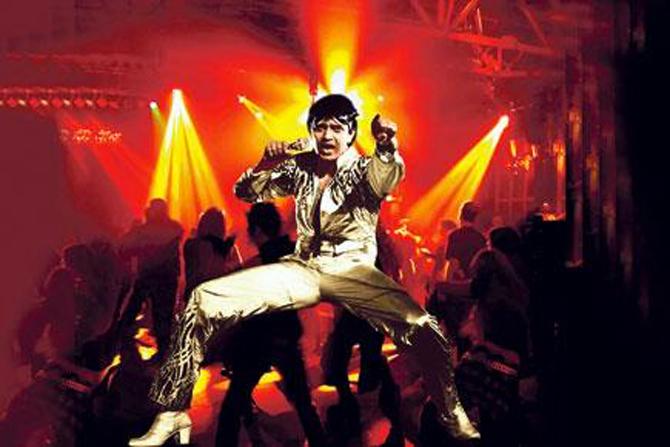 Image: Mithun Chakraborty is as nimble-footed as they come as and in Disco Dancer
Guess it's okay to admit all of us have tried to emulate Mithunda's awesome Disco Dancer style holding a comb or remote control in place of THE microphone while secretly lusting for THE shiny costume.

Mere haathon mein, Chandni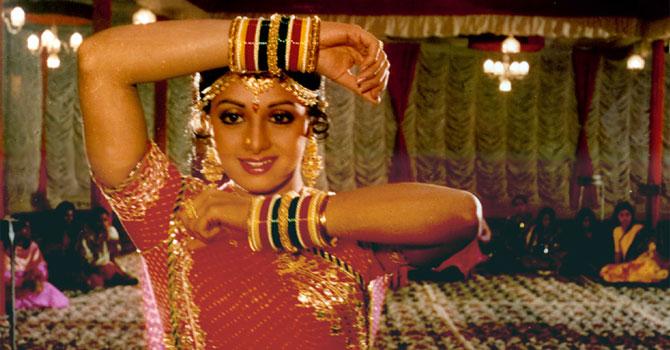 Image: Sridevi draws attention towards her colourful bangles at a pre-wedding bash in Chandni
Flashing both wrists full of bangles clanking against one another is all Sridevi has to do to attract attention in the wedding favourite, Mere haathon mein nau nau chooriyan hain.

More than 25 years, still works.

Main nagin tu sapera, Nagina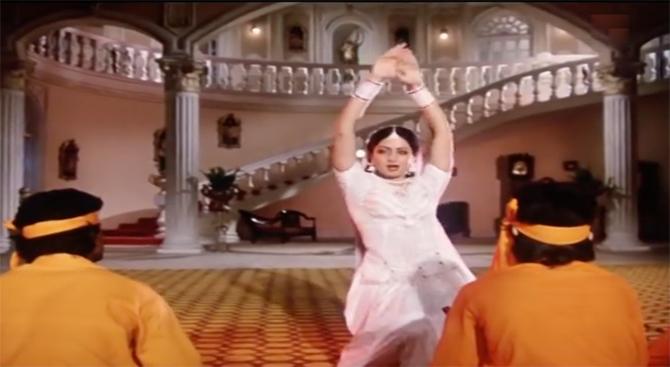 Image: And in Nagin, being a venomous femme fatal
Another classic from Sri's dancing resume -- the snake sting from her money-spinning supernatural fantasy, Nagina.

Happy New Year's Nandu Bhide is a BIG fan.
One two ka four, Ram Lakhan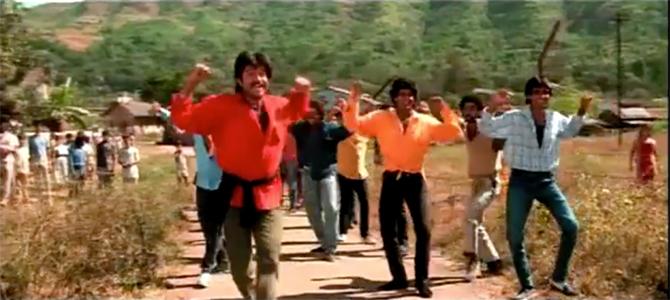 Image: Anil Kapoor's got some dance aces up his sleeves in Ram Lakhan
One can never get tired of Anil Kapoor's jhakaas punchline and that triumphant romp in his introduction song of Ram Lakhan. Seriously, how much more rumpumpumrumpumpum can a man get?

Ek do teen, Tezaab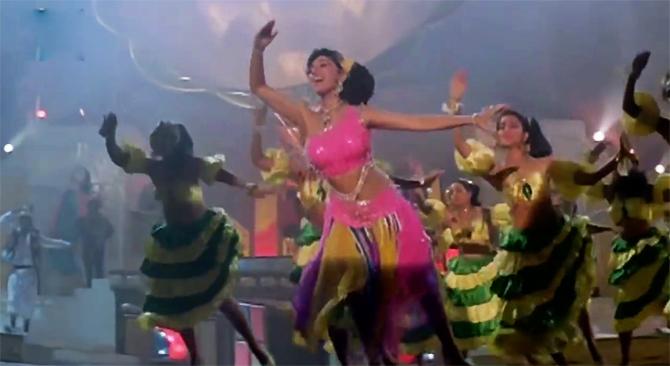 Image: Madhuri Dixit's Mohini is quite the enchantress in Tezaab
One of the best dancers in B-town, there are way too many famous dance steps of the dazzler to fit in one story.

Obviously, Madhuri Dixit's iconic, breakthrough jhatkas in Ek do teen, Tezaab makes the cut.

Chaiyya chaiyya, Dil Se..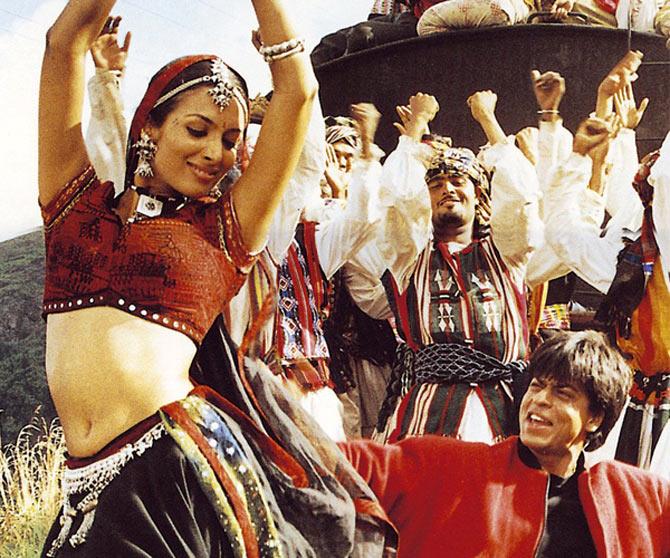 Image: Shah Rukh Khan basks in the glory of love's first rushes atop a moving train in Dil Se...
Dancing atop a moving train is not a regular sight in our movies but Shah Rukh Khan and Malaika Arora's dynamism renders those pounding movements effortless in Chaiyya Chaiyya.

Ek Pal Ka Jeena, Kaho Naa…Pyaar Hai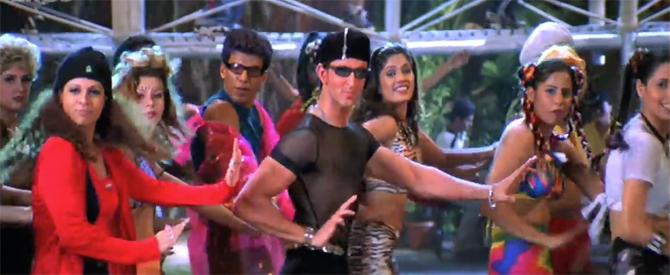 Image: Hrithik Roshan dances straight into our hearts in Kaho Na... Pyar Hai
Hrithik Roshan's rhythmic back and forth hand slide in Ek pal ka jeena is what modern age dubs an 'instant classic.'

Dola re, Devdas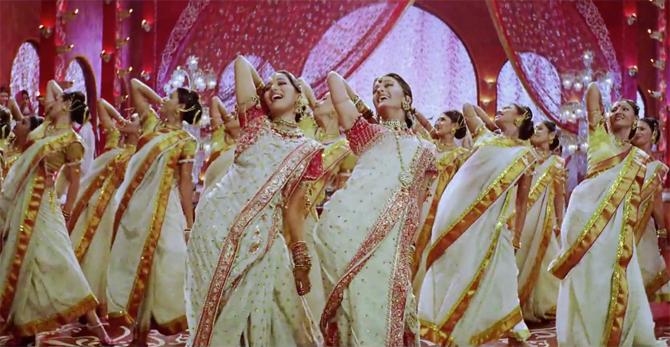 Image: Madhuri Dixit and Aishwarya Rai are a vision in Devdas
Never did Chandramukhi and Paro interact in the original Devdas but in Sanjay Leela Bhansali's version they match steps for the lavish dance-off, Dola re. Madhuri and Aishwarya Rai's graceful footwork is a treat to watch. And ape.

Jeene ke hain chaar din, Mujhse Shaadi Karogi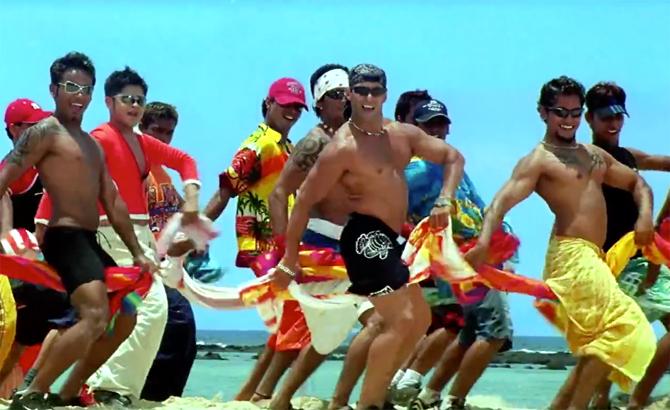 Image: Salman Khan throws in the towel in Mujhse Shadi Karogi
Love it, loathe it but Salman Khan's silly towel dance has a significant following amongst Bhaitards.

Sheila Ka Jawani, Tees Maar Khan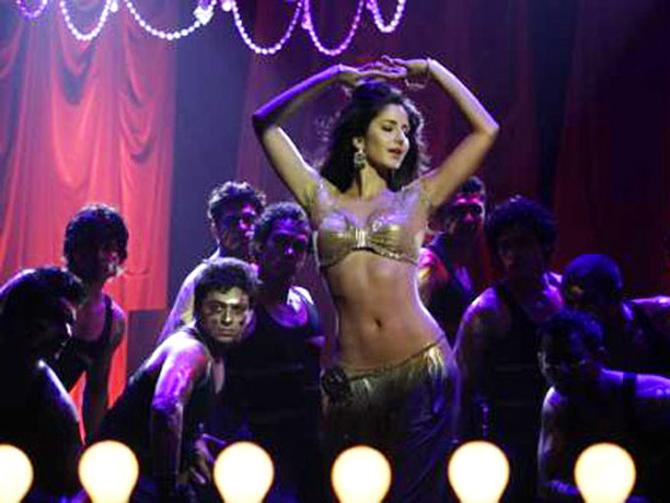 Image: Katrina Kaif is rightfully out of our league as Sheila in Tees Maar Khan
Katrina Kaif acquired the body of a belly dancer and trained like one to wiggle her remarkably toned abdomen in and as Sheila. Its popularity is sufficiently underscored in Zoya Akhtar's short of the same name for the cinema anthology, Bombay Talkies.

Aiwayin Aiwayin, Band Baaja Baarat
Image: Ranveer Singh, Anushka Sharma are the life of wedding parties in Band Baaja Baraat
Ranveer Singh and Anushka Sharma let their hair down in abandon, what with a recurring move that's literally as simple as turning a knob in Band Baaja Baarat's exuberant Aiwayin. That's the point --it's easy, it's fun, it's catchy.