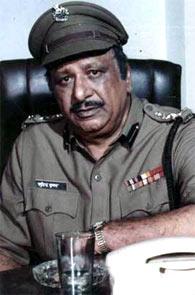 When he passed into the ages, aged 85, at his Mumbai home on Sunday, Jagdish Raj held the record of playing a police officer the most times for an actor -- 144 times in as many Hindi films.

His son-in-law Rakesh Malhotra said the dignified actor had not been well for a couple of years.

'Shri Jagdish Raj, the official 'Police Inspector' of the Indian film industry, passed away. RIP,' director Rahul Rawail wrote on his Facebook profile.

Filmmaker Ashok Pandit noted, 'Sad to know Jagdish Raj is no more. The industry lost its grt Police officer. RIP.'

'RIP Jagdish Raj, the quintessential police
officer for generations in Indian films. Your works will live on,' actress Soumya Tandon said.
'Not seen any news channel cover the demise of Jagdish Raj. Sad,' Tanuj Garg, the Balaji Telefilms executive, pointed out.
"Only family and close friends had come for the last rites. From the industry, Rishi Kapoor, David Dhawan, Rahul Rawail had come," Malhotra said.
Jagdish Raj Khurana was born in Sargodha in present-day Pakistan. He began his movie career in 1960 and called it a day 32 years later, in 1992.
Among his films include
Imaan Dharam, Deewar, Don, Silsila, Shakti, Mazdoor, Gopichand Jasoos, Aaina
and
Besharam
.
Though he occasionally played a villain and essayed a judge a few times, he was best known for being cast as a police officer.
In the picture: Jagdish Raj plays the inspector in yet another film