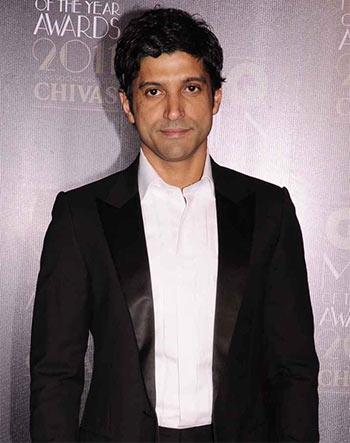 Bollywood celebrities congratulated the Aam Aadmi Party (AAP) for its historic victory in the Delhi assembly elections and hoped that they would measure up to the expectations of the public.
The Arvind Kejriwal-led party may secure 66 of the 70 seats in Delhi.
Music composer Vishal Dadlani, a supporter of AAP, who left for Delhi to celebrate the party's win, said he would thank everyone for supporting them.
'Jai Hind! Boarding my flight for Delhi. Gonna thank every single person that I meet there! What a morning!' he said.
Director Anubhav Sinha, another supporter of the party, too joined in the celebrations in the Capital.
'Finally!!! Am where the action is. Proud!!!' he posted.
'AAP wins one of the biggest electoral victories in Indian history,' tweeted director Pritish Nandy.
Filmmaker Shekhar Kapur called it the win of young India. 'Young Indian voters has sent a clear message to the Nation. Mess with us and you will not survive. This is our Nation. Our future. It's time to accept the young Indian voter is far more sophisticated Individual who thinks clearly about
local and national issues,' he tweeted.
Addressing Kejriwal, who is set to be the Delhi Chief Minister, Kapur said, 'And now, Dear Arvind Kejriwal it's time for you to prove you deserve the immense faith that voters have put on your shoulders.'
Bhaag Milkha Bhaag actor Farhan Akhtar (in the picture) congratulated the party.
'People of Delhi gracefully say 'Pehle AAP'. Congratulations to Arvind Kejriwal and his team. Time to live up to the peoples hope & trust,' he tweeted.
Director Ram Gopal Varma, taking a jibe at AAP's critics, said, 'Everyone who thought Aap was a joke now realise that the joke is on them. Moral of story, don't joke with a joke or the joke will joke you.'
Actress-producer Dia Mirza congratulated Vishal and all the Delhiites for the results. My friend @VishalDadlani today you and the people of
delhi proved to me that faith and reality can walk hand in hand,' she tweeted.
The actress praised Kejriwal for his 'dedication' and wished him luck: 'Congratulations Arvind Kejriwal may you march on with the dignity, decency and dedication that you have this far.'
Television host Raghu Ram, who extensively campaigned for AAP during elections, said the party had to restore people's faith after a dismal Lok Sabha performance last year.
'We knew what we had to do. We knew that after Lok Sbha elections, we had to re-install faith in the people of Delhi. We were just conscious and focused on doing that. We were really not focused on the results. There are strategists in every party, we are volunteers and our job is
to campaign and we did that,' he posted.
Riteish Deshmukh congratulated AAP for its 'Unprecedented Victory' while The Lunchbox director Ritesh Batra tweeted, 'Delhi talks in chorus shorus! Wow!'
Photograph: Abhijit Mhamunkar