The failure of big-budget Bollywood movies show that mega stars such as Salman Khan, Shah Rukh Khan, Hrithik Roshan, Ranbir Kapoor, Katrina Kaif and Anushka Sharma are struggling to impress the audience.
Surajeet Das Gupta reports.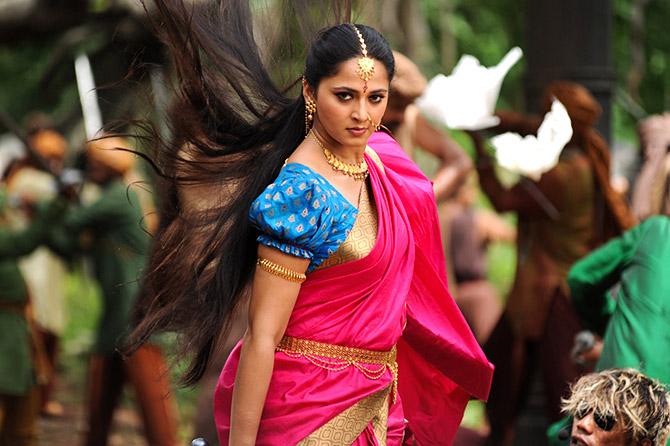 IMAGE: Anushka Shetty in Baahubali 2.
Bollywood's dream merchants are losing their magic touch.
In the first seven months of this year, domestic net box office collections (NBOC) of the top 10 Bollywood movies in terms of revenues from theatres -- excluding the dubbed version of Baahubali 2 -- fell by over 19 per cent from Rs 1,022 crore (Rs 10.22 billion) in 2016 to Rs 823 crore (Rs 8.23 billion) in 2017.
In 2016, producers forked out Rs 525 crore (Rs 5.25 billion) to make the top 10 movies, but made up nearly double the amount from domestic NBOC.
Of course, much of it was owing to the success of Salman Khan's Sultan.
In 2017, the total spent on the top 10 films was Rs 714 crore (Rs 7.14 billion), but the return shrunk, with no blockbusters.
The only high point was the unprecedented success of Baahubali 2 that rustled up a new record of Rs 510 crore (Rs 5.10 billion) in the domestic NBOC -- constituting 40 per cent of the total collections for Hindi films in this period.
If the movie is considered in the top 10 earners -- although it was a Telugu film produced in Hyderabad and not a Bollywood production -- the NBOC growth would go up by 26 per cent.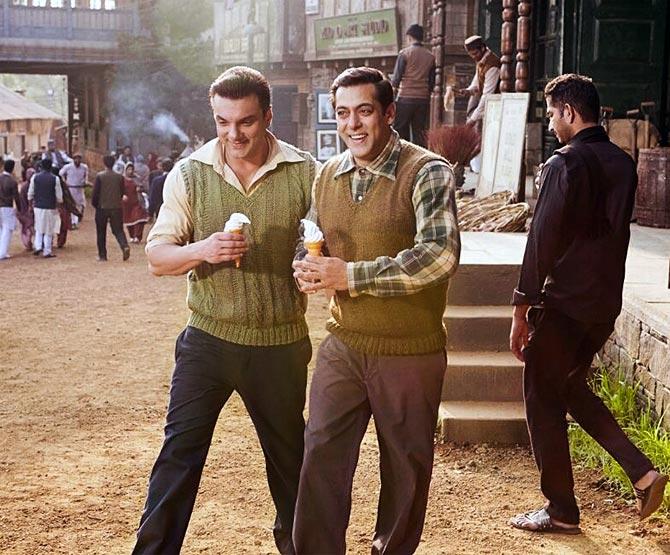 IMAGE: Sohail Khan and Salman Khan in Tubelight.
The failure of big-budget Bollywood movies show that mega stars such as Salman Khan, Shah Rukh Khan, Hrithik Roshan, Ranbir Kapoor and leading ladies such as Katrina Kaif and Anushka Sharma are struggling to impress the audience.
Deepika Padukone, Aamir Khan, Priyanka Chopra and Ranveer Singh, of course, have not opened their account this year.
The country's most bankable star, Salman, co-produced Tubelight after delivering a series of hits in the past few years.
Experts say the principal distributors paid a staggering Rs 131 crore (Rs 1.31 billion) to acquire pan-India (except central India) distribution rights for the film.
But with a poor show (NBOC of Rs 114 crore/Rs 1.14 billion), distributors managed to make up just Rs 49 crore (Rs 40 million) as their share of the collections (about 50 per cent of box office collections goes to the exhibitor).
The Khans compensated the distributors to the tune of Rs 32.50 crore (Rs 325 million), but they still lost a substantial Rs 50 crore (Rs 500 million).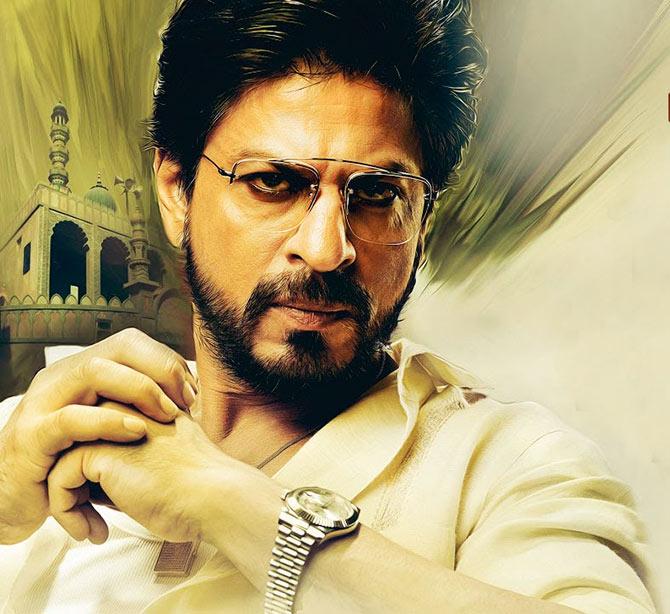 IMAGE: Shah Rukh Khan in Raees.
The story was similar for the other Khan. Both of Shah Rukh's movies in 2017 -- Raees and Jab Harry Met Sejal -- faced a drubbing.
Jab Harry Met Sejal, produced by the star through Red Chillies, is still struggling, with domestic NBOC of only Rs 64 crore (Rs 640 million).
The movie was sold to the lead distributor for Rs 80 crore (Rs 800 million), who in turn pre-sold it territories to sub-distributors.
But with the share of the distributors of box office collection at only Rs 30 crore (Rs 300 million), they face the spectre of heavy losses.
And Raees -- which bombed at the domestic box office, managing to barely collect the Rs 130 crore (Rs 1.3 billion) spent for making the film -- was saved because Shah Rukh still retains his magic in the overseas markets, where it made Rs 50 crore.
He also sold the movie's satellite and digital rights for a staggering Rs 54 crore (Rs 540 million).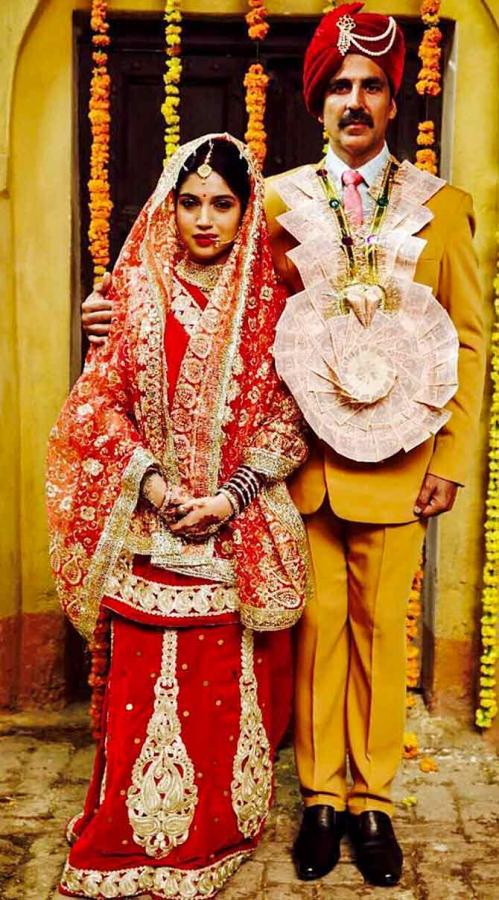 IMAGE: Bhumi Pednekar and Akshay Kumar in Toilet: Ek Prem Katha.
Perhaps the only consistent superstar has been Akshay Kumar.
His Jolly LLB 2 made a net income of Rs 8 crore (Rs 80 million) while Toilet: Ek Prem Katha, made with a budget of Rs 24 crore (Rs 240 million), has raked in more than five times, with collections of Rs 105 crore (Rs 1.05 billion).
Suniel Wadhwa, independent distributor and box office analyst, says that while the size of the domestic box office is shrinking, budgets of big movies are going through the roof (most hit Rs 100 crore), making it that much more difficult to break even.
The soaring price of tickets, with the implementation of the goods and services tax, also discouraged movie goers.
Of course, tent-pole movies did not live up to expectations.
The situation worsened when two big movies were released in the same week (like Raees and Kaabil), adversely impacting the box office of both.
Yet, in this mayhem, there were some surprises that had nothing to do with star power.
They were movies with good content and performance and were backed by reasonably controlled budget.
Irrfan Khan's Hindi Medium made with a budget of Rs 23 crore (Rs 230 million) topped the list by earning Rs 21 crore (Rs 210 million) for its makers and distributers, the highest for a movie in 2017 till now.
It was followed by Varun Dhawan and Alia Bhatt's Badrinath Ki Dulhaniya at the second spot.