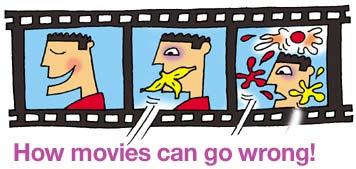 rediff.com had carried an article on Movie Bloopers. This is what our readers have come up with!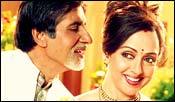 Baghban: Amitabh Bachchan and Hema Malini are separated right after Holi (remember Amitabh singing Hori khele Raghubeera?). They are said to be separated for six months, ie from March to September. Within that six-month period, they celebrate Valentine's Day, which falls on February 14, and karva chauth, which is usually observed in October. There is no way these two occasions could come between March and September!
--Manish Nautiyal, Narayan Seshadri
Mard: Amitabh Bachchan is singing an ode to Maa Sherowali, wishing that he could meet his mother. Nirupa Roy escapes from the prison. And just when her captors catch up with her comes Maa Sherowali's 'vehicle', a tiger who rescues her. The tiger 'escorts' her to a waiting boat, and Nirupa Roy bows to the tiger, who bows back!
In another instance, Prem Chopra tries to bribe Amitabh and offers him a Patiala peg. Amitabh opens a map of 'modern' India and says: "Patiala hi kyon? Hum to pura Hindustan lenge!"
Given that the film is set in British India, the brand new map of India with all the states neatly demarcated is a little difficult to swallow.
Amar Akbar Anthony: Three men donate blood at the same time to the same person.
Clerk: This is the grandmother of all unintentional bloopers: A man having a heart attack starts marching like a man possessed by listening to Kadam kadam badhaye jaa. The 50-plus Manoj Kumar and Shashi Kapoor and 30-plus Rekha play college students. In the climax, Manoj and Shashi 'fly' towards each other and collide midair!
Ganga Jamuna Saraswati: Amitabh carries a live crocodile on his back which then gobbles up Amrish Puri!
Awwal Number: Dev Anand is an omnipotent genius --  former cricketer, captain, army chief, commissioner, you name it. And Aamir Khan carries a huge transistor in his pocket while batting!
Satyam Shivam Sundaram: A man makes love to a woman whose face he doesn't see. A one-night 'blind' stand!
--Devendra Prabhudesai
Jab Pyar Kisise Hota Hai: Salman Khan's grandfather is shown to celebrate his 60th birthday. Salman also has an eight-year-old son of his own! A great grandson at 52. Now that is really fast!
--Soniya Gadgil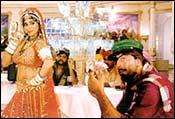 Khalnayak: The police tracks the villain from an MS Word Document screen!
Emme Tammanna (Kannada): The hero hides under the bed of the heroine. When the heroine discovers him, she educates the illiterate man, who moves on to get a Bachelor's Degree in Arts (fine and dandy in those days, you know!) -- all this is under the heroine's bed!
--Srinivas Murthy
Pyar To Hona Hi Tha: Kajol gets off the train to use the public toilet at the railway station and the train chugs off without her. Poor girl, little did she know that every train compartment has four toilets inside.
Khiladiyon Ka Khiladi: Akshay Kumar boards a Jet Airways flight to America. Well, well, some promotion for our Indian Jet Airways. Since when did they start flying to the US?
Raja Hindustani: Navneet Nishan has short hair before marriage. After tying the knot, she acquires waist-length hair overnight. What a hair-raising experience!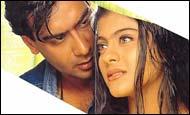 Raja: Dilip Tahil empties a can of petrol over Madhuri Dixit. Minutes later, Sanjay Kapoor takes the same can and pours it over Dilip Tahil. That's what I call an autofill!
Guddu: Manisha Koirala and Shah Rukh Khan are seen hanging on a parachute during a song. But when the song ends, they land on a glider. What a switch above sea level!
Jung: Rambha files a case against Ajay Devgan accusing him of rape and produces three photographs as proof. In all the three, she is wearing three different dresses. I guess it must have been a fashion show-cum-rape!
Tere Mere Sapne: Priya Gill is doing her BA. But at the bus stop, she is carrying an electrical technology thesis by B L Theraja. What an electrifying interest!
--Prashant Brall
An Ekta Kapoor K-serial (the name does not matter, they are all the same): A saas who cannot speak calls up her bahu who can. The bahu is at her mother's place. The mother picks up the phone twice, and the saas hangs up. Mother mutters something about blank calls.
The third time, the bahu picks it up. And viola! She knows it is her saas at the other end. Then they start chatting, or rather the bahu starts chatting (the saas can't speak remember?). The saas responds in sign language which the bahu understands over the phone. They chat like this for about two minutes. Talk about realities!
--Rupinder Singh
Illustration: Uttam Ghosh
Do you have more such bloopers? Write in to us!