One of the most prolific filmmakers of his time, VB turns 50 August 4.

Versatile not just in thought but talent too, Vishal Bhardwaj's proficiency to compose melodies, write scripts, sing sublime tunes as well as direct truly totals up as a consummate filmmaker.
Among our finest today, his style of storytelling has brought a much-needed breakthrough in not only how movies are made but viewed as well.
Whether his sophisticated, nuanced approach is exploring the fringes of society, recreating Shakespeare in a contemporary age or testing the scale of impressionable imagination, there's freshness in his craft, seduction in his images and something inexplicably poetic about his flawed characters.
On his birthday today, we list his unique body of work as director.

Vote for your favourite Vishal Bhardwaj film at the end.

Haider (2014)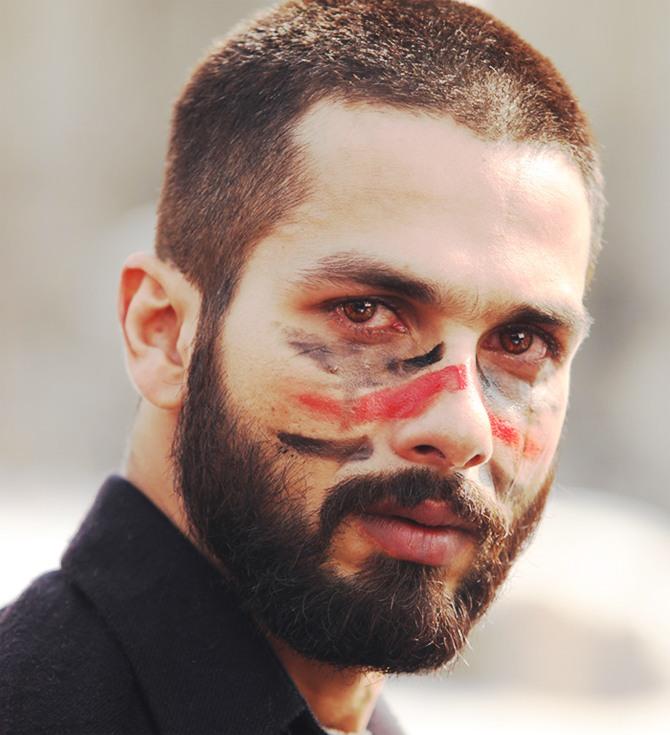 Image: Shahid Kapoor channels the titular character's angst in Haider
Completing his trilogy of William Shakespeare films, a supremely confident Bhardwaj transforms Hamlet into Haider against the troubled environment of Kashmir in a manner so undaunted; the upshot is striking to say the least.
Melancholy overcomes Haider as he copes with the loss of his father's death and mother's betrayal whilst contemplating revenge on his crafty uncle responsible for the same.
Besides extracting a career-best performance out of its titular hero, Shahid Kapoor, Haider gathered many accolades for its clever adaptation (five National awards) as well ruffled a few feathers.
Review the Haider review here.

Matru Ki Bijlee Ka Mandola (2013)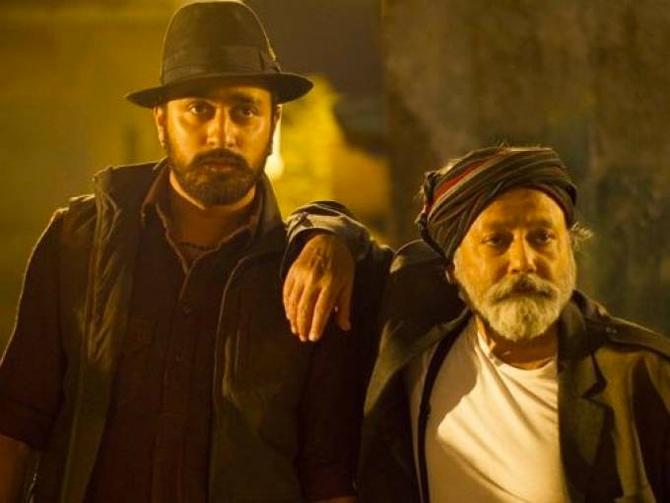 Image: Pankaj Kapur's inebriated Mandola leans on man Friday, Imran Khan's Matru, in Matru Ki Bijlee Ka Mandola
In the satirical, absurdist notes of the whimsically titled Matru Ki Bijlee Ka Mandola, Bhardwaj packs in just about every brand of madcap humour tinged in irony.

Pankaj Kapoor's turn as the ruthless businessman who turns into a complete rabble-rouser when drunk -- seeing pink buffalos and talking Mao -- is easily the best thing about Matru's anti-capitalist motives.

As is its capricious wit replete with zingers like 'Meena Kumari complex' making up for the somewhat miscast Imran Khan and Anushka Sharma.
Though it evoked strong polarised responses and proved a box-office failure, MKBKMD made it to many a critic's top films of 2013.
Read the Matru Ki Bijlee Ka Mandola review here.

7 Khoon Maaf (2011)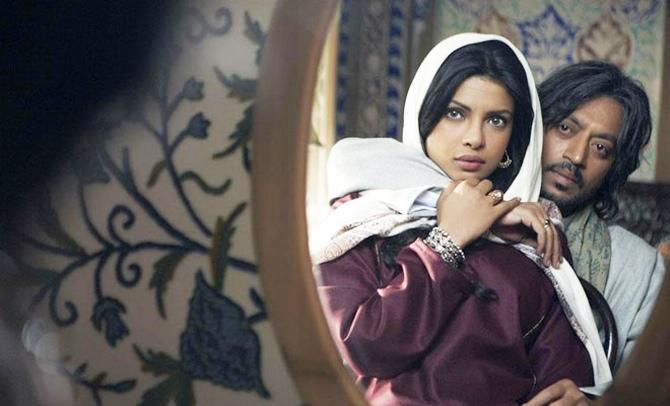 Image: Priyanka Chopra (Suzie) and Irrfan Khan (

Musafir

) share an intimate moment in 7 Khoon Maaf
When Bhardwaj came across Ruskin Bond's short story, Susanna's Seven Husbands, he saw the potential for a big screen adaptation.

After seeing its electric promos, the audience felt even more hopeful.
But the monotony of a chronically unhappily married Priyanka Chopra in 7 Khoon Maaf soon set in as she bumped off one defective husband after another leading up to the thriller's sorely disappointing climax.

Even at its unrealised best, 7 Khoon Maaf offers more cinematic gratification than a hit machine's most accomplished offering.
Read the 7 Khoon Maaf review here.

Kaminey (2009)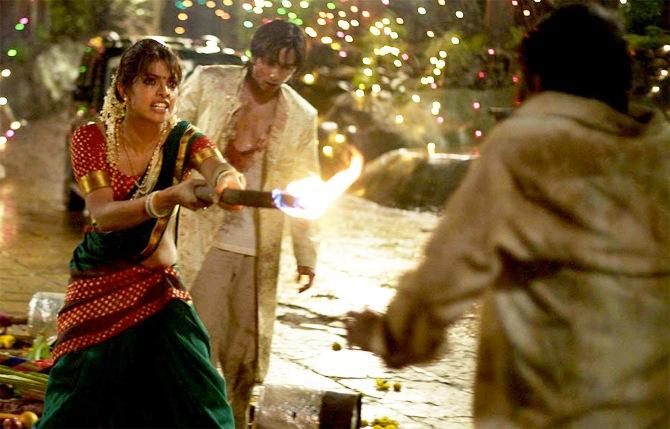 Image: The fiery Sweety of Kaminey in action
Speech impediment is usually a subject or ridicule or silly gag in Hindi movies.

In the rollicking Kaminey, it's used as a tool to create memorable characters of twin brothers -- one lisps, the other stammers.
And because the whole confusion happens against the backdrop of drug mafia, thug politicians and a pregnant girlfriend, exciting times lie ahead for the brothers in question.

Superbly shot, smashingly written, slickly executed, the zesty 2009 caper introduced us to the potential of Shahid 'Fuh' Kapoor and director Amol Gupte.

Omkara (2006)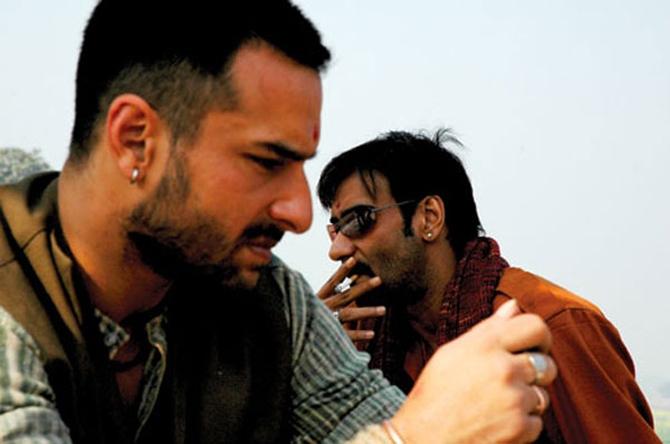 Image: Saif Ali Khan, in a career-best performance as Langda Tyagi, and Ajay Devgn's titular character in Omkara
With Omkara, Bhardwaj brought out the perfect blend of substance and star power.
An adaptation of the bard's dark, brooding Othello, the multi-starrer set in the badlands of North India is a romantic tragedy triggered when seeds of distrust are sown within Ajay Devgn's Omkara for ladylove Kareena Kapoor by his greedy, conniving accomplice, Langda Tyagi, played by Saif Ali Khan, benefiting the most from this project.
Gorgeously shot and styled, peppered in grimness and gaalis, Omkara reiterated Bhardwaj's command in all things Shakespeare.

The Blue Umbrella (2005)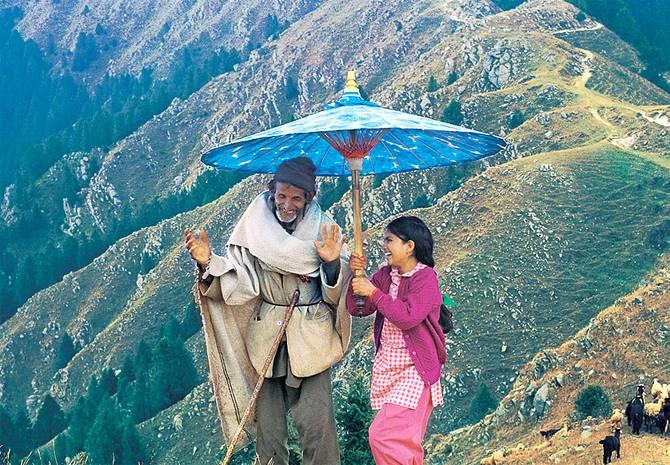 Image: Shreya Sharma and her trusty prop in The Blue Umbrella
Vishal Bhardwaj isn't too fond of the title 'children's film.'

He'd like to believe his more innocent creations are meant for all age groups from six to 60.

Except The Blue Umbrella, his sunny fable based on Ruskin Bond's 1980 novel, did contribute to the neglected genre like few have.
The National-award film revolves around a little girl and her bright blue umbrella, which catches the fancy of an entire village in picturesque Himachal Pradesh.
Trust VB to create something profound out of something so simple.
Read The Blue Umbrella review here.

Maqbool (2004)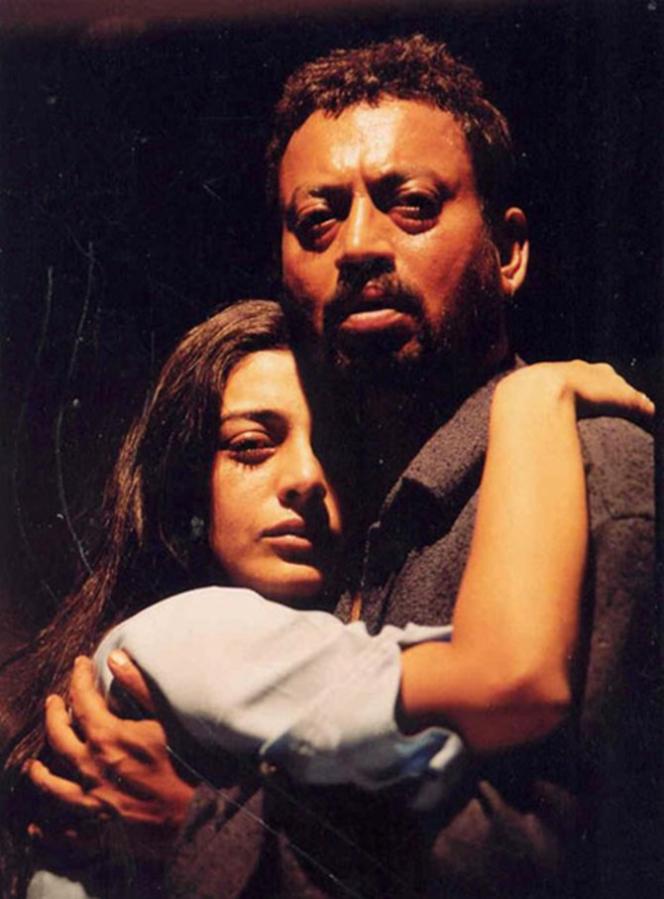 Image: Tabu and Irrfan Khan shine as the flawed lovers of Maqbool

The one to start it all -- Maqbool is the first of the filmmaker's Shakespeare ternion.
Reworking the haunting guilt of Macbeth in an underworld milieu made everyone sit up and take notice of Bhardwaj's meticulous artistry.
Not to mention his self-assured instincts behind the camera resulting in Irrfan Khan's scintillating performance in the title role reacting beautifully to Tabu and Pankaj Kapur's mettle.

Makdee (2002)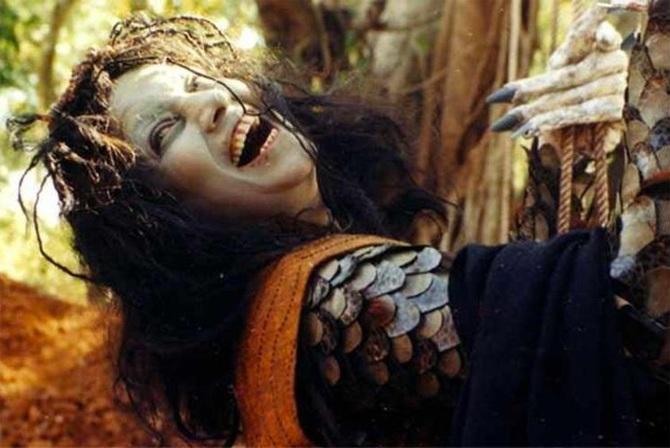 Image: Shabana Azmi's frighteningly good in Makdee
Until Makdee, Bhardwaj was best known for his lilting compositions in Gulzar's Maachis and Hu Tu Tu.

A viewing of Krzysztof Kieslowski's Decalogue changed everything.

He decided he wants to get into direction and the script of Makdee came about.
Unraveling like a macabre fantasy about two lookalike sisters -- one's warm, another's a witch, both played by Shabana Azmi, how the latter is presumed to turn a school girl into a hen and is tackled by her twin sister.
Bhardwaj plays on old legends and myths to weave a compelling yarn that owes much of its success to Azmi's spooky make-up and petrifying antics.