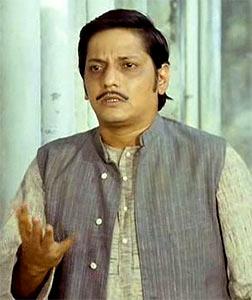 We celebrate the brilliant actor by looking back at his classic works.
In the 1970s, Bollywood was identified with towering superheroes single-handedly taking on mighty villains, rescuing the heroine from their evil clutches yet finding enough time to shake a leg like Elvis.
Amidst this kitschy, larger-than-life scenario arrived a 29-year-old Amol Palekar, armed with a background in fine arts and theatre, to make his debut in Hindi movies.
His disarming common man disposition, conveying the day-to-day problems of the bourgeoisie milieu with sensitivity and insight, distinguished him from his peers.
Eventually choosing to evolve creatively behind the camera, Palekar settled for direction with critically acclaimed films like Akriet, Thodasa Rumani Ho Jaaye, Bangwarwadi, Dayraa, Kairee, Paheli, Quest and popular television shows like Kachchi Dhoop, Naqab and Mrignayani.
One of India's brightest and eloquent artists, Amol Palekar turns 70 today.
Here's celebrating 10 of his best performances.
Gol Maal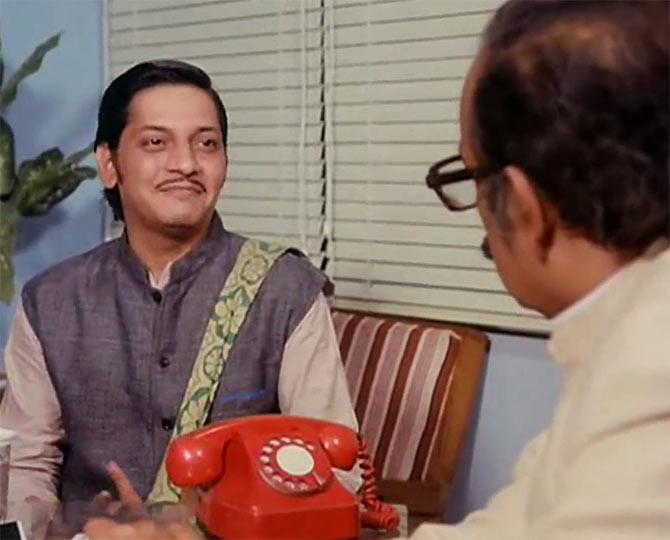 Amol Palekar and Utpal Dutt in Gol Maal
It's almost iconic the whirring manner in which he utters 'Sirrrr' to address Utpal Dutt in Hrishikesh Mukerji's timeless comic gem, Gol Maal.
Palekar plays a chalk and cheese version of himself to appease his stiff-necked, traditionalist boss in a delightfully witty movie that makes the best use of props ever.
What works most is, without doubt, the crackling chemistry between Palekar and Dutt.
Chhoti Si Baat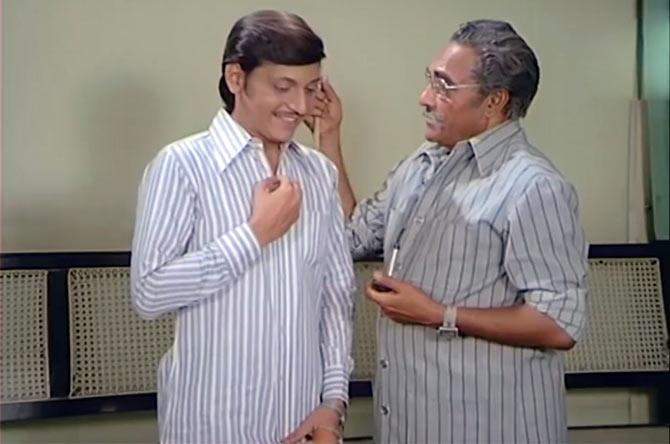 Amol Palekar and Ashok Kumar in Chhoti Si Baat
One might not think Amol Palekar as much of a romantic. Yet the extent of trouble he goes through to win over the girl he secretly fancies in Chhoti Si Baat is nothing short of adorable.
In Basu Chatterjee's feel-good rom-com, Palekar's transformation from a bashful, clumsy chump to a confident, shrewd hotshot courtesy Ashok Kumar's gregarious retired armyman is what the film largely works on.
Chitchor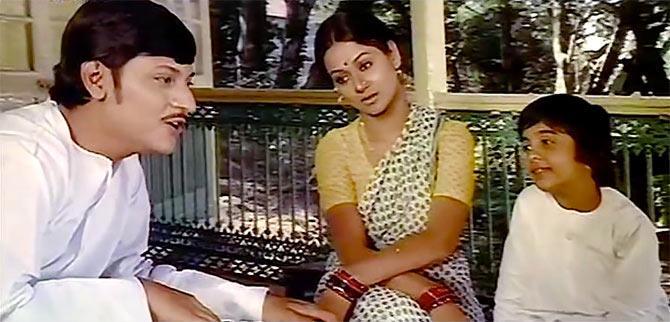 Amol Palekar, Zarina Wahab and Master Raju in Chitchor
Chatterjee-Palekar, hailed as the Manmohan Desai-Amitabh Bachchan of the parallel cinemaverse, score once again in the sweet simplicity of Chitchor's romance.
The earnestness Palekar displays while singing Gori tera gaon bada pyaara to a blushing Zarina Wahab is alone worth the price of admission.
Baton Baton Mein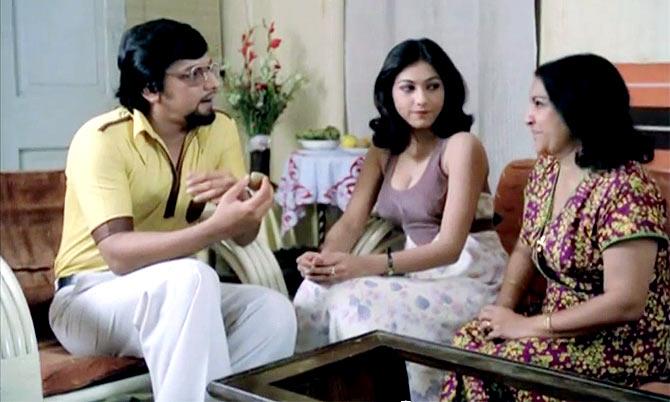 Amol Palekar,Tina Munim and Pearl Padamsee in Baton Baton Mein
In the quirky albeit charming Baton Baton Mein, Chatterjee examines the dynamics of a boy-meet-girl around a typically Bandra-based Catholic neighbourhood.
What's interesting to see is how accurately Palekar and his co-star Tina Munim react to the overexcited members of the family and community in this game of let's play cupid.
Gharonda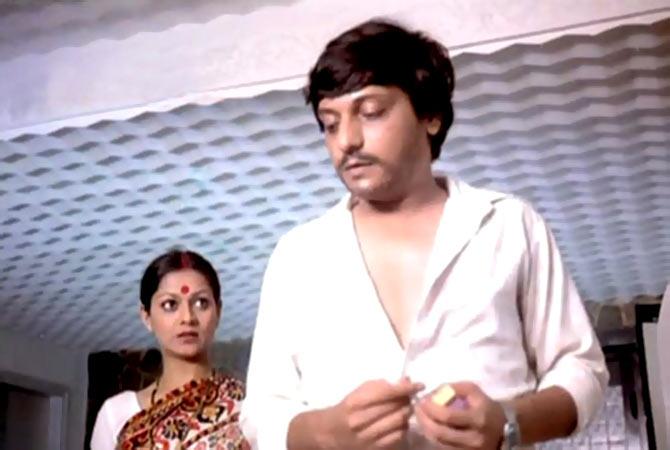 Amol Palekar and Zarina Wahab in Gharonda
Amol Palekar slips into grey category to embody the harsh realities of middle-class metropolitan existence in Gharonda.
He plays a man who lets ambition get the better of him after he boldly suggests his girlfriend ought to marry their ailing boss so that they can get rich after the latter's inevitable death.
Despite the extreme opportunism his character displays, Palekar's credibility lies in bringing out the desperation and frustration that leads to such drastic measures.
Naram Garam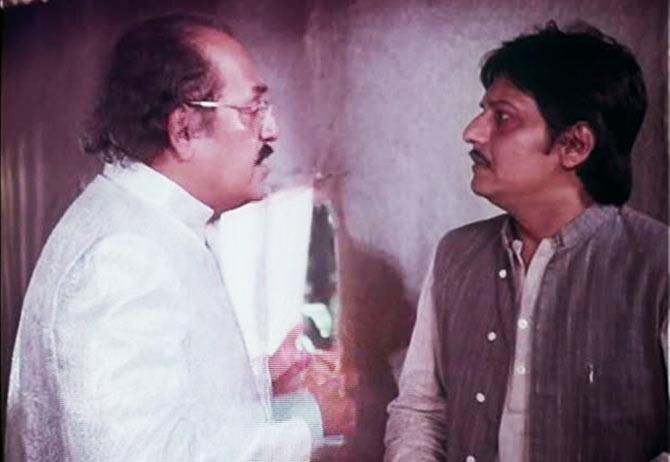 Utpal Dutt and Amol Palekar in Naram Garam
Few things are of as much delight as Palekar and Utpal Dutt's cat and mouse games on celluloid.
The duo is at it again when Palekar hilariously outwits his bumbling, gullible, eager-to-marry-Swaroop Sampat boss (Dutt) with his sack of sly schemes.
Bhumika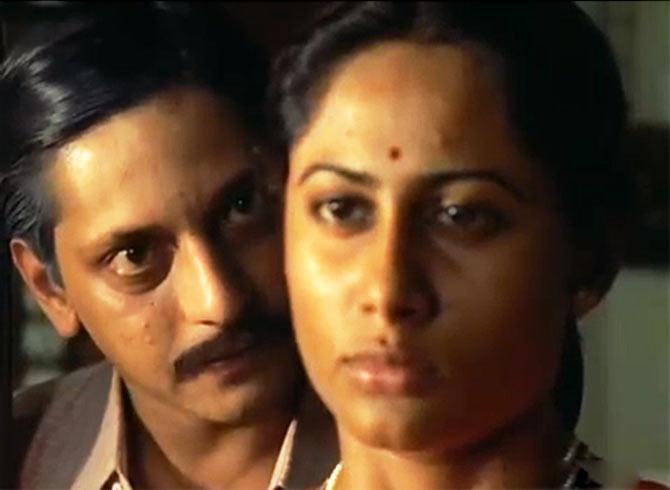 Amol Palekar and Smita Patil in Bhumika
It's almost impossible to find any shred of humanity in a character as spiteful as Amol Palekar's Keshav Dalvi in Shyam Benegal's masterful Hansa Wadkar biopic, Bhumika.
Not a lengthy role but the creepy darkness he builds around the abusive, distrusting and acerbic husband of Smita Patil is testimony to his incredible range as an actor.
Apne Paraye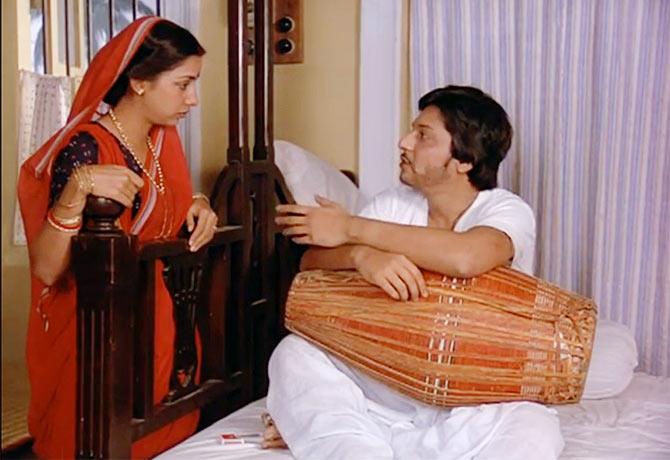 Shabana Azmi and Amol Palekar in Apne Paraye
True mark of an accomplished artist is that he can play even a self-effacing, humble character without a trace of affectation.
Palekar achieves this wonderfully as the gentle kid brother of Utpal Dutt and Girish Karnad in Chatterjee's family drama based on Sarat Chandra Chattopadhyay's novel, Nishkriti.
Rajnigandha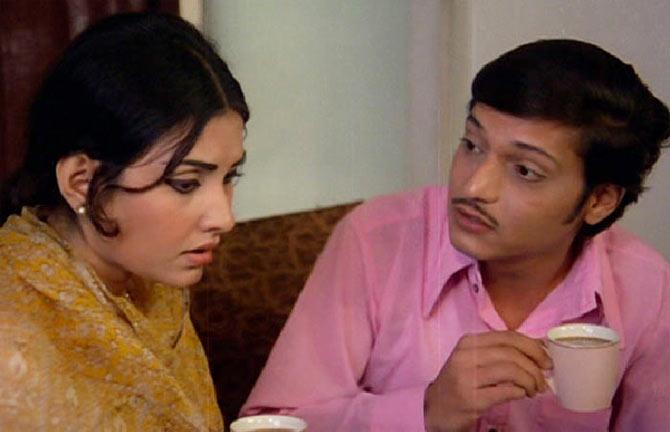 Vidya Sinha and Amol Palekar in Ranigandha
The swinging state of Vidya Sinha's indecisive heart forms the crux of Basu Chatterjee's sublime exploration in Rajnigandha.
Even as Dinesh Thakur represents its more freethinking, arty hero, debutant Amol Palekar steals the scene (and the girl) with his glorious smile and a winning bouquet of tuberoses.
Khamosh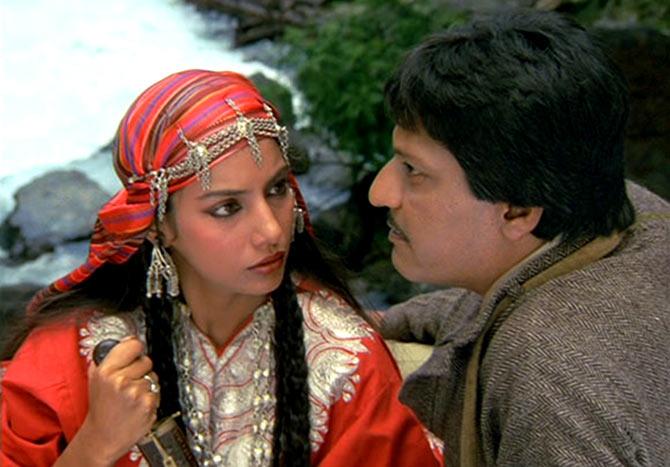 Shabana Azmi and Amol Palekar in Khamosh
From sweet to sinister, the man's done it all.
Even if the revelation happens right at the end, Amol Palekar's chilling turn in the Vidhu Vinod Chopra whodunit continues to send a shiver down the spine of its unsuspecting viewers.