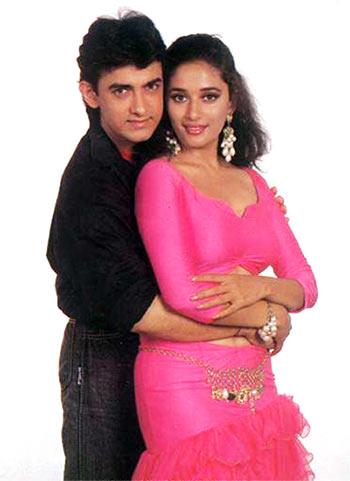 Sukanya Verma gives us 26 reasons why we love Aamir Khan!
In actor Benedict Cumberbatch's words, 'The further you get away from yourself, the more challenging it is. Not to be in your comfort zone is great fun.'
Few mainstream actors have tried to live up to that maxim like Aamir Khan.
Even though he made his entry into films as a traditional romantic hero, the actor made a conscious effort to get out of the rut and establish himself in every role one assumed he wasn't cut out for.
A street-side tapori, a single, struggling father, a cricket-championing villager, a vindictive ice cream seller, a tattooed action hero, a highbrow artist mingling with the elite or, beat this, a religious idealogy-questioning alien?
Aamir Khan celebrates his birthday on March 14. An A to Z of what makes his onscreen persona so awesome.
A for Aal iz well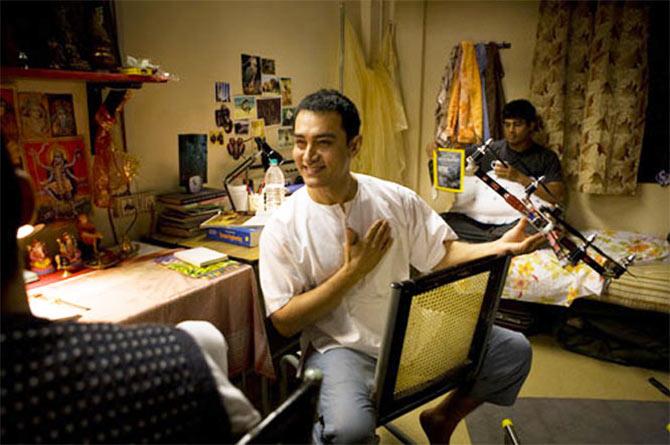 Image: Aamir Khan and R Madhavan in 3 Idiots.
Aamir's come what may crisis control motto resonated not just with his pals in 3 Idiots, but quite a large chunk of the youth brigade outside too.
B for Be a man!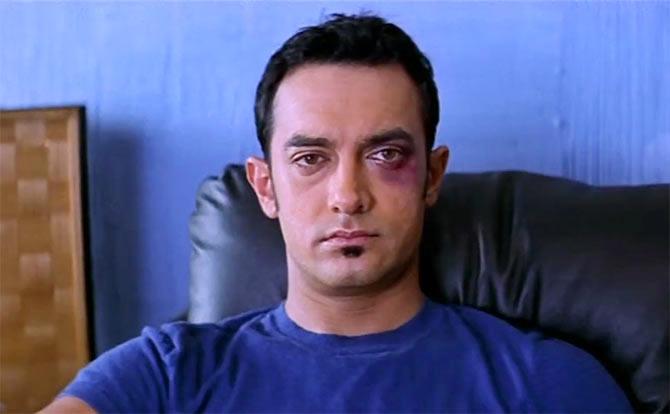 Image: Aamir Khan in Dil Chahta Hai.
Still fresh from a black eye, Aamir the brat prods his sissy friend to tackle his dominating girl by famously doling out this red-blooded piece of advice in Dil Chahta Hai.
C for Captain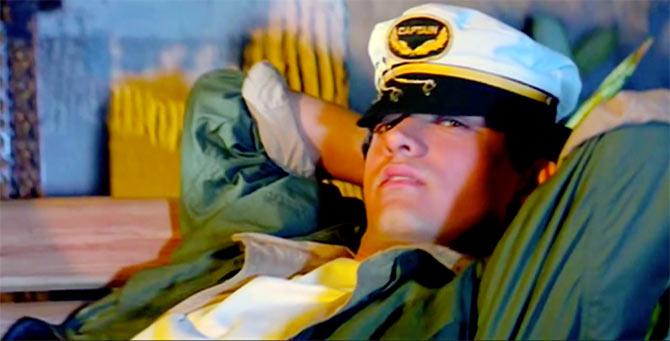 Image: Aamir Khan in Dil Hai Ki Manta Nahin.
Aamir has always had a sweet spot for headgear.
Right from the 'Captain' reading cap from Dil Hai Ki Manta Nahin to the bowler hat of Dhoom 3.
D for Dum dumma dum!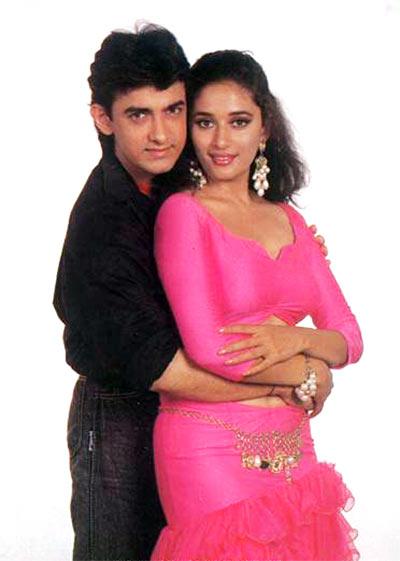 Image: Aamir Khan in Dil.
We've seen many face-offs on screen, but the scorching rivalry over jhatkas and nakhras between Aamir and Madhuri in Dil's bonus ditty, Dum Dumma Dum is something else.
E for Eight packs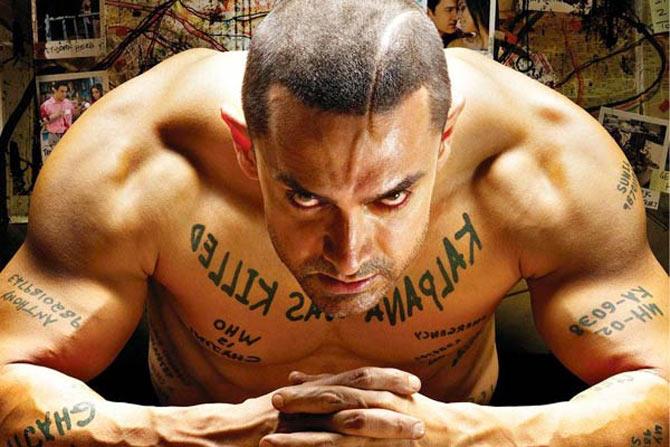 Image: Aamir Khan in Ghajini.
Perfectionist Aamir doesn't take any assignment lightly. Not even a potboiler like Ghajini where he has to play clueless for most part. And that eight-pack torso following some gruelling months in the gym is case in point.
F for Face changing chameleon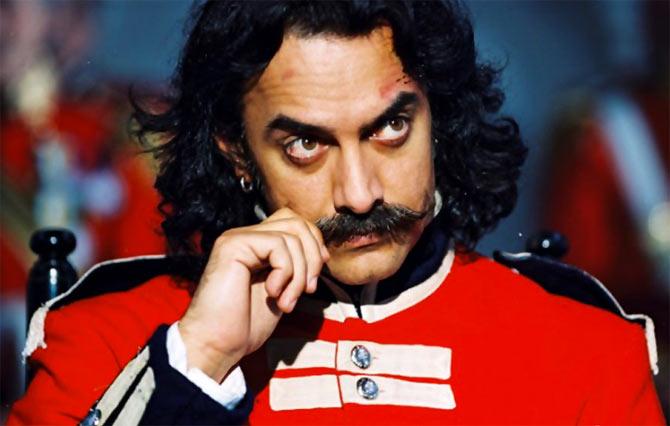 Image: Aamir Khan in Mangal Pandey: The Rising.
One minute he's a cute college goer, another a heavily moustached patriot only to transform into a salwar-clad woman selling soda, Aamir is one helluva chameleon.
G for Ghar ka mamla, Mulk ka mamla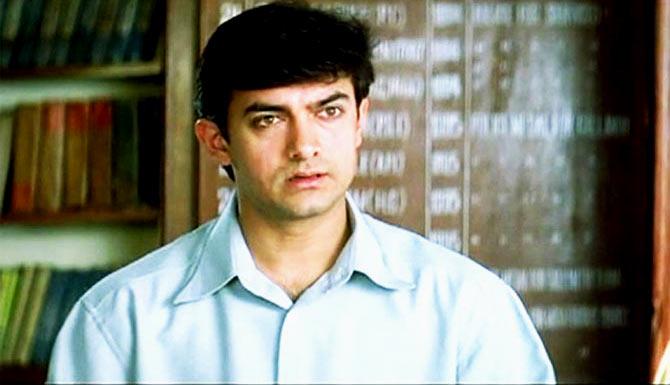 Image: Aamir Khan in Sarfarosh.
As the no-nonsense cop of Sarfarosh, Aamir's ACP Rathore knows how to seal the deal and shut up a doubtful colleague with his, well, no-nonsense national fervour.
H for Haila Juhi Chawla!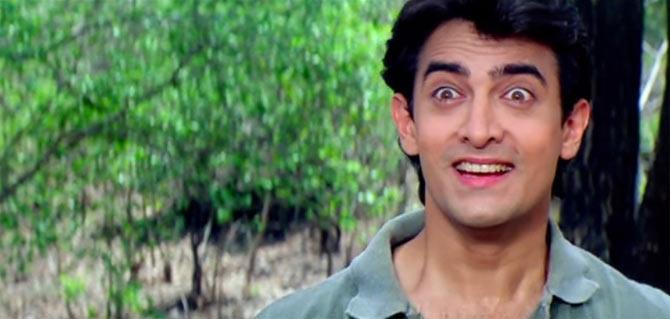 Image: Aamir Khan in Andaz Apna Apna.
If Salman Khan held on to his spate of squealing 'Oooimaas', Aamir punctuates many a jolly moments of Andaz Apna Apna with his patent 'Haila'.
But it's the one that rhymes with his co-star of many films, Juhi Chawla, that works both as a tribute and tickle.
I for Ice-Candy Man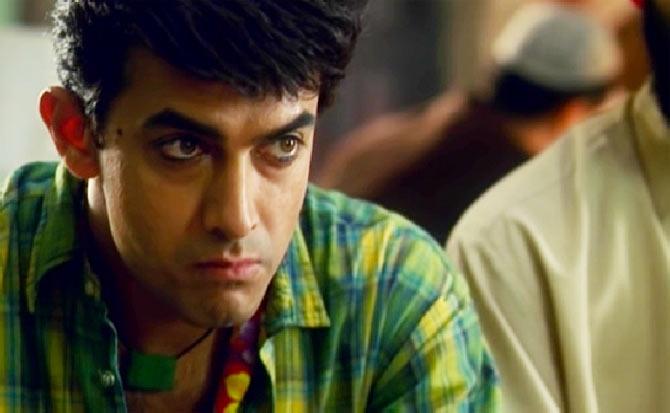 Image: Aamir Khan in 1947: Earth
In one of his noteworthy negative roles, Aamir avenges the loss of his family in the communal riots triggered by Partition in the most brutal betrayal.
But before it gets there, his ice-candy selling Dil Nawaz cuts quite a complex, compelling picture.
J for Julie Braganza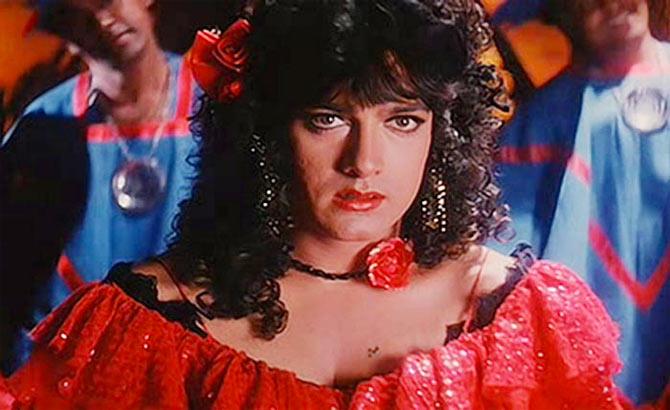 Image: Aamir Khan in Baazi.
The actor's perfectionist bug truly took off with Baazi where he waxed his arms and legs to look authentic for the Dole Dole Dil song and dance act as an undercover cop in the garb of cabaret queen, Julie Braganza.
K for Khandala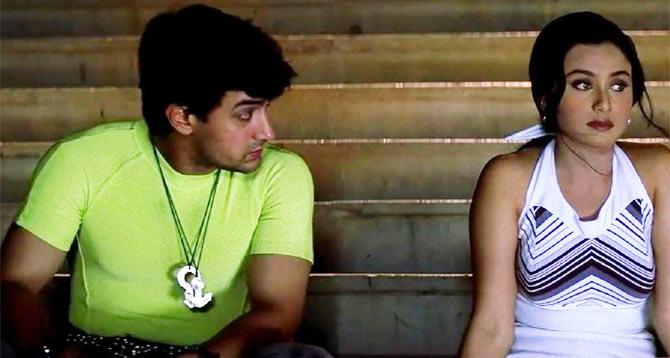 Image: Aamir Khan and Rani Mukerji in Ghulam.
And with Aamir's musical invitation to hang out at Mumbai's popular weekend getaway spot for Rani Mukerji in Ghulam, Khandala garnered celebrity status among Indian hillstations.
L for Luul!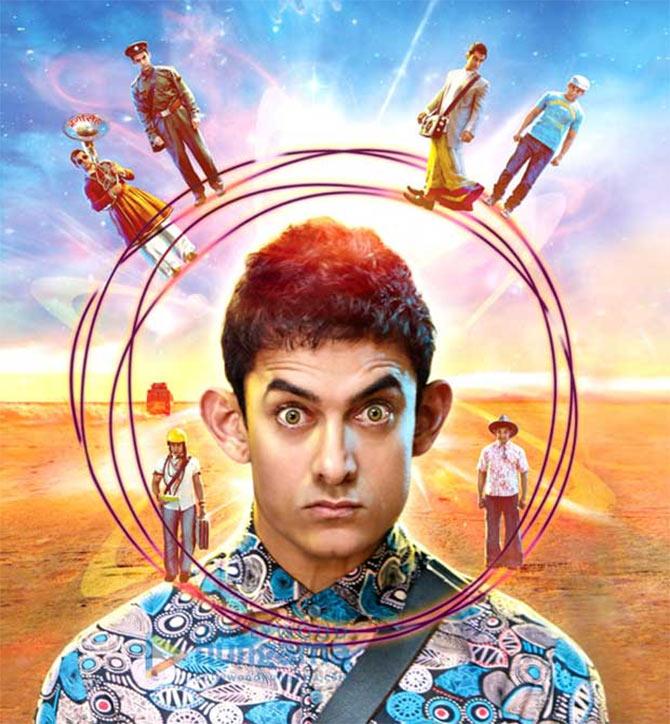 Image: Aamir Khan in PK.
PK's lingo is one of the most droll aspects of the Rajkumar Hirani drama, which questions the point of ritualistism in religion through Aamir Khan's wide-eyed, Bhojpuri-accented alien.
But mostly all his jabber about that luul gola called earth received rather LOL reactions from the audience.
M for Model School Ke Pyjaamachaap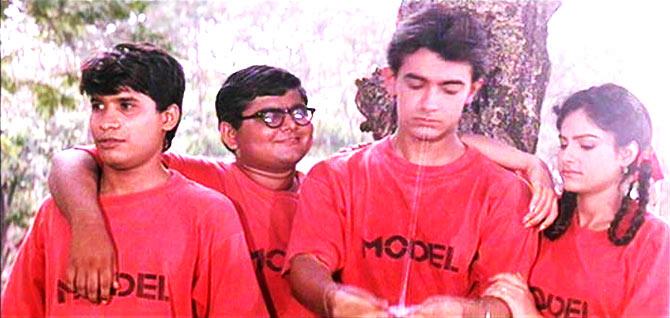 Image: Aditya Lakhia, Deven Bhojani, Aamir Khan and Ayesha Julka in Jo Jeeta Wohi Sikandar.
Never underestimate the power of Model School's pyajamachaaps as proven to the haughty Rajputians by a certain Sanjay Lal aka Sanju in the evergreen coming-of-age cycling drama, Jo Jeeta Wohi Sikandar.
N for Nikumbh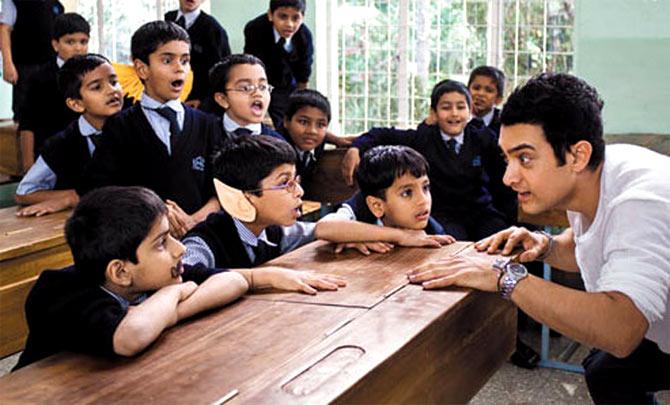 Image: Aamir Khan in Taare Zameen Par.
In his directorial debut, Taare Zameen Par, as the concerned, compassionate and communicative art teacher -- Nikumbh Sir -- Aamir reserves a spot in every single Best Screen Teachers of Bollywood compilation for years to come.
O for Oscar-nominated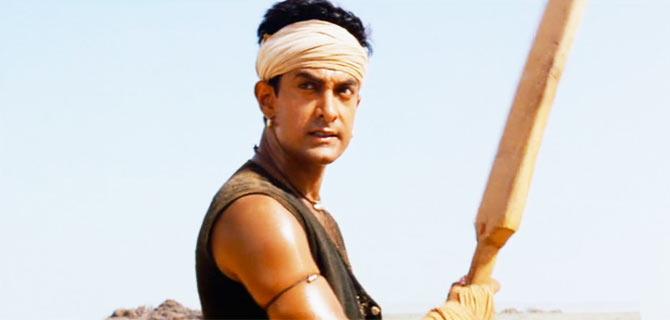 Image: Aamir Khan in Lagaan.
He may not attend award functions in India, but Aamir wears the Oscar-nominated status of his first production Lagaan with deserving pride.
With this Ashutosh Gowariker's pre-Independence ensemble, set in a village around a game of cricket, the superstar put up quite a score.
P for Pardesi, Pardesi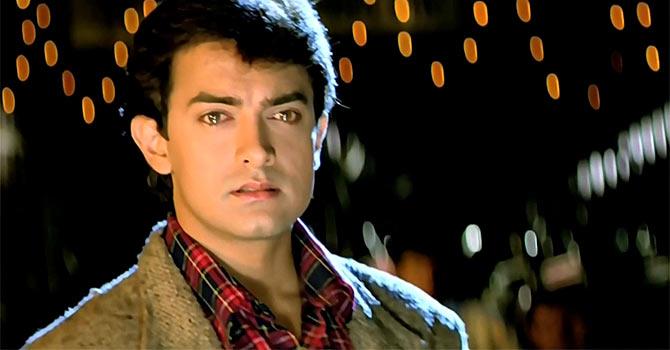 Image: Aamir Khan in Raja Hindustani.
Playing the high strung cabbie Raja Hindustani to Karisma Kapoor's polished heiress, Aamir gave real life taxi guys a track to blast their stereo on repeatedly with the melodramatic chartbuster, Pardesi Pardesi Jaana Nahi.
Q for QSQT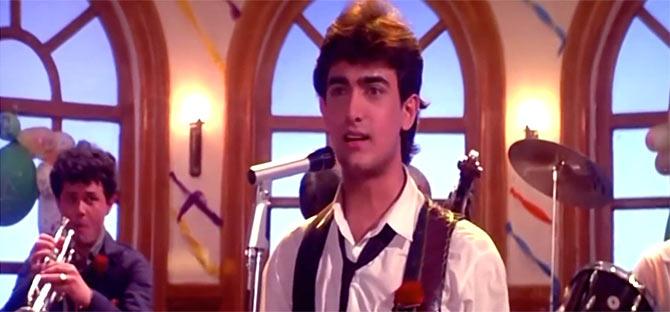 Image: Aamir Khan in Qayamat Se Qayamat Tak.
Technically, it may have all started with Yaadon Ki Baarat or even Holi, but it is the visual of Aamir Khan in a black waistcoat and tie, strumming a guitar and crooning Papa Kehte Hain in Qayamat Se Qayamat Tak that marks the beginning of a glorious chapter.
R for Raised eyebrows

Image: Aamir Khan in Talaash, Dhoom 3, PK.
Those oddly arched eyebrows and frowny face in Talaash and Dhoom 3 became the butt of many a digs.

As if on cue, the man joins in the fun mocking his bushy brows with an even more severe version of the said expression in and as PK.
S for Sue Kar Mere Mann Ko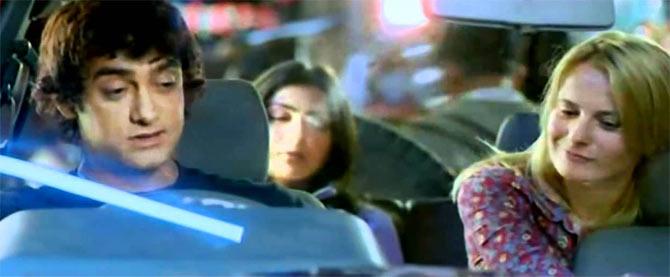 Image: Aamir Khan, Soha Ali Khan and Alice Patten in Rang De Basanti.
The transition of his DJ from happy-go-lucky to purposeful in Rang De Basanti is at the script's core, but it is the lighter moments where our connect begins.
And his extempore Sue Kar Mere Mann Ko taking off from Yaarana's Choo Kar Mere Mann Ko flirtingly directed at British hottie Alice Patten is part of that itinerary.
T for Teeeeeelu!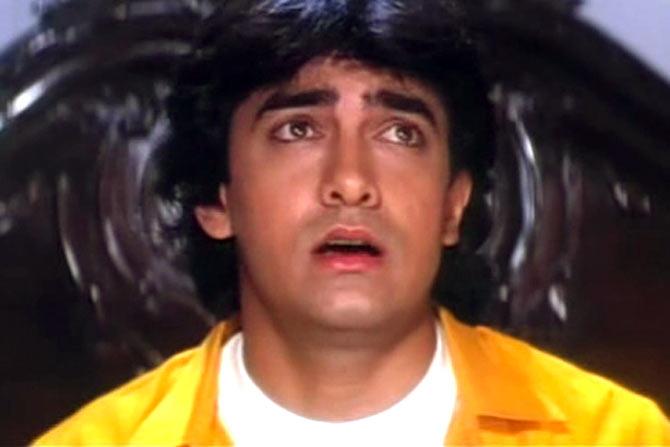 Image: Aamir Khan in Andaz Apna Apna.
Forget the retrograde amnesiac bouts of Ghajini, it is Aamir's strategically planned memory loss that leads him to Raveenaji's abode and, hopefully, vault as Andaz Apna Apna's beloved Teeeeelu -- rechristened so because she found him on a teela (mound) -- that never ceases to amaze.
U for Uncle!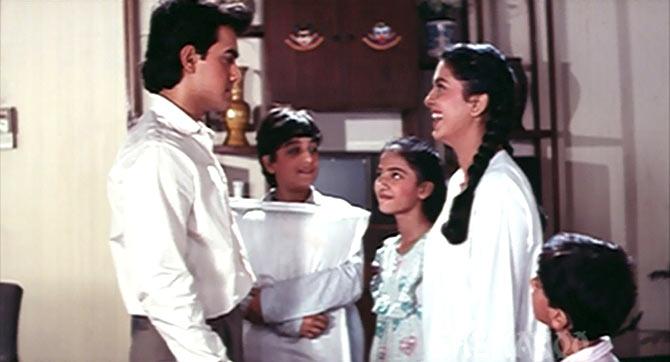 Image: Aamir Khan, Sharokh Bharucha, Baby Ashrafa, Juhi Chawla and Kunal Khemmu in Hum Hain Rahi Pyaar Ke.
The Hum Hain Rahi Pyaar Ke duo Aamir and Juhi always enjoyed a tremendous fan following among the kids.
We are quite sure playing the dull uncle who eventually comes around to Kunal Khemmu and Co -- Lagta hai Mama sudhar gaya -- in the family-friendly comedy has something to do with that.
p>V for Vroom Vroom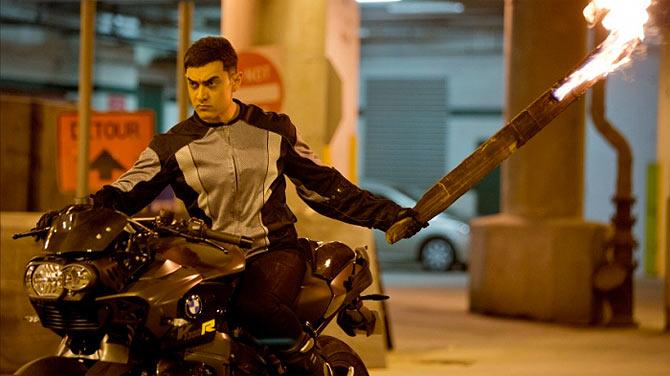 Image: Aamir Khan in Dhoom 3.
Never too shy to channel its inner Batmobile, Aamir's vrooming BMW bike in Dhoom 3 turns many a whistle-worthy moments in the Chicago chase sequences of the franchise.
W for Watermelon Song!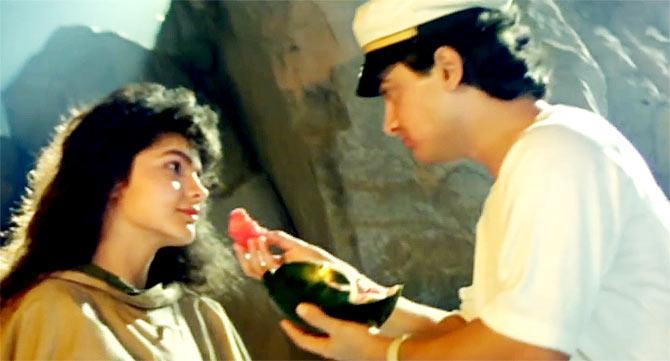 Image: Aamir Khan and Pooja Bhatt in Dil Hai Ki Manta Nahin.
There's something so delicious about the manner in which Aamir breaks a luscious watermelon with his bare fist and digs in to enjoy its succulent fruit.
It makes the drooling expression on Pooja Bhatt that follows pretty understandable.
And to think this absolutely foodie moment is encapsulated in one of the most romantic songs -- Dil Hai Ki Manta Nahin.
X for X-Rated. Well, almost!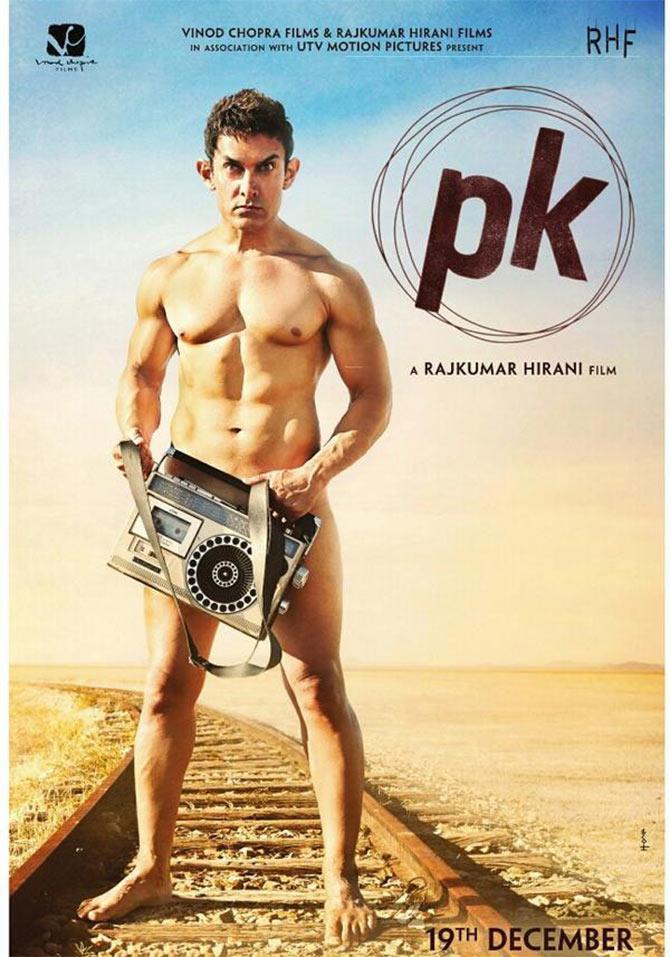 Image: Aamir Khan in PK.
PK's attention grabbing poster leaves little to imagine.
A dangling two-in-one music stereo positioned carefully to conceal a naked Aamir's modesty makes it just short of a full-fledged X-classification.
Y for Yellow!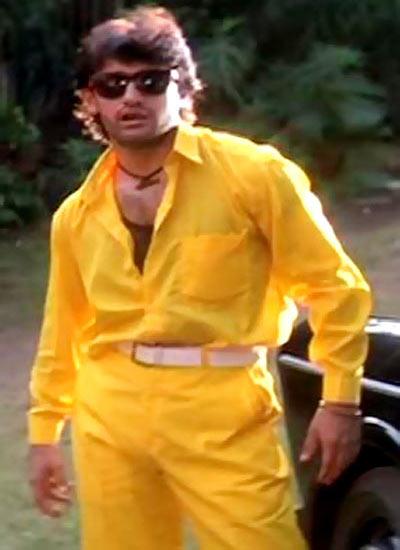 Image: Aamir Khan in Rangeela.
Aamir's Rangeela tapori is an unforgettable sight in his a uniformly canary yellow costume, the one he dons to impress Urmila Matondkar on their five-star hotel lunch date which includes a hilarious encounter with the restaurant waiter.
Z for Zoobi Doobi Dum Taara!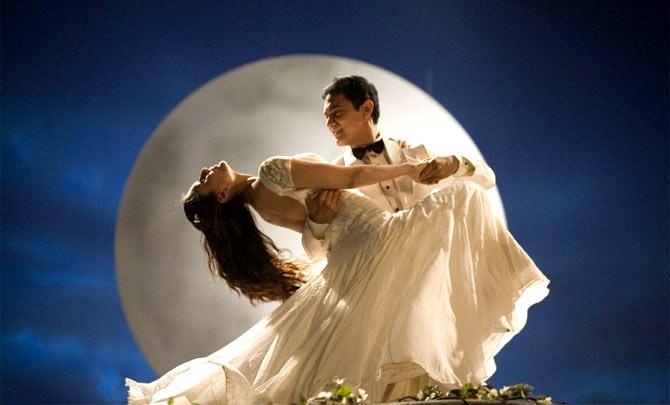 Image: Aamir Khan and Kareena Kapoor in 3 Idiots.
Aamir, joined by a exuberant Kareena Kapoor, pays ode to the dreamy picturisations of Hindi film songs in the cheerful gibberish of 3 Idiots's Zoobi Doobi.