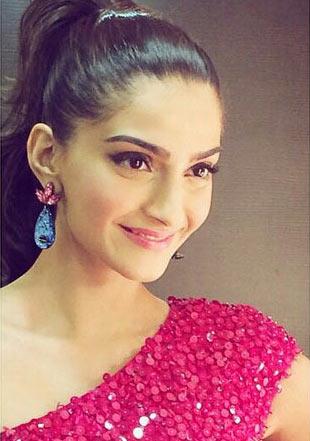 As Sonam Kapoor turns 30, we look at her most fashionable avatars.
'Fashion is an extension of who you are.'
'I dress according to my mood.'
'One should wear the outfit; the outfit should not wear you.'
'If people think you are boring at the red carpet, be boring, that's who you are. You want to be safe, be safe. As long as you are comfortable you will look beautiful.'
Sonam Kapoor doesn't just preach fashion. She practises it too. Never before has any lady in Bollywood been this synonymous with style as Anil Kapoor's first born and the leading lady of films like Aisha, Khoobsurat and Dolly Ki Doli.
On her 30th birthday, it's only fair we celebrate 30 of her MOST chic appearances.
Sonam is a vision draped in an exquisite ivory-hued ruffle sari from the house of Abu Jani-Sandeep Khosla.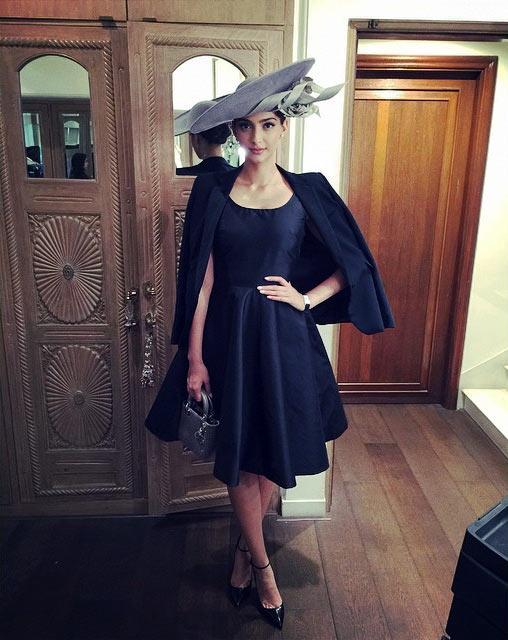 Oh look who's channeling her fashion idol Audrey Hepburn in that dainty Neha Taneja dress and Irish hat designer Philip Treacy's stunning creation.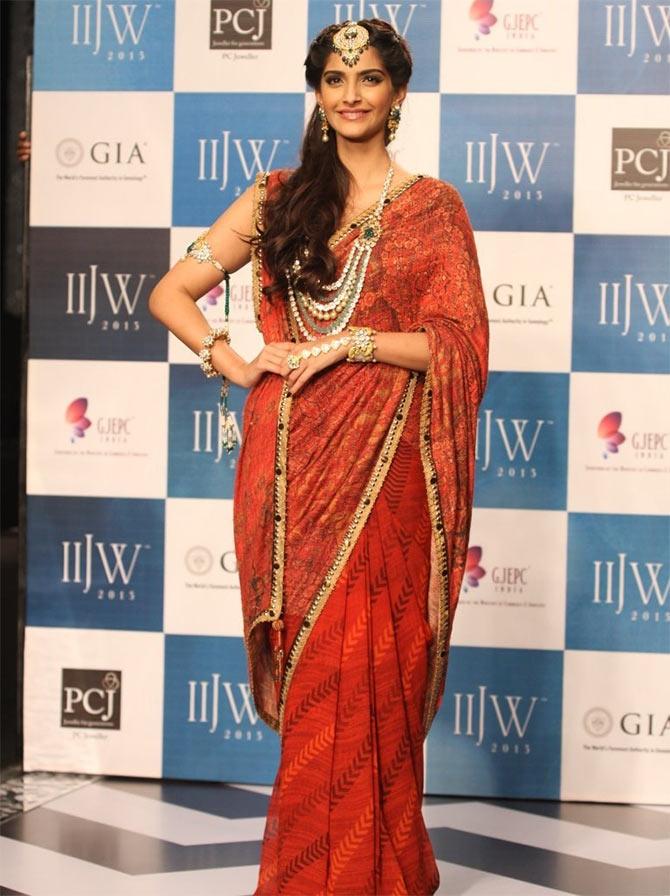 Decked in bold and bright baubles, Sonam looks every bit a regal star in that gorgeous red JJ Valaya sari.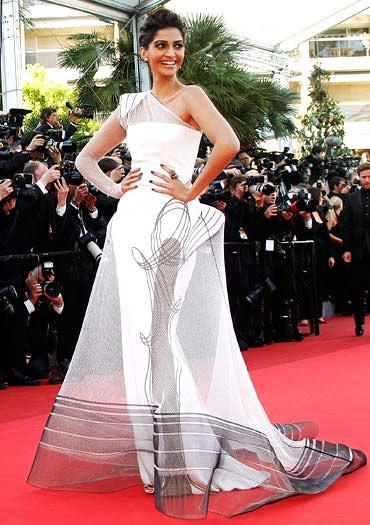 And it is in that splendid Jean Paul Gaultier Couture, Sonam stepped foot on the prestigious Cannes red carpet for the first time. Click here for more pictures.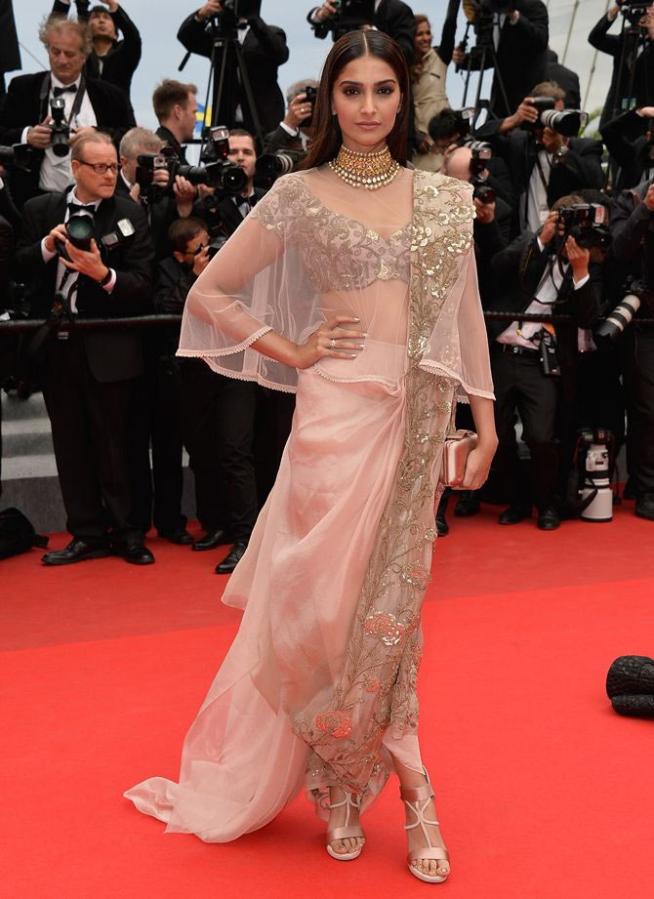 The Delhi 6 heroine emerges triumphant in her fusion Anamika Khanna ensemble in a way her contemporaries can only dream.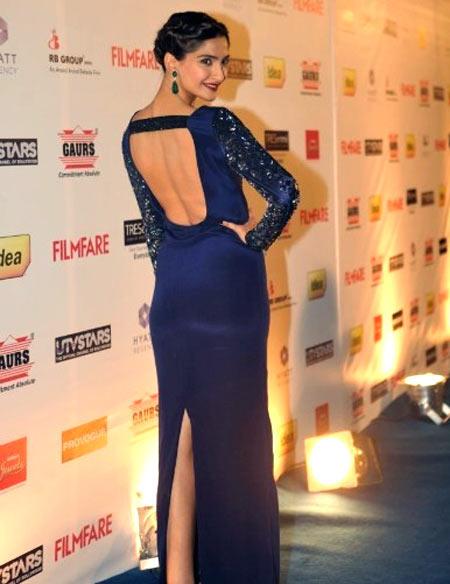 Love the colour, the styling and the elegance of Anushka Khanna's beaded gown on the Raanjhanaa heroine.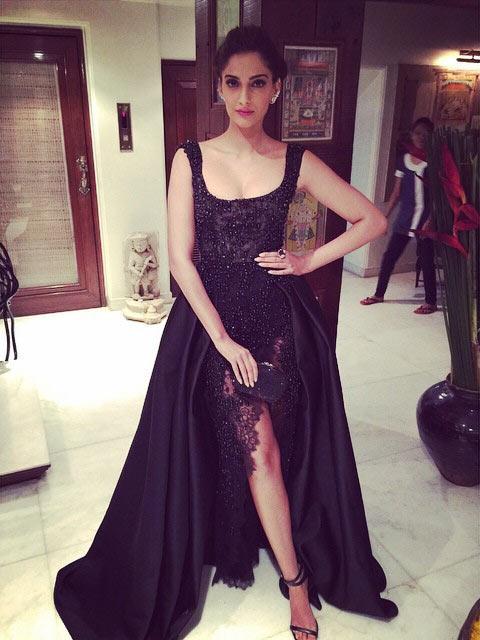 Everything about Sonam in a lacy black Elie Saab number screams HAWT.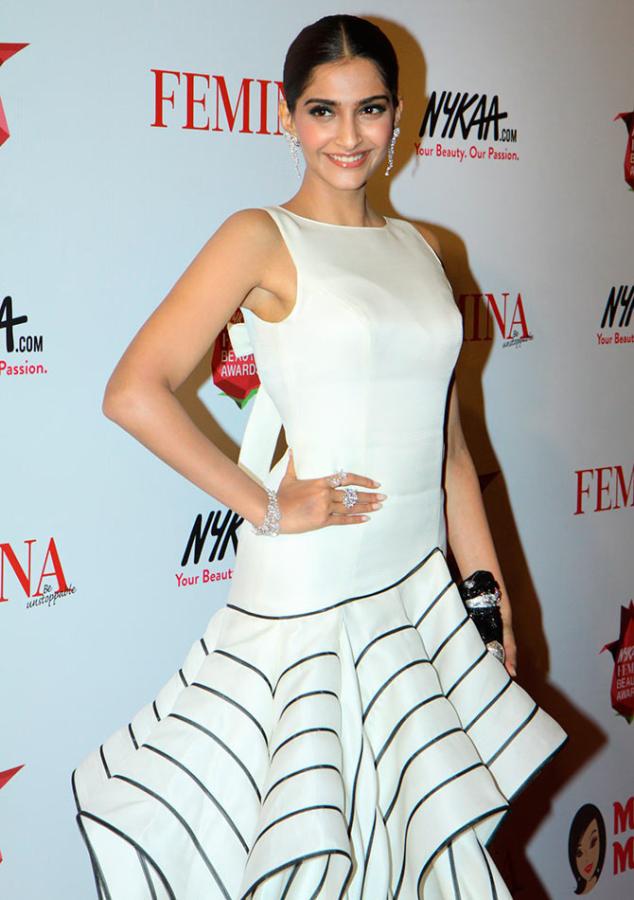 Trust Bollywood's number one fashionista to do monochrome with a difference wearing a design from Isabel Sanchis' Spring collection.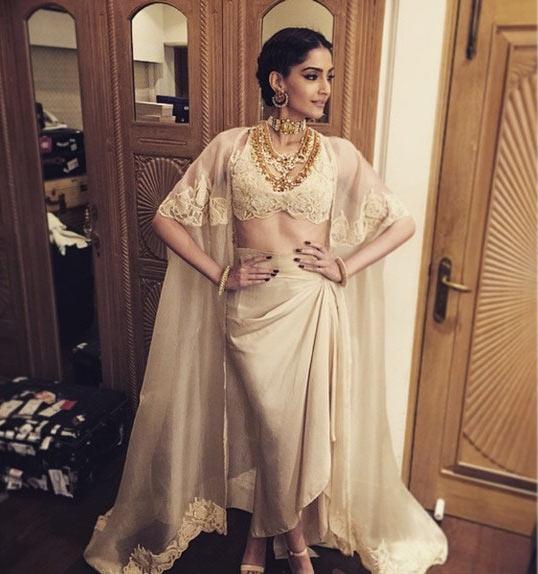 Anamika Khanna is Sonam's one-stop destination for all things grand and vogue. And by the looks of it, the lady seldom disappoints.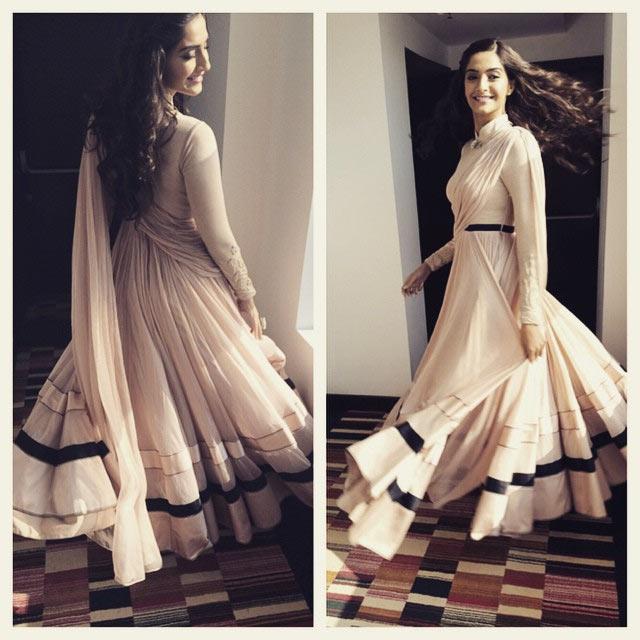 She's as appealing in a simple Shantanu and Nikhil anarkali.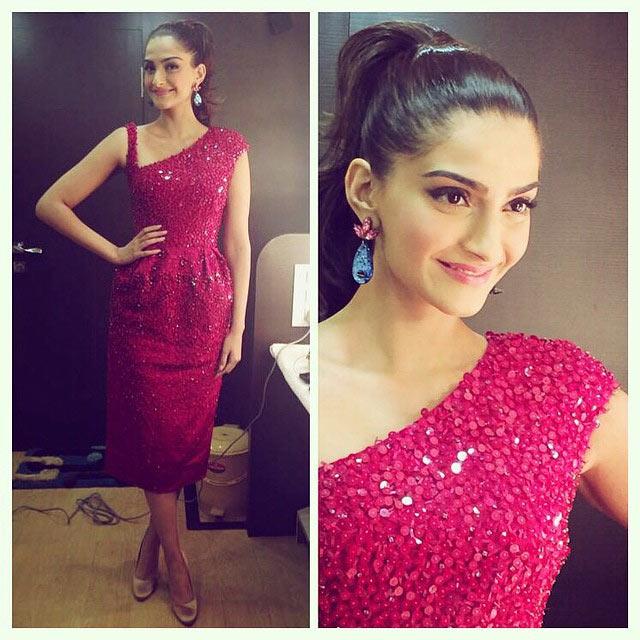 Bibhu Mohapatra's ruby red dress transforms Sonam into a killer blend of girly and glamorous.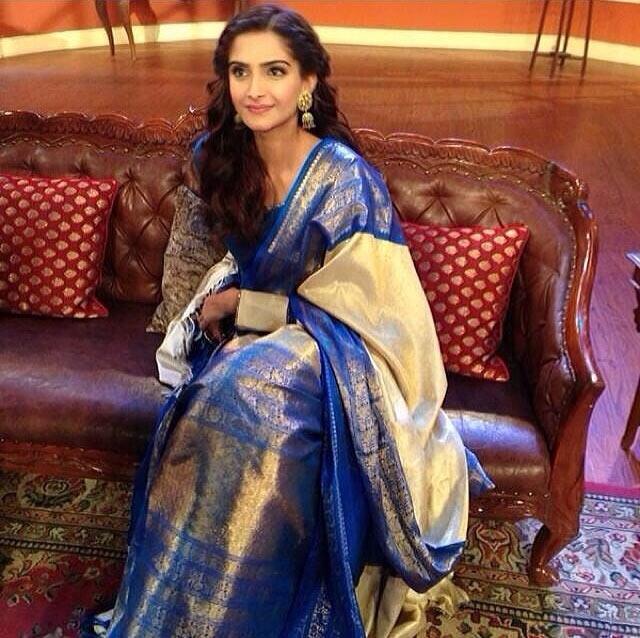 Think hand-woven zari is too old-fashioned? Watch. Learn.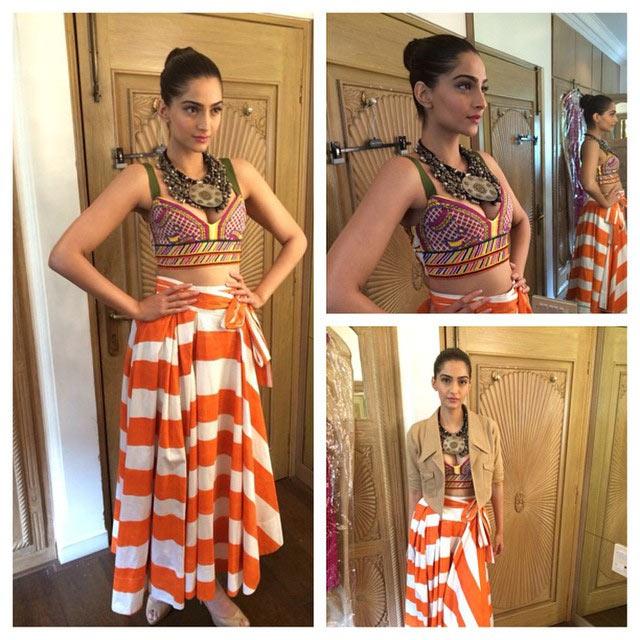 What's not to dig about this colourful, quirky Easton Pearson outfit on a fiercely styled Sonam?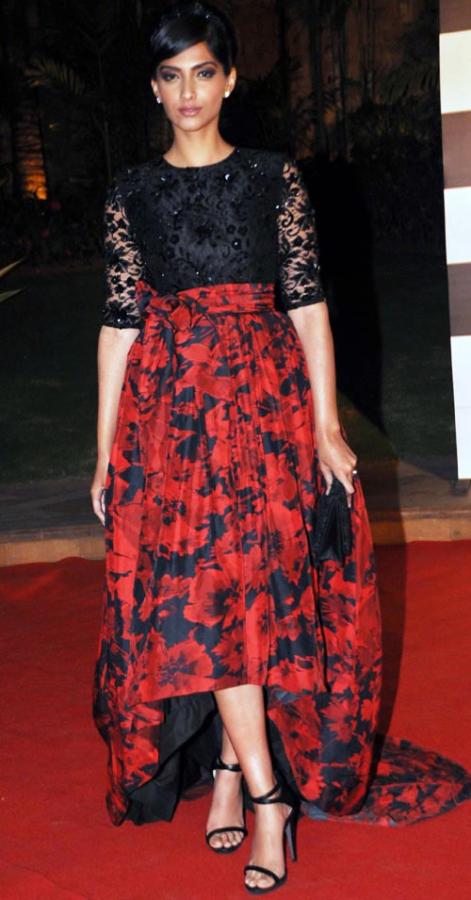 A high-low floral print skirt teamed with a sequined, lace top and a tiara to boot may not be everyone's cup of tea. Hats off to Sonam for making it work.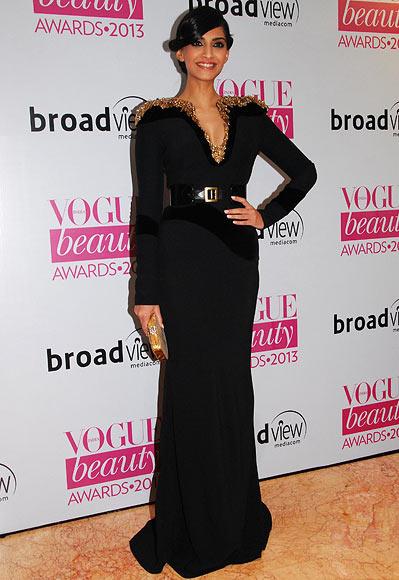 Transformation thy name is Sonam Kapoor. How statuesque is the star in an embellished Alexander McQueen black gown and Taylor Swiftish updo?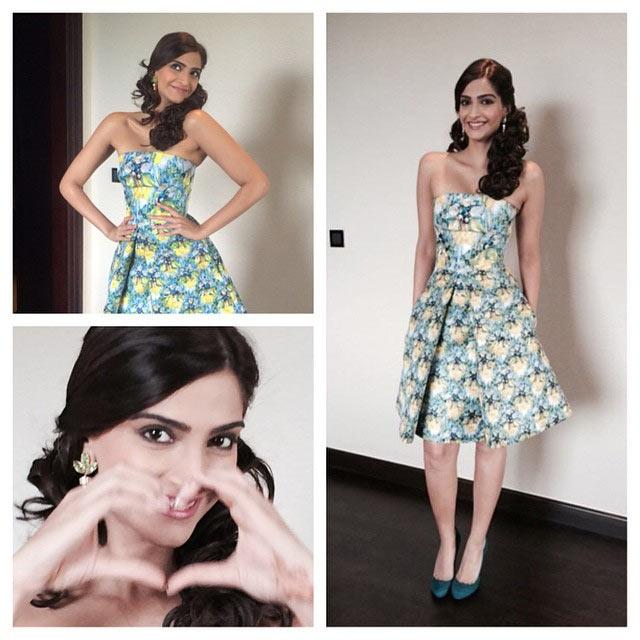 Fresh, floral, young, fabulous -- there's not one thing we'd change about Sonam's appearance here.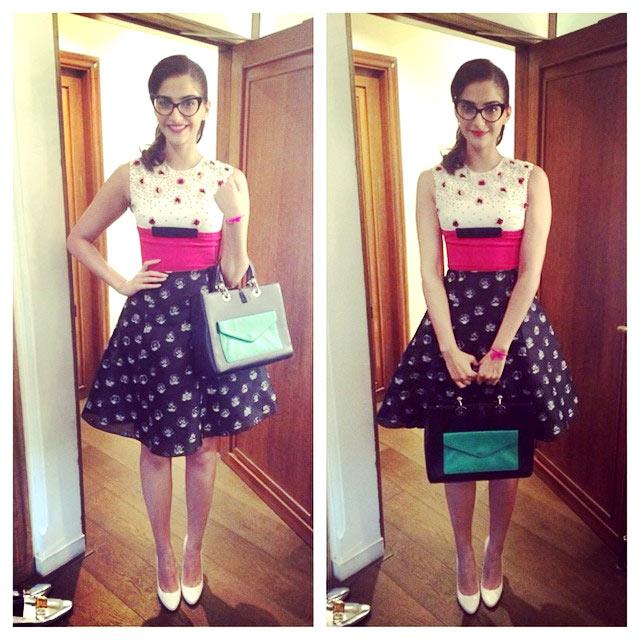 Step aside Lois Lane. The queen of geeky chic is here.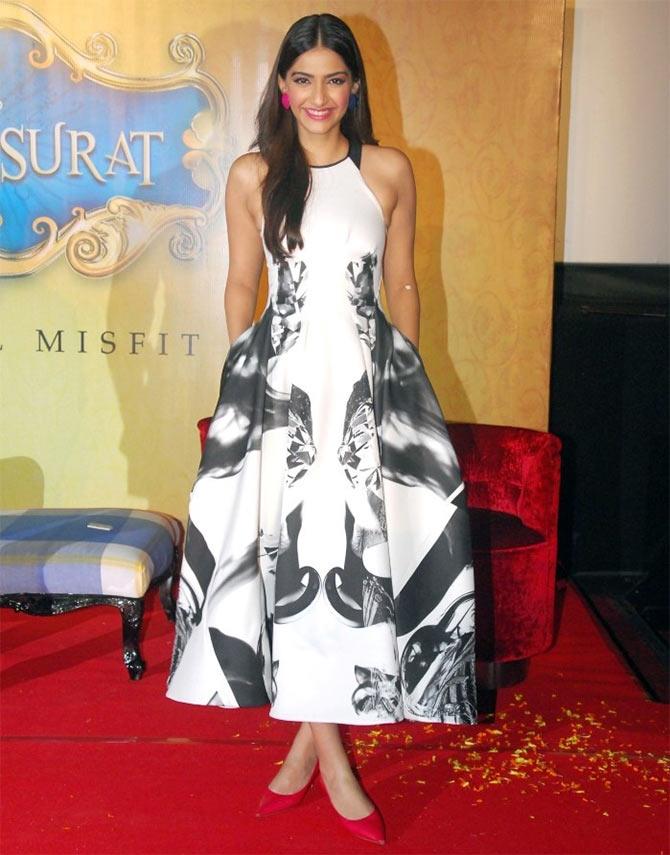 A beaming smile and a pop of colour are the only accessories Sonam needs to go with her black and white frock by Melbourne-based designer Tony Maticevski.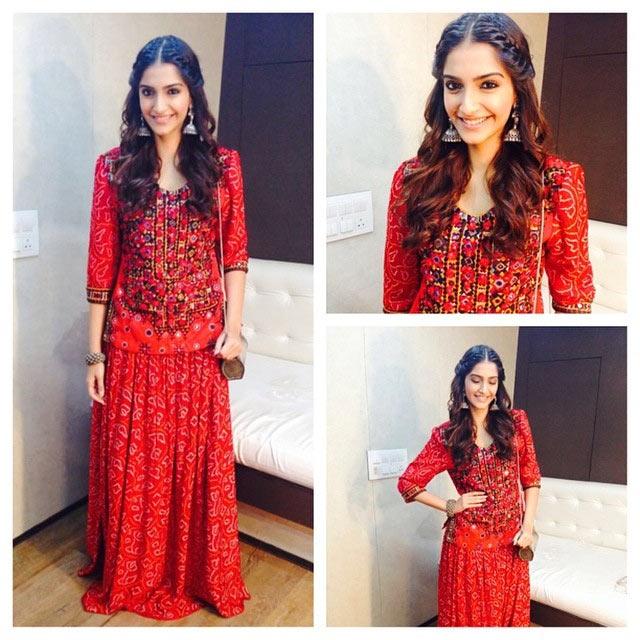 The actress is a sucker for vintage fashion. Imagine how thrilled she must be to slip in this pretty mirror-work kurti and skirt from her mom's erstwhile clothes brand, Amaya.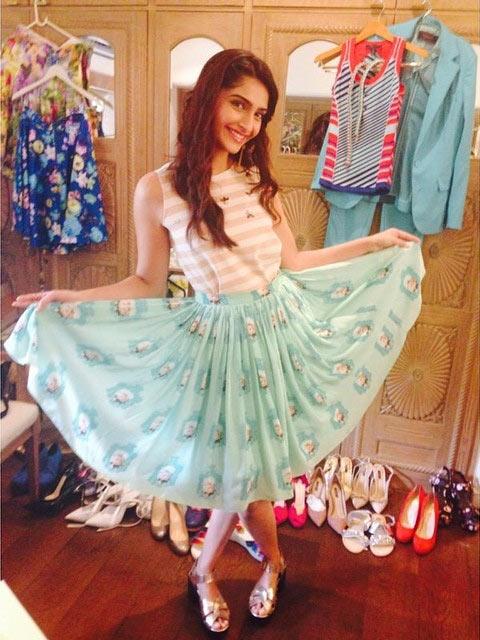 Mix and match is the way to roll or so Sonam demonstrates in her summery take on high-street fashion.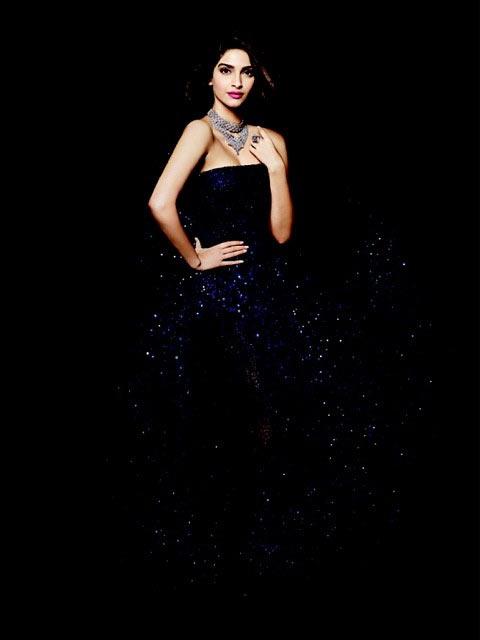 Diamonds are a girl's best friends. And if there's a sexy, sparkly, strapless Elie Saab gown to go with it, boy, now that's a Bollywood star.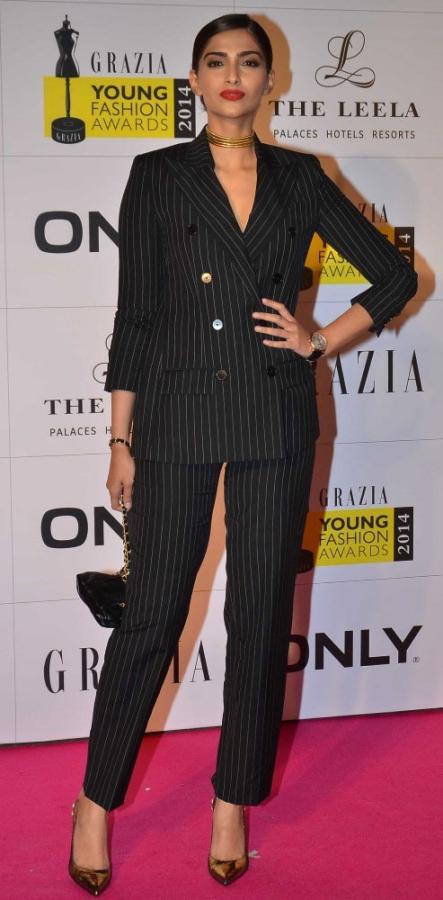 Looking sharp in that Jean Paul Gaultier pinstriped suit and sleek bun, aren't we?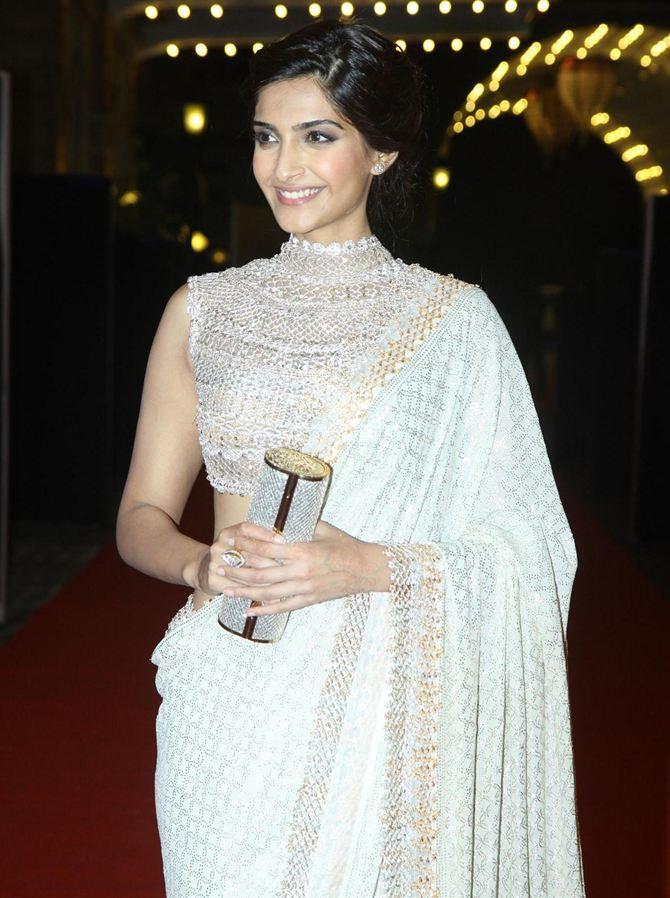 Sonam says she LOVES wearing saris. We like them on her too.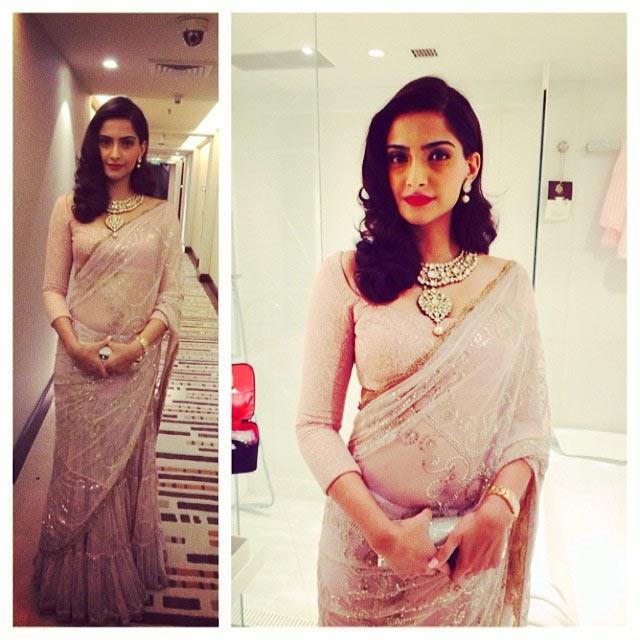 Though she's shown having a hard time around them in her Disney hit, Khoobsurat, the actress could have easily passed off as one of the royals herself. Check this out.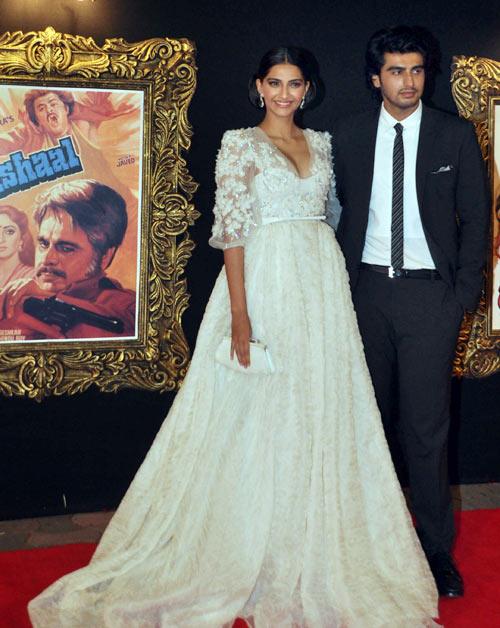 Everything is fair in love, war and red carpet events. And that includes looking this smashing in a romantic, floor-sweeping Elie Saab at the premiere of someone else's movie.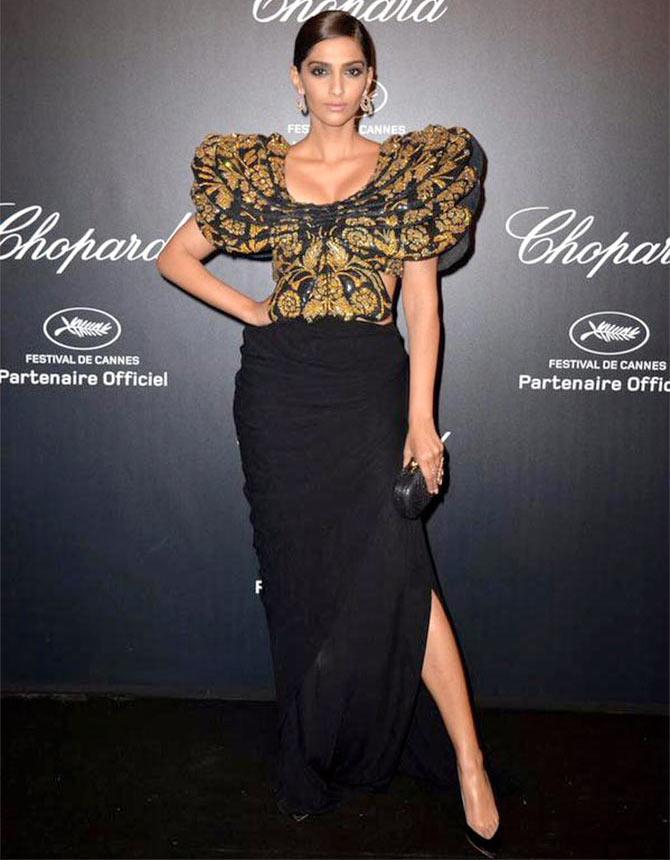 Where most others would falter, the fashion diva breathes drama into Abu Jani-Sandeep Khosla's over-the-top, quirky design.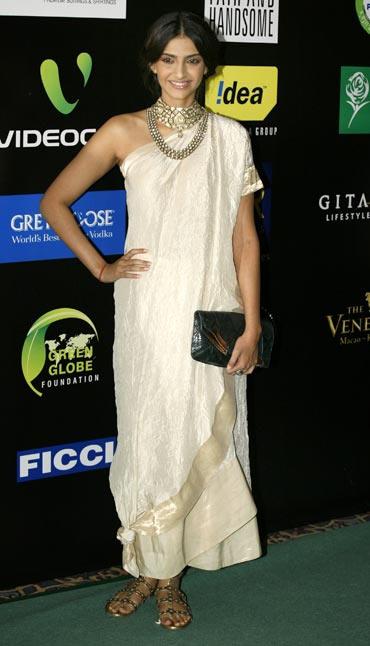 There's never a dull moment around Sonam Kapoor at the red carpet. Even when she's doing classics, they think out of the box.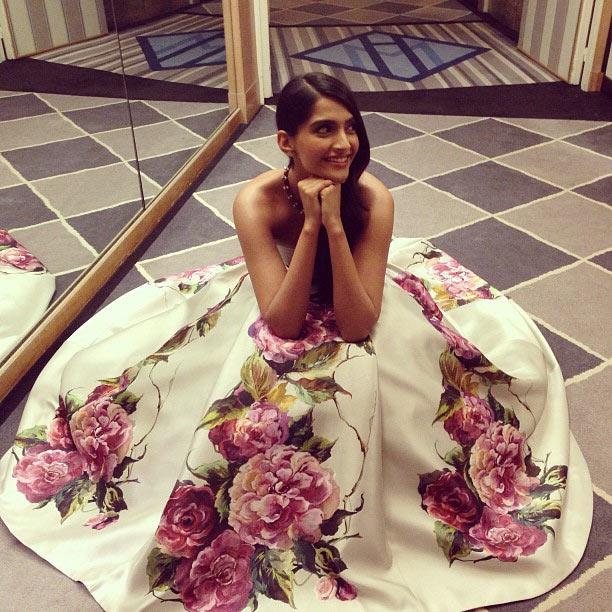 Sonam has her princess moment in a beautiful Dolce & Gabbana gown.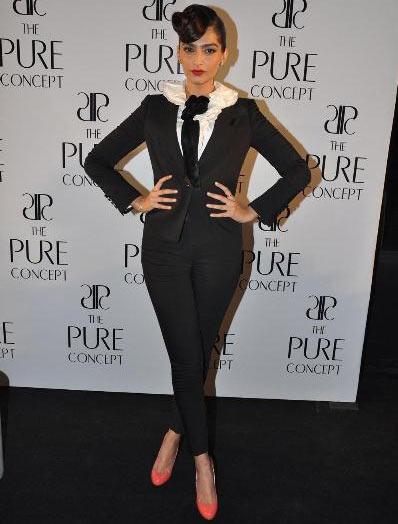 In her Blade Runner's Sean Young hair, D&G tux, bold red lips and coral pumps, Sonam reiterates her serious commitment to fashion.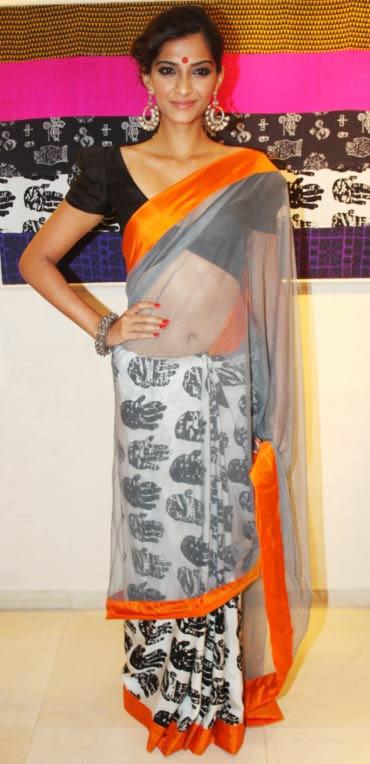 Designer Masaba Gupta shared in an interview how no one bought her saris until Sonam endorsed them. That's the power of Sonam's fashionable appeal, she recognises the edgy in odd.
Happy Birthday, girl!