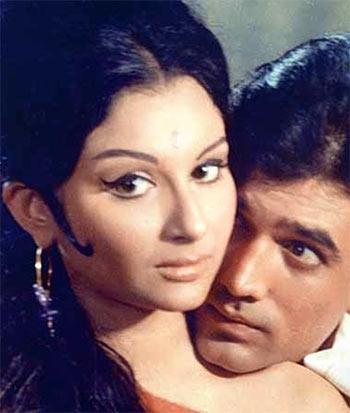 Happy birthday, Sharmilaji!
From doe-eyed ingenue to bikini-clad stunner, from commercial superstar to censor board chief, Sharmila Tagore has worn many hats very memorably indeed.
And as the star turns 70 today, December 8, we raise a toast to her finest performances.
Happy Birthday, Sharmilaji. Long may you continue to make us swoon. And may some filmmaker today find the courage to write you a part to rival these films, your very best.
Presented here, then, in chronological order, the Sharmila Tagore top 10:
Apur Sansar (1959)
Image: Soumitra Chatterjee and Sharmila Tagore in Apur Sansar.
Tagore's debut film happened to be a cinematic landmark, the actress making her bow during the final act of Satyajit Ray's iconic Apu Trilogy.
Translated as The World Of Apu, Apur Sansar is heartbreaking and eventually bleak, with Soumitra Chatterjee's Apu forced to marry Tagore's Aparna. Between all the sadness, Sharmila incandescently lights up the screen, and their tender romance remains a part of movie lore.
Devi (1960)
Image: Sharmila Tagore in Devi.
While her debut might have been more Chatterjee's film, Tagore's next -- also featuring the same leading man -- was decidedly the author-backed central character.
A Ray satire on societal conventions and religious dogma, Devi sees Tagore hoisted onto a pedestal one day because her father-in-law dreams she is an avatar of the goddess Kali.
Supplicants begin to build, and Tagore is phenomenal in the part as she too begins to believe in her own divinity.
Kashmir Ki Kali (1964)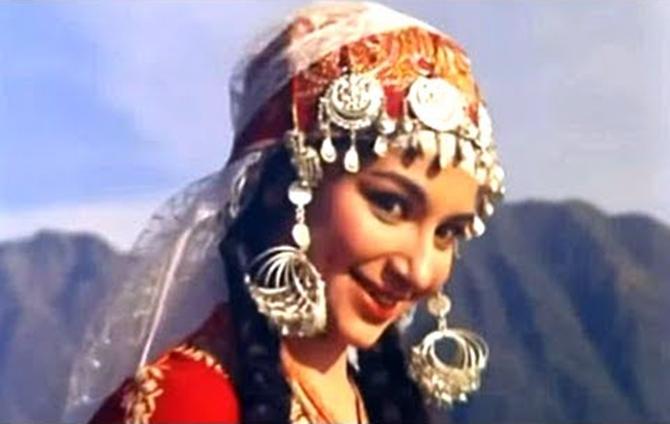 Image: Sharmila Tagore in Kasmir Ki Kali.
Tagore's Bollywood innings began diametrically different from her intense work with Ray. Director Shakti Samanta decide to use the dazzling actress to enchant the audience.
It was a clever call because Tagore was rather atypical to the Hindi screen considering then-heroines like Sadhana, Saira Banu and Vyajantimala, and she forged immediate (and delightful) chemistry with her irrepressible leading man, Shammi Kapoor. The elfin and the impish made for quite a pair.
Anupama (1966)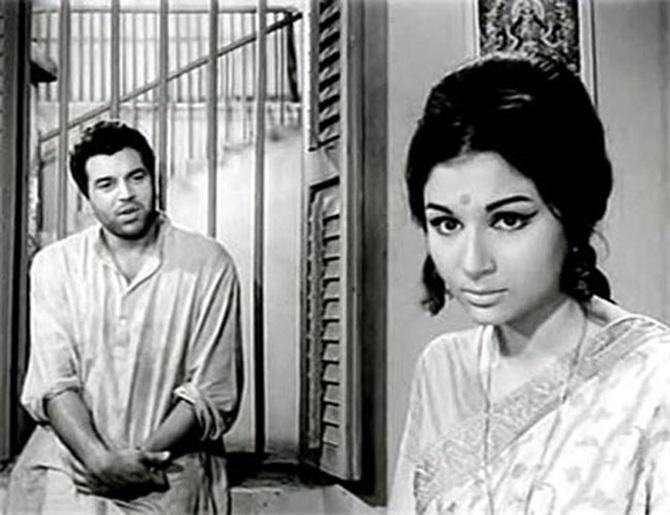 Image: Dharmendra and Sharmila Tagore in Anupama.
No other Hindi filmmaker quite tapped into Tagore's talent like Hrishikesh Mukherjee. The master director first cast her in this unconventional drama about a deeply introverted girl.
Tagore, as the reticent Uma, delivers an evocative performance alongside leading man Dharmendra, who plays a writer and teacher, and Deven Varma, who left us so recently.
Nayak (1966)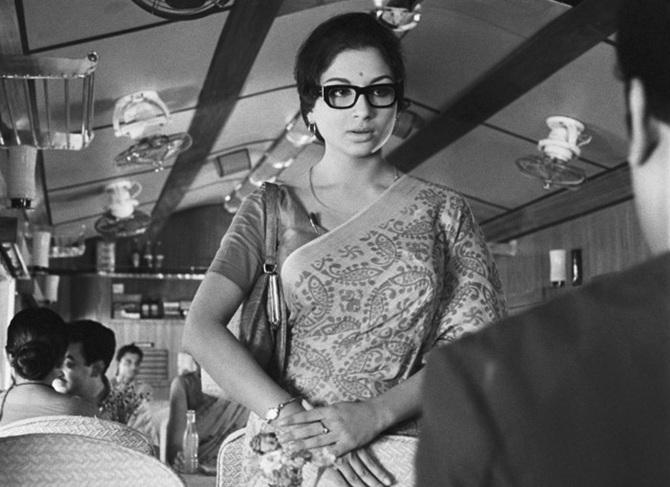 Image: Sharmila Tagore in Nayak.
Satyajit Ray's fantastically introspective look at the life of an actor and the very nature of celebrity was grounded and held in place by Sharmila Tagore playing a young journalist, determinedly hacking away at a superstar actor, who happens to be on the train with her.
Uttam Kumar, as the star, is splendid but it is Tagore's performance that gives the film its narrative heft and holds it together.
An Evening In Paris (1967)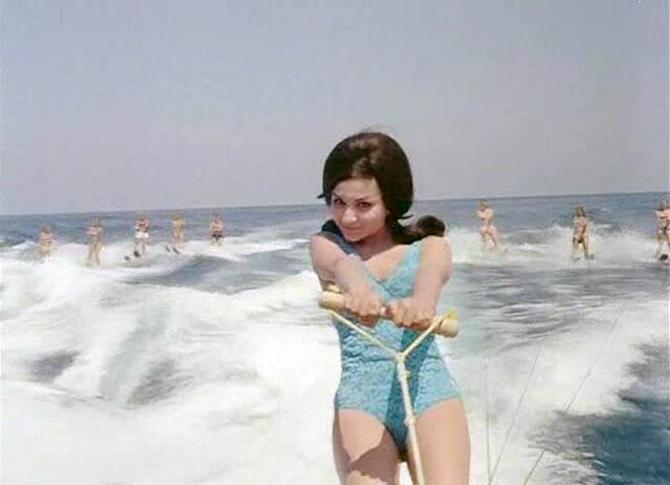 Image: Sharmila Tagore in An Evening In Paris.
Yet another Shakti Samanta film, An Evening In Paris saw Sharmila not just at her most varied -- she starred in a double role as heiress and cabaret dancer -- but also at her absolute sexiest, as she became the first mainstream Hindi film heroine to wear a bikini on screen.
She did so with marvellous nonchalance, and embraced the film's commercial aspects very gamely indeed, making for a rollicking performance alongside longtime screen companion Shammi Kapoor.
Satyakam (1969)
Image: Sharmila Tagore and Dharmendra in Satyakam.
A profound moral and philosophical tale dealing with rationalism and, eventually, absolutism, this Hrishikesh Mukherjee drama saw the director and leading man Dharmendra arguably at their very peak. Tagore herself has a conflicted, morally grey role, a demanding one that the actress handles beautifully.
It is a thoughtful performance in a thought-provoking film.
Aradhana (1969)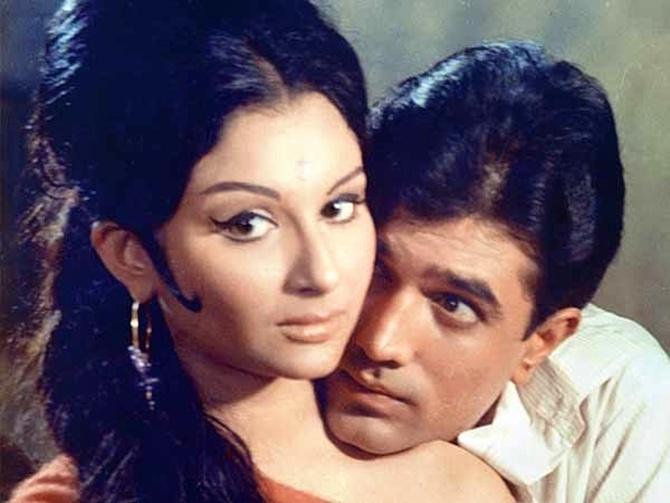 Image: Sharmila Tagore and Rajesh Khanna in Aradhana.
Melodramas are rarely as unforgettable as this Shakti Samanta weepie featuring Rajesh Khanna in a double role.
Tagore's is the miserable role, that of a briefly wooed, secretly-married wife who is widowed quickly and has to pretend to be her son's nurse. It is a painful part, and Tagore is masterful on a near-operatic level as she nobly takes all the hurt in her stride.
Aranyer Din Ratri (1970)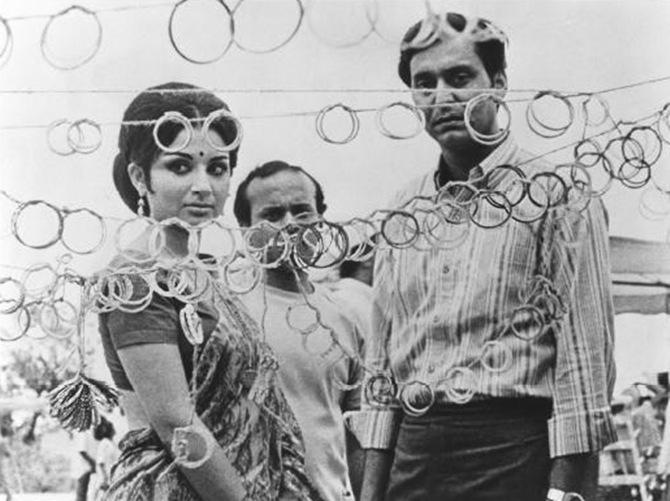 Image: Sharmila Tagore in Aranyer Din Ratri.
In Satyajit Ray's 1970 adaptation of Sunil Gangopadhyay's novel of the same name -- translated to Days And Nights In The Forest -- Tagore plays Aparna, a progressive and elegant woman out for a getaway in the forest.
She's sophisticated, sharp and clever enough to not be taken in by casually charming men, who might not know what they want just yet. It's a deliciously well-balanced character, and nobody but Tagore could have played it as gracefully.
Mausam (1975)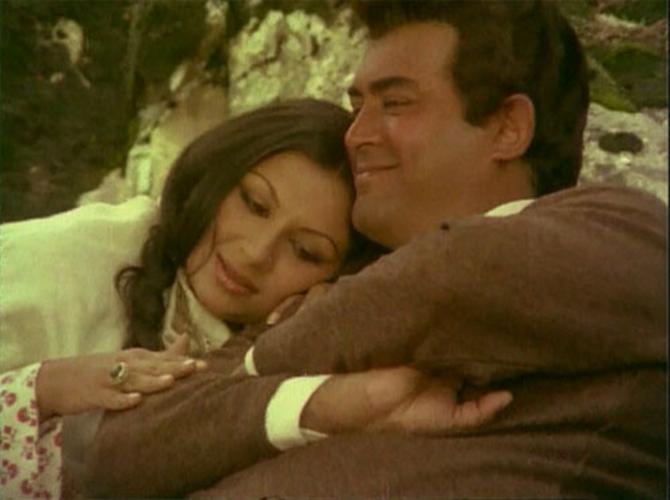 Image: Sharmila Tagore and Sanjeev Kumar in Mausam.
Gulzar's 1975 drama almost let Sharmila play out her Aradhana character in reverse, here starring in a double role as the mother who went insane and the daughter who doesn't know her father's identity.
This is an even more depressing set of characters, with Tagore first, as the mother, sliding into dementia and later, as the daughter, working in a brothel. It all sounds like high-melodrama, but Gulzar treats the subject with his trademark sensitivity, and gives Tagore all the room for a truly special performance.