Kamal Haasan, one of the finest actors of his time with a repertoire of films that remain unrivalled, turns 60 today, November 7.

Padma Bhushan Kamal Haasan embarked on his cinematic journey at the young age of five with Kalathur Kannamma in 1960.

Five decades on, the widely feted and extremely versatile actor is still going strong.
As the mega star turns 60 today, here's a look at some of his best films over the years.
Kalathur Kannamma (1960)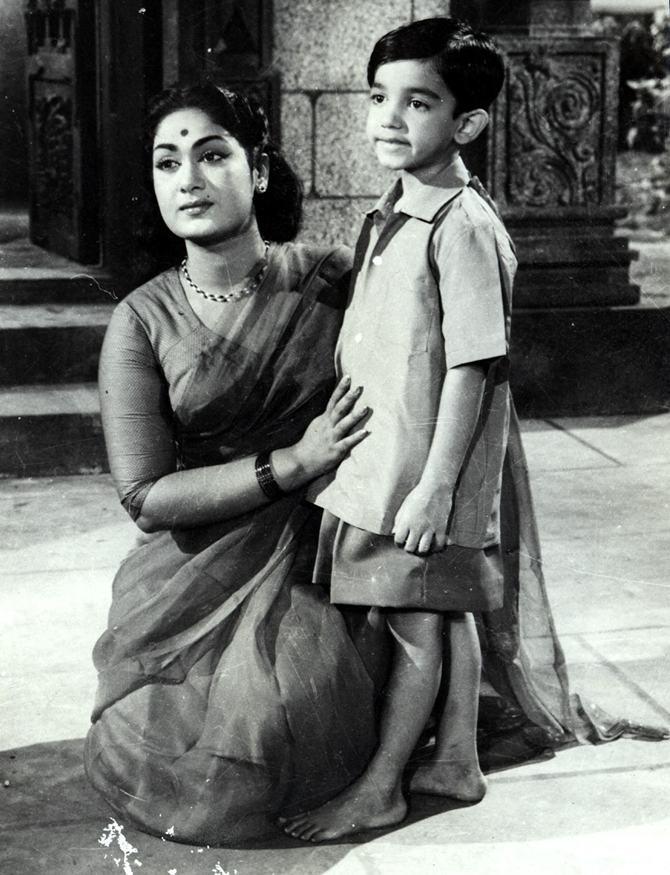 Kamal Hassan, a mere child, was pitted against industry stalwarts like Gemini Ganesan and Savitri.

However, Kamal not only won the President's Gold Medal -- Rashtrapathi Award -- for his performance, but also a permanent place in the hearts of the Tamil audience.

This was just the beginning though.

After Kalathur Kannamma, Haasan played a double role in the film Paarthal Pasi Theerum and made an impressive debut in Malayalam cinema with Kannum Karalum in 1962.

He worked in six films as a child artist during the 1960s.
His last film as a child artist was with the legend MG Ramachandran in Anandha Jothi in 1963.

This was followed by a seven-year hiatus, during which he continued his education and also joined a theatre company under the guidance of TK Shanmugam.
It was in the 1970s when he returned to the big screen with KS Sethumadhavan's Kanyakumari, opposite Rita Bhaduri.
Apoorva Raagangal (1975)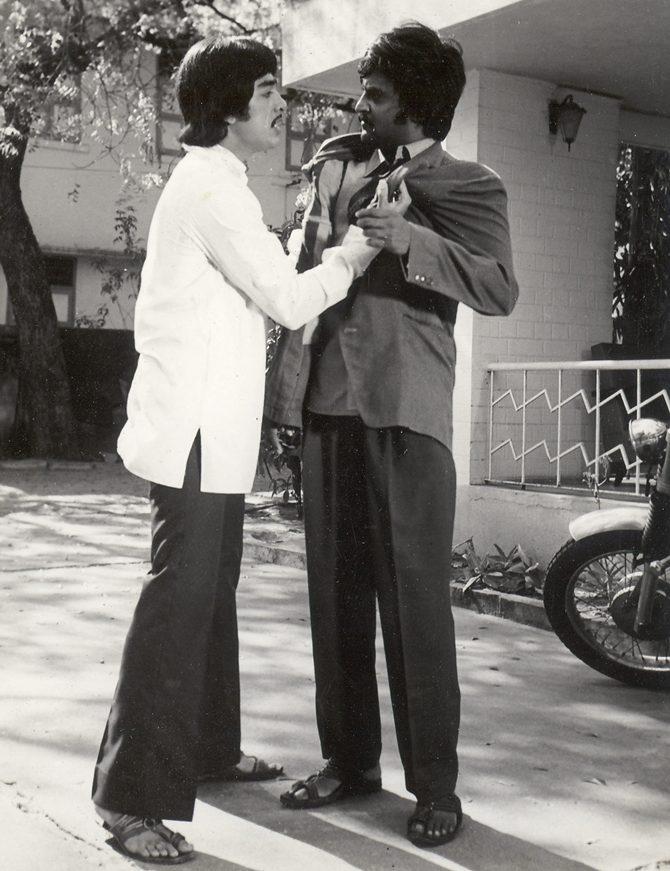 Haasan was mostly seen in supporting roles until he got his first break in Tamil with Apoorva Raagangal in 1975.

A controversial social drama directed by K Balachander, the film dealt with the relationship between an older woman and a young man (and between the old woman's young daughter and the young man's father) and was considered far ahead of its times.

Haasan was perfect as the angry young man rebelling against society and its norms.

While Srividya played the female lead, the film also marked the debut of Rajinikanth in a cameo.
Apoorva Raagangal was a huge success and was later remade in Hindi as Ek Nai Paheli with Kamal Haasan and Hema Malini in the lead roles.
16 Vayathinile (1977)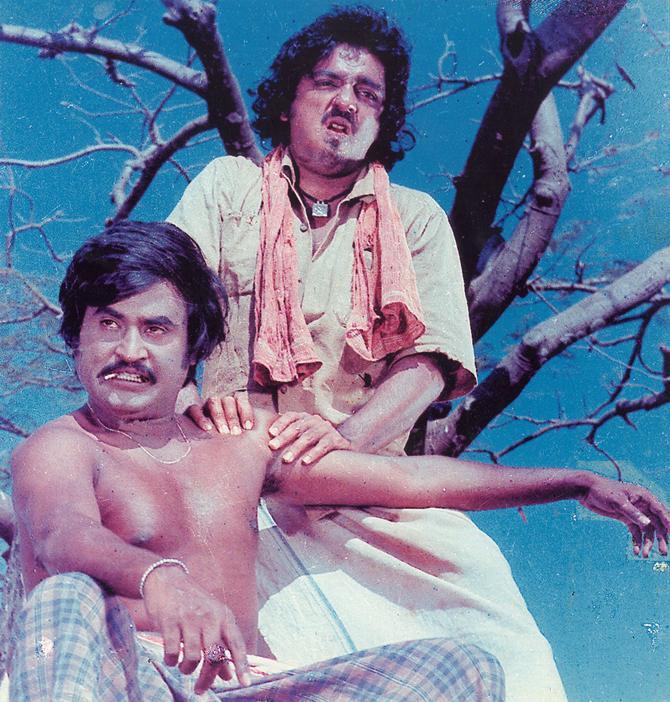 Director Bharathiraja made a sensational debut in Tamil cinema with 16 Vayathinile.
It was the first time in Tamil cinema a film was shot entirely outdoors.

Bharathiraja captured on celluloid the untouched beauty of rural Tamil Nadu in all its natural glory.
Haasan was widely described as brilliant as the lame country bumpkin, Chappani, equally supported by the memorable Parattai, played by Rajinikanth. Sridevi essayed their love interest.
Sigappu Rojakkal (1978)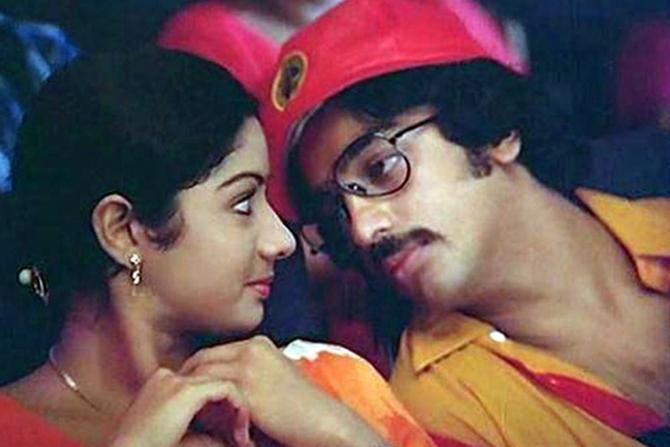 In Sigappu Rojakkal, a thriller directed by Bharathiraja, Haasan played a psychotic killer disguised as a charming and sophisticated young businessman.
The film narrated the tale of a ruthless misogynist who preyed on young innocent girls and eventually killed and buried them in his garden. Sridevi, with who he made a winning combination, was the female lead.
Although a negative role, the versatile actor gave an exceptional performance and the film went on to become a major hit, successfully completing a 175-day run at the box office.
Raaja Paarvai (1981)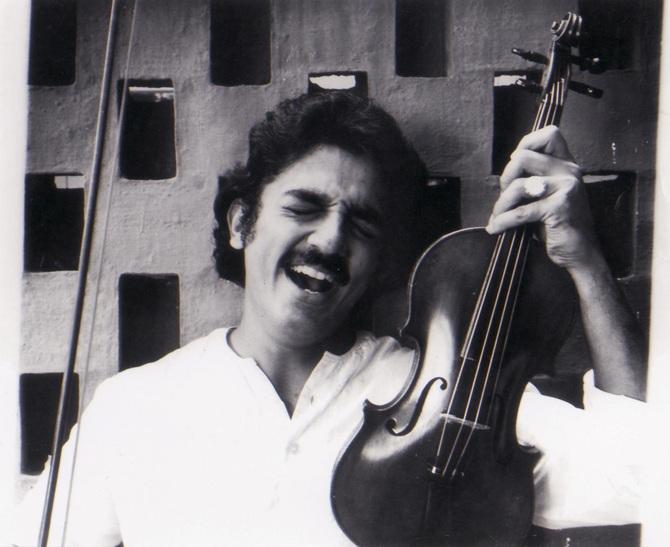 The 1980s were an important phase in Haasan's career.
He turned producer with the film Raaja Paarvai in 1981.

He also made a remarkable debut in Hindi cinema with Ek Duuje Ke Liye.

His Telugu film, Sagara Sangamam, a dance-musical, which released in 1983, became a mega hit and went on to win two National Awards.
The actor himself won two National Awards in this decade, one for Moondram Pirai and the other for Nayakan.
Raaja Paarvai did not fare very well at the box office but went on to achieve cult status.

The film is about a fiercely independent blind violinist whose life is chronicled by a writer, played by Madhavi.
Haasan won rave reviews for his realistic portrayal of a visually impaired musician, but unfortunately as producer of the film he incurred heavy losses.
Ek Duuje Ke Liye (1981)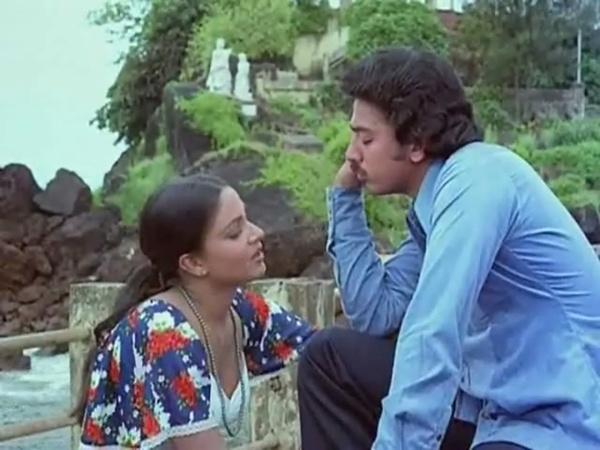 Ek Duuje Ke Liye was the Hindi remake of director K Balachander's own Telugu blockbuster Maro Charitra.

The film narrates a beautiful love story with a tragic end -- two young lovers from the opposite sides of the Vindhyas struggle against a society that does not approve of a cross-cultural romance.
Haasan essayed the character of Vasu, a Tamilian deeply in love with Sapna (Rati Agnihotri), a North Indian girl.
Moondram Pirai (1982)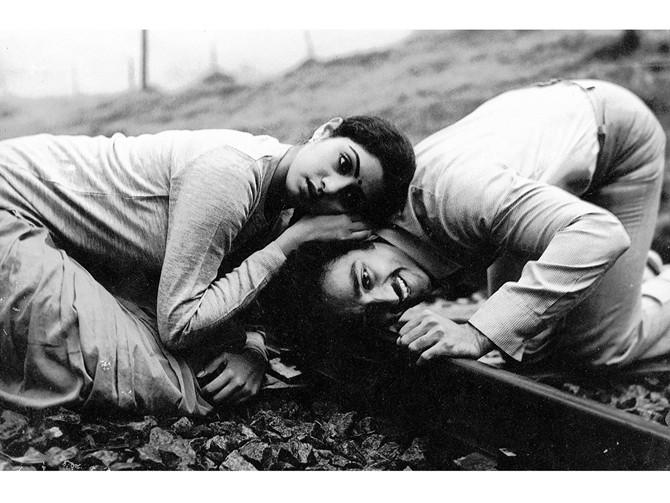 Written and directed by Balu Mahendra, Moondram Pirai was a beautiful and tragic love story.
Haasan, a school teacher, falls in love with Sridevi, an amnesic woman, who he rescues from a brothel.

But once she recovers, she has absolutely no memory of him, and the film ends on a tragic note with her deserting him.
The film won both Kamal (Best Actor) and Balu Mahendra (Best Cinematography) National Awards. Moondram Pirai was later remade in Hindi as Sadma.
Saagara Sangamam (Telugu-1983)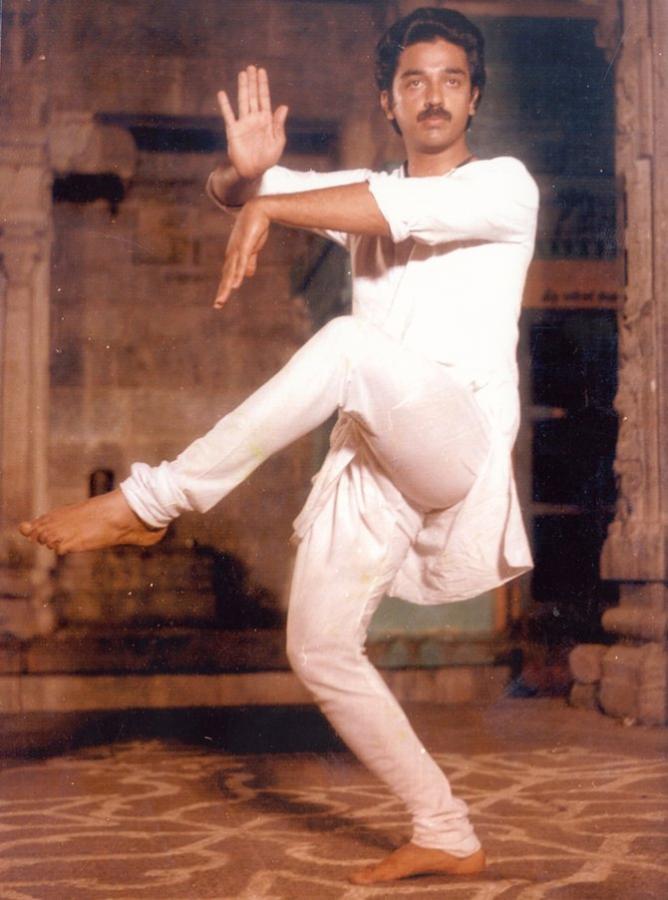 Directed by K Vishwanath, Saagara Sangamam highlights the struggles of an extremely talented dancer from a poor background, with a dream to participate in a high-level dance festival.
Haasan not only proved his acting prowess in the film but also demonstrated his exceptional dancing skills.
The film was dubbed in Tamil as Salangai Oli.
Nayakan (1988)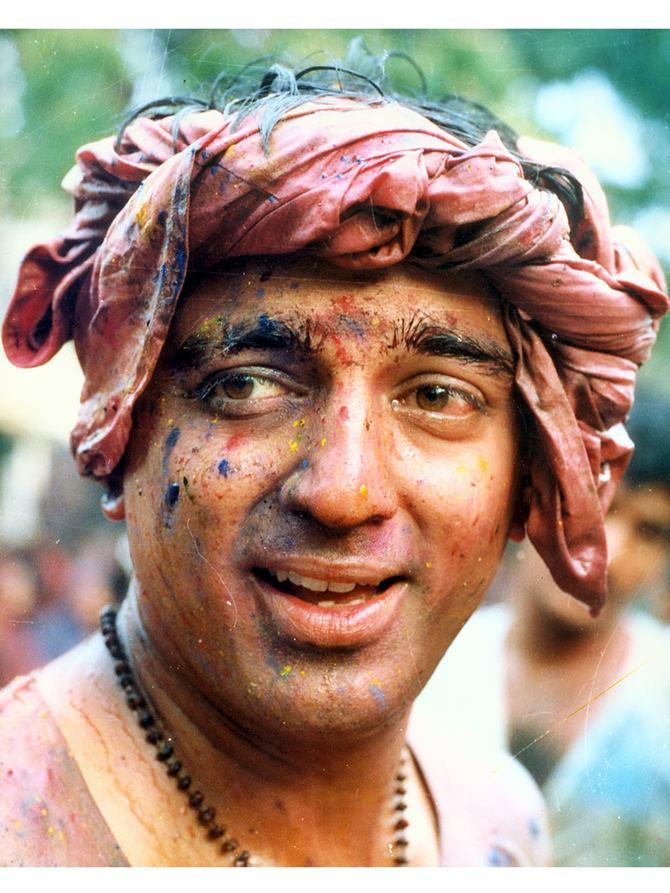 Haasan's brilliant performance as Velu Naicker, a character based on the notorious Bombay underworld don Varadarajan Mudaliar, won him his third National Award and also received worldwide critical acclaim.
Directed by Mani Ratnam (who is married to his niece Suhasini), the film chronicles the don's life from when he was a young child who witnesses his father's death, to his rise as a powerful don who protects the interests of South Indians living in Mumbai.
Indian (1996)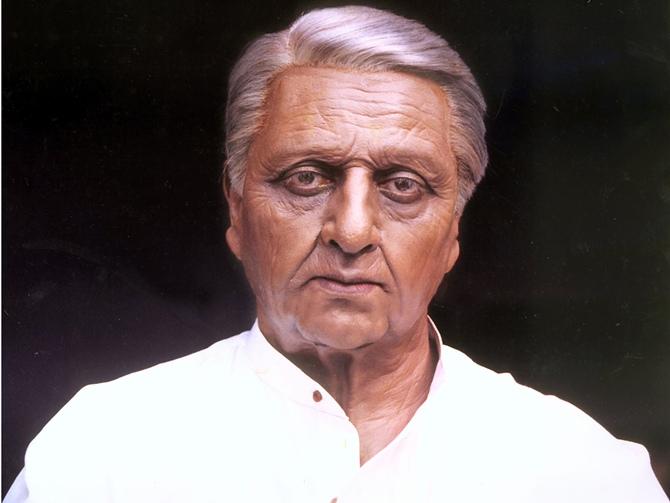 There was a remarkable decline in the number of films in the 1990s, but Haasan's popularity continued to grow.
There were several super hits like Michael Madana Kaama Rajan (1990), Thevar Magan ((1992), Avvai Shanmughi (1996), as well as critically acclaimed films like Guna (1991) and Mahaanadi (1994), which won the National Award for Best Feature Film in Tamil.
But the highlight of the decade was Haasan's fourth National Award, which he received for his phenomenal performance in the film, Indian.
A hard-hitting film that brought to the fore the widespread corruption in the country, Indian was directed by Shankar at a budget of Rs 15 crore.
Haasan effortlessly essayed two contradicting characters, one a crooked, RTO official and the other his father, a 70-year-old freedom fighter determined to end corruption in the country.
The film won three National Awards and went on to become one of the highest-grossing Tamil films of the time.
Hey Ram (2000)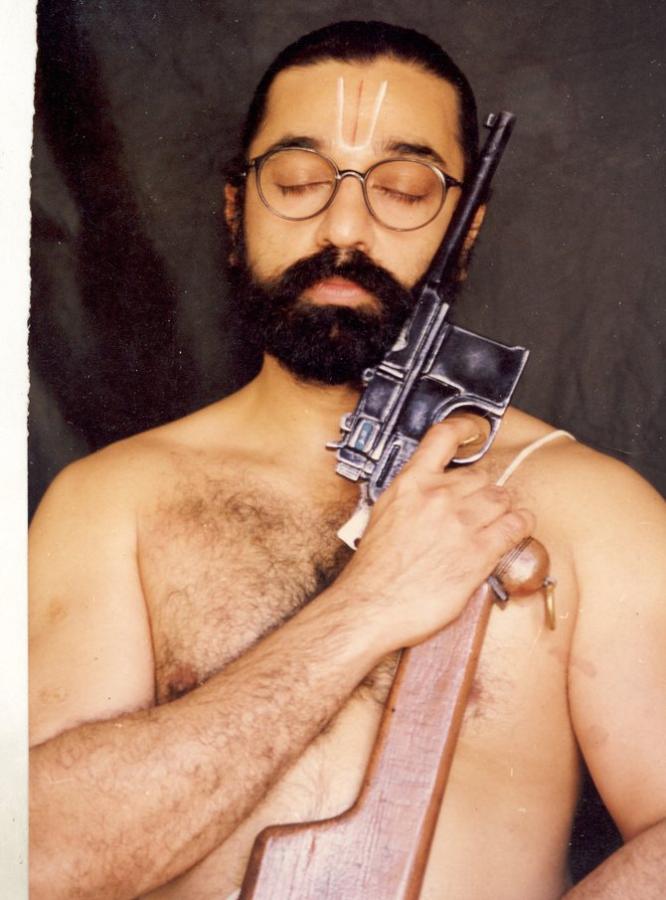 The 2000s were mostly dominated by commercially-driven films. Barring a few, most became huge hits.
Films like Thenali (2000), Panchathantiram (2002), Vasool Raja MBBS (2004), Vettaiyaadu Vilaiyaadu (2006) and Dasavathaaram (2008) ruled the box office during this period.
Sadly though, good films like Hey Ram (2000) and Anbe Sivam (2003) failed to set the cash registers ringing.
Written, directed and produced by Haasan, Hey Ram was a period drama set amidst the raging riots and chaos that prevailed in the country during Partition and the assassination of Mahatma Gandhi.
Haasan essayed the role of Saket Ram, whose wife is brutally raped and killed during the hostility and vows revenge on Gandhi, who he believes was responsible for India's partition.

The film had Shah Rukh Khan essaying a significant role.
Hey Ram won three National awards and was also chosen as India's official entry to the Oscars for the year 2000.
The current decade seems relatively slower, there have been only two releases in the last four years, Manmadhan Ambu and Vishwaroopam.
Written, directed and co-produced by Haasan, Vishwaroopam was made at a whooping budget of over Rs 95 crore.

But despite being marred by controversies, Haasan had the last laugh, when his film grossed over Rs 300 crore, making him the only actor in South India with two films in the prestigious Rs 200-crore club (Dasaavathaaram was the first).
The huge success of Vishwaroopam prompted a sequel, which is expected to release early next year.

Also in the pipeline are Uttama Villain and Papanasam, the Tamil remake of the Malayalam blockbuster Drishyam.