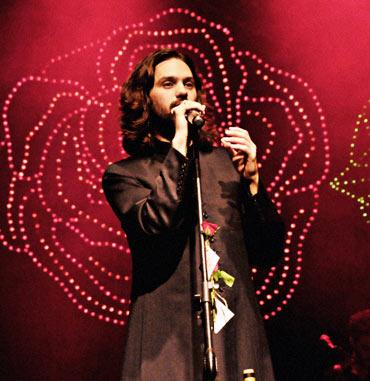 Sandip Roy tells the story of Shye Ben-Tzur, an Israeli musician who found his calling in Sufi music.

"I am not a Hebrew qawaal," says Shye Ben-Tzur. "I've never been one and never will be."

But because the Israeli singer loves the music of Ajmer's Sufi qawaalis, and because he sings in Hebrew, the media has anointed him the Hebrew qawaal.

"In Hebrew, there is no tradition of qawaali," protests Ben-Tzur. "I just work with Sufi qawaals." That work has resulted in his new album, Shoshan.

Ben-Tzur's journey from Israel to Ajmer's dargahs is a story about the serendipity of music. Born in the United States, Ben-Tzur grew up in Israel, listening to the standards -- rock, progressive rock, the classics. He was the singer in a high school band, Sword of Damocles.

"We did rock, heavy metal, progressive, you know different things," he says. "It was just a high school band. But the good thing is it led me to different kinds of music."

That included world music, the amorphous genre that has become a catch-phrase for all kinds of music from samba to tribal chants. Ben-Tzur came across Indian music when he was about 17. Hearing tabla maestro Zakir Hussain and flautist Hariprasad Chaurasia at a concert changed his life.

"It was fascinating; it still is," he says. "Just two people and a tanpura player on stage playing one scale for one hour without any harmony change, and it really touched the heart. It was like a solo recital, but it was so complete -- minimum people and maximum music."

That was when he decided he wanted to go to India. "I wanted to go to the place where the music came from," he says, adding that he was quite naive at that time. He just landed in India with "a romantic attitude. I didn't know there was such a rich tradition within Indian music. So many different kinds of music," he says.

Ben-Tzur is just one of thousands of Israelis visiting India these days, many of them fresh off an army stint. India offers a cheap place to unwind in, maybe even get a dose of spirituality. Ben-Tzur says he thinks Israelis at some level feel a connection with "a civilization that has ancient roots, where they see people worshipping in the same temple perhaps for hundreds of years."

He thought he would find the "traditional guru and follow the traditional path." Reality was more complex. Contemporary India was very different from the India of gurukuls and gharanas. At one level it allowed a complete outsider like him access into the world of music, which might have been tougher half a century ago. But it was also difficult often being the only foreigner around. He remembers those early days going from one place to another, learning, meeting teachers.

One of his first gurus was the great Indian classical vocalist Ustad Zia Fariduddin Dagar. "I don't play dhrupad now," says Ben-Tzur. "But he is an ocean with never-ending depth. I still regard him as my biggest inspiration."

Ben-Tzur lived with Dagar for a year in Bhopal. He was the only foreigner, and at that time he didn't speak any Indian language. They got up at four in the morning and started riyaaz, practicing one note till six. "Then a few more notes till seven," he says. "So it went on till you went to sleep at 11 at night. It was intense."

For a musician from the Western tradition, Ben-Tzur said he had to re-orient himself in many ways. "Western music is written. Indian music is more of an oral tradition," says Ben-Tzur. "It is hard to get a deep understanding of something that is very precise and a big mystery at the same time."

He had to unlearn old habits. "Music is a language, a refined and subtle language," he says. "But it's not just vocabulary. It's also about accent."

He says unlike a spoken language where the accent doesn't matter as long as the words make sense, "in music accent matters. So, a rock musician playing jazz might be spotted as not being the real thing. To play it right you have to unlearn your old accent."

Ben-Tzur says that's still something he is working on. At the same time he has realised he is an Israeli musician working in an Indian tradition. "I know that though I love Indian music there is no reason to give up the culture I come from," he says. "My music needs to be honest. So I went back to writing in my own language."

He has written and composed most of the songs on Shoshan. He says the vision was a "collection of love songs to the divine." Structurally the songs follow "a raga in a basic way" says Ben-Tzur, the "asthai leading into the antara," but it reaches into his Western training when it comes to arrangement and production -- "for example, putting in chords."

"Ten years ago, I would not have been able to do it," he says. "It was a challenge to create music that speaks both languages without harming either tradition."

For help, Ben-Tzur reached out to friends and artistes in both traditions. Flamenco guitarist Fernando Perez and Grammy-nominated bassist and producer Yossi Fine from Israel lent their talents as did Indian vocalist Shubha Mudgal.

"I wanted to have the nylon-stringed guitar as a basic element throughout the album," says Ben-Tzur. "You hear the guitar in Indian rock, but not much elsewhere. I was fascinated to hear how it would sound. And I fell in love with Perez's spirit."

As for Fine, he says he needed his touch to make music "groovy and funky."

Ben-Tzur had performed with Mudgal at a Sufi music festival and fallen in love with her voice -- "the classical background, but a voice that carries weight." He thought she would be perfect for a song like Daras Bin, which he had composed with "a deep sense of yearning in it."

Much of the album, rooted in the Sufi musical tradition, is scored with a sense of yearning. Ben-Tzur says he's keenly aware that in the dargahs of Khwaja Moinuddin Chisti the music he hears is "not entertainment, but part of ritual -- a path to devotion." He feels privileged that as "an outsider" he was welcomed by the Sufi singers.

"Shoshan is my way of expressing my love back, but in Hebrew," he says. As an Israeli, he grew up "being exposed to only one side of Middle East's political struggles. I am touched to see a whole different side of Islam -- there is love. To sit with this love and be able to create music is amazing."
It has also meant that some call him and his music a bridge between these two desert traditions. Ben-Tzur says that embarrasses him. "I am touched to be thought of as promoting peace and religious co-existence, but I don't perceive myself as someone on a mission," he says. "I'm just a musician. People give me crowns too big for my head."
But deliberate or not, the bridge building is happening. Ben-Tzur now lives in Jaipur with his family. His wife is Indian, the daughter of a Sufi scholar. He says his five-year-old daughter was just playing Radha at her school. "And that is completely different from my background and my wife's, but it was beautiful. Life surprises you."