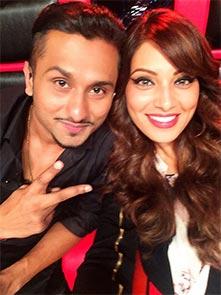 Here's a look at the Top 10 tweets from your favourite Bollywood celebrities:
B
ipasha Basu,
who is currently busy promoting her horror film
Creature 3D,
recently visited the sets of reality TV show
India's Raw Star.
She shared a picture of herself with Honey Singh, who is a judge on the show (left), and tweeted: 'Thank u @asliyoyo !U r such a gentleman n fine artist! Was really lovely meeting u! What a fab show! India's Raw Star!'
Aamir praises Hrithik
Aamir Khan,
who will be seen next in PK, took to Twitter to praise the trailer of Siddharth Anand's upcoming action thriller
Bang Bang.
'I wish I could dance half as well as Hrithik! I really loved the new song of Bang Bang! And the Bang Bang trailer is outstanding! Hrithik and Katrina look like a million bucks!Love the shot of Hrithik come shooting out of the water with guns pointing! Cant wait for 2nd Oct!' he tweeted.
Bang Bang will release on October 2.
Shah Rukh Khan to launch Happy New Year song
Shah Rukh Khan is all set to unveil the first song titled Indiawaale from his upcoming film Happy New Year.
'The first song will see the light of the world today from HNY, "Indiawaale." Hope it entertains you all. Life is the dancer & u r the dance,' he added.
Directed by Farah Khan, the film revolves around six losers who set out to change their destiny.
Karan Johar: Finding Fanny is hysterically funny
Filmmaker Karan Johar, who caught an early screening of Homi Adajania's Finding Fanny, took to Twitter to praise the film.
'The hysterically funny and soulful search for fanny stays with you long after....@homiadajania directs a brilliant ensemble!! Pankaj kapur, Naseerudddin
Shah and Dimple Kapadia exude brilliance....Arjun and Deepika are wonderfully charming!!!!' he tweeted.
Finding Fanny releases on September 12.
10 millions followers for Amitabh Bachchan
Veteran actor Amitabh Bachchan recently crossed 10 million followers mark on Twitter, and he tweeted his thanks: 'thank you i am getting better. Now next target 20 million.'
Bachchan is the most followed Indian on the social-networking site.
Happy birthday Sadhana!
Veteran actress Sadhana celebrated her 73rd birthday today, September 2.
Lata Mangeshkar wished her on Twitter and wrote: 'Namaskar. Aaj meri pasandida Abhinetri Sadhana ji ka janamdin hai. Main unko bohot badhaayi deti hun.'
Akshay Kumar's Dare 2 Dance to premiere on September 6
After finishing the shoot for Shaukeen in South Africa, Akshay Kumar is now working on his dance show Dare 2 Dance.
He tweeted: 'Jiski life mein dare nahi, uski life ki khair nahi! #Dare2Dance starting 6th Sep. every Sat-Sun @ 8.30 pm on @LifeOKTV.'
Rana Daggubati joins the cast of Baby
After completing the shoot for Tamil film Rudhramadevi, Rana Daggubati has started shooting for Neeraj Panday's upcoming film Baby.
'Heading to the capital city New Delhi to start the #Baby schedule. Always fun to be back there,' he updated.
The film also stars Akshay Kumar, Anupam Kher and Taapsee Pannu.
Freida Pinto supports Jennifer Lawrence
Hollywood actress Jennifer Lawrence's nude photos have been leaked online, and Indian actress Freida Pinto criticised the incident.
'Invading someone's privacy is a CRIME!' she tweeted.
The photos were hacked from Lawrence's iCloud account.