'I am lucky I didn't spoil anybody's dream.'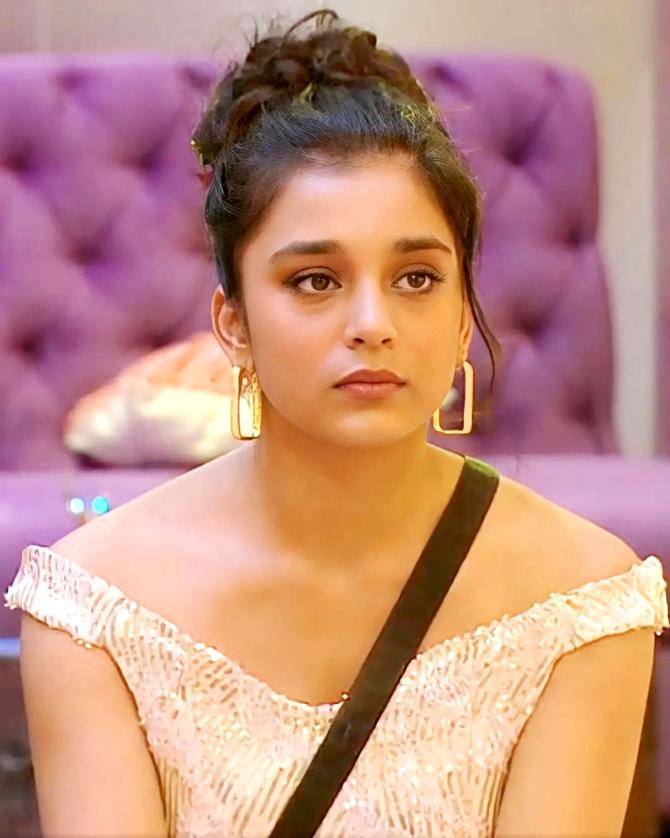 Sumbul Touqeer Khan is probably the last contestant to be evicted from Bigg Boss 16 before the finale.
The teenage actor has not lost heart om losing out on the trophy. In fact, she feels she has gained experience which will make her strong.
Displaying maturity for her age, she tells Rediff.com Contributor Sameena Razzaq, "Just because I am 19, people think I don't have any opinion. I am very clear in my head, but then people didn't like that, especially Shalin. They felt a kid is talking. I hated that."
You took a longer time on the latest task, which got you evicted and made Shiv Thakare and MC Stan lose.
Yes, I agree. But I wasn't the only one. They suffered because of their mistakes as well.
I am glad I came out.
The right thing happened to me at the right time.
I am lucky I didn't spoil anybody's dream.
Every relationship has its share of ups, downs and differences, but that doesn't mean they should stand against me.
When they come out, we will be best of friends because outside, there will be no games.
Your Imlie co-actor Fahmaan Khan rallied behind you, garnering support. He has planned a surprise for you. Arjun Bijlani has hinted that something is brewing. Are you two more than just friends?
Arrey, it's been two years since these rumours! There is nothing between us. We are thick friends, that's all.
I am yet to receive his surprise, but I think he must have got something for me to eat because I haven't eaten well since the last four months.
It's very sweet of him that he rallied behind me. He did his duty as a friend.
Your uncle says both Shalin and Tina have used you as a game to stay in the show.
Yes. Whatever happened between us before was okay, but after that, when I maintained a distance from them, they began dragging me in their arguments.
Tina would tell Shalin this and that about me.
My point is, if you are fighting, why am I being dragged unnecessarily?
Maybe they wanted a Kuch Kuch Hota Hai wala Tina, Rahul and Anjali triangle. I didn't want that.
I told them not to drag me in their fights.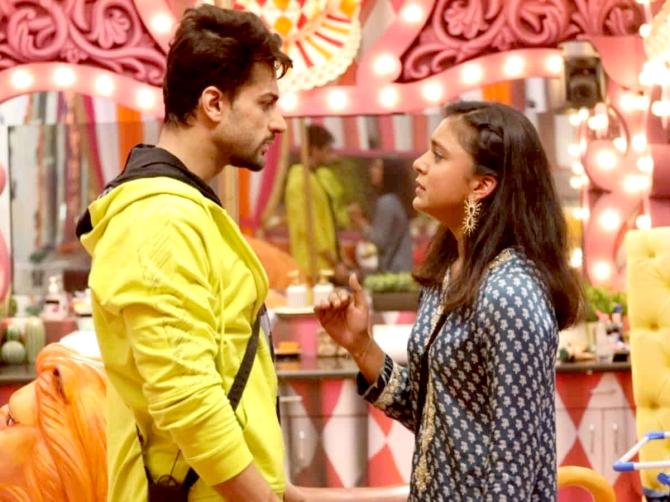 Do you think Tina disliked you because she wanted to have a 'relationship' with Shalin and you were also trying to get close to him?
I think every person has their own perspective. If her thinking is so bad, what can I do?
If I treat someone as a friend, what is the problem?
I cannot change someone's way of thinking, so if she thinks like that about me, it's her problem.
I wasn't trying to get close to Shalin.
I considered him a friend, but after whatever he did to me, I think it was a huge mistake.
Your father has been campaigning for you on the streets. Now that you are out, do you think he is more heartbroken than you?
No. The moment I came out and met my father, he was pretty sorted about my exit.
Even when he sent me in the house, he never said you have to get the trophy home.
He always said the show is a world in itself, and that it will give me a different perspective as I will gain experience.
I was meant to stay in the house for five weeks, but ended up getting experience of 18 weeks!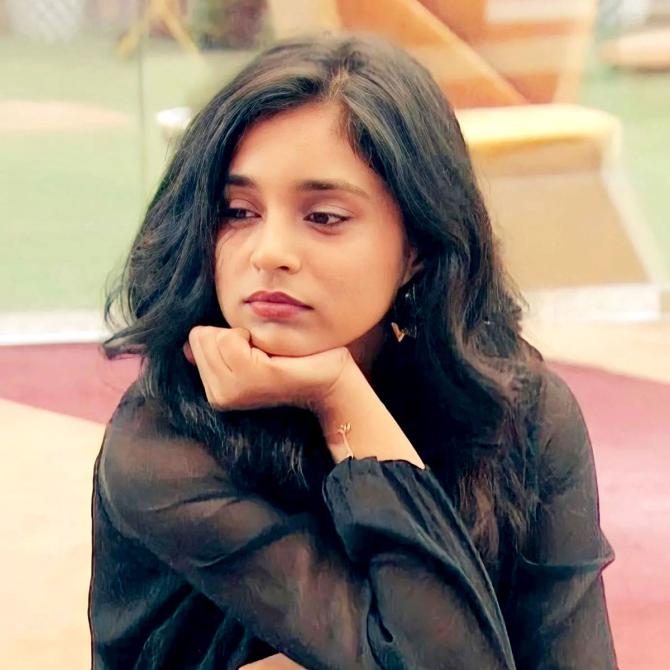 Did the fact that you're the youngest contestant in the house make you anxious?
Just because I am 19, people think I don't have an opinion.
I am very clear in my head but people didn't like that, especially Shalin.
They would say a kid is talking. I hated that.
You cannot gauge a person's experience based on his/her age.
There is buzz that Ekta Kapoor has approached you for Naagin 7. Is this true?
I don't know.
It is an interesting show, but I would like to take a break and spend time with my family.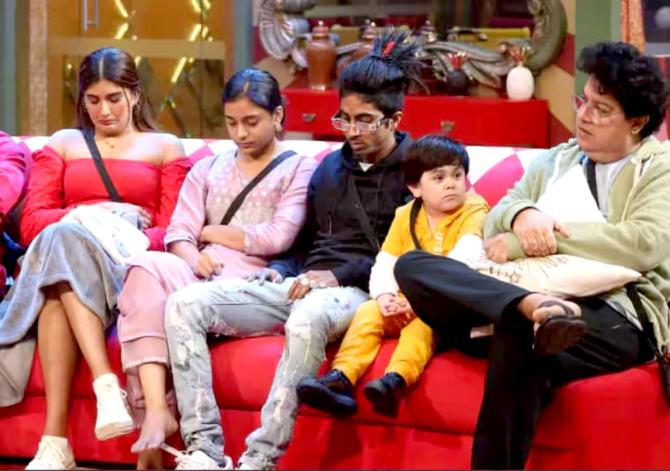 When Sajid Khan asked you about your father's marriage to a 22-year-old girl, do you think he infringed into your privacy?
No. By discussing these things with me, he was just trying to give me situations to make me mentally strong because these are not normal situations for anybody.
I did not feel weak and give up.
Whatever I discussed with him has made me stronger as a person.
Anil Kapoor was full of praise for your dancing abilities on Besharam Rang.
I felt so nice. It was overwhelming when a senior actor like him praised me.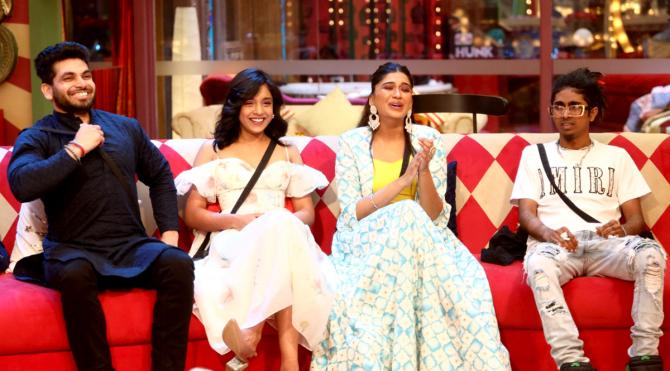 The top four contestants are Shalin, Archana, Nimrit and Priyanka. Do you think they deserve to be there?
I believe Priyanka, Nimrit, Shiv and Stan deserved to be in the top four because of their unique qualities. I'm not saying this because they are my friends.
Priyanka is a very strong contestant. She has her own opinion. In this show, whoever has an opinion, wins.
Nimrit, Stan and Shiv have strikingly different personalities. They stand out.
Nimrit has leadership qualities. She knows how to get work done from people despite conflicts and issues that she may have with them.
Shiv makes everything entertaining, even the fights. He has the ability to shut people up.
Stan is known for his work. His music is famous. He is just 22 years old.
He comes from a modest background and lives a simple life.
He is an introvert and his way of talking is different from the others.
Who will take home the trophy?
I think MC Stan is taking the trophy home.