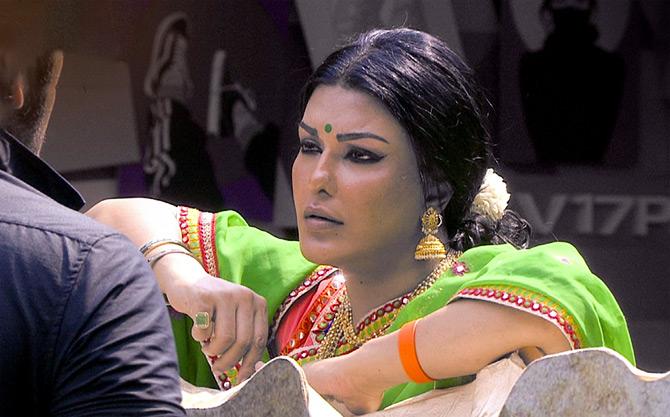 Day 10 in Bigg Boss 13 starts with Paras Chhabra and Shehnaaz Gill fighting because he picked Dalljiet Kaur over her in the Rani Number 1 task.
Paras tells Shehnaaz that he's 'just friends' with Mahira Sharma.
He claims he picked Dalljiet to avoid drama, but Shehnaaz isn't ready to understand.
Late at night, Arti Singh tells Shehnaaz that Paras likes her and considers Mahira as just a friend.
Again, Shehnaaz isn't ready to accept it.
Meanwhile, the Rani Number 1 task continues.
Paras discusses the game with Arti and asks her to take on Koena Mitra.
He also has a word with Koena, who tells him that she wants to win the task.
As the day progresses, the first buzzer goes off and Siddharth Shukla manages to get the key.
He lets Shehnaaz out, and she throws Mahira's pot in the swimming pool.
Paras jumps into the pool to save the pot and this further annoys Shehnaaz.
Shehnaaz, Paras and Mahira fight once again over their 'love-friendship' triangle, which frankly, is beginning to get boring.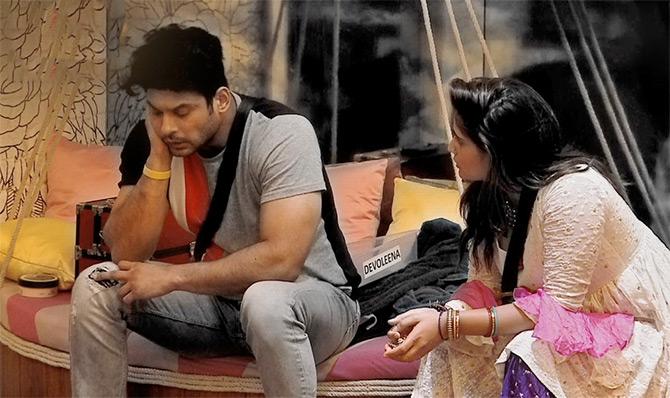 Next, Arti breaks Koena's pot, and that leads to a heated argument between the two.
When the buzzer goes off again, Siddharth gets the key for the second time and chooses Shehnaaz once again.
She throws Rashami's pot in the pool, leaving Arti, Dalljiet and Devoleena in the race to become the first queen of this season.
After Siddharth, Siddhartha Dey gets the key and instead of picking his good friend Shefali Bagga, he gives his key to Rashami. She breaks Arti's pot.
Finally, the task comes down to the last two contenders, Devoleena and Dalljiet.
The boys decide to let Devoleena out so that she can become the queen.
When the buzzer rings, Abu Malik gets the key and lets out Devoleena as per plan.
With that, Devoleena becomes the first queen of the house, and dear readers, you got that right too!
Bigg Boss congratulates Devoleena and announces that she is safe from next week's nomination.
As queen, she does not have to do any work inside the house, and has to hand over her kitchen duties to someone else.
Devoleena also gets the key to the queen's bathroom.
Do you think Devoleena will be a fair queen inside the house or will she succumb to pressure? Let us know your thoughts in the message section below!