Bigg Boss announces the task is cancelled as Afsana and Shamita broke the rules.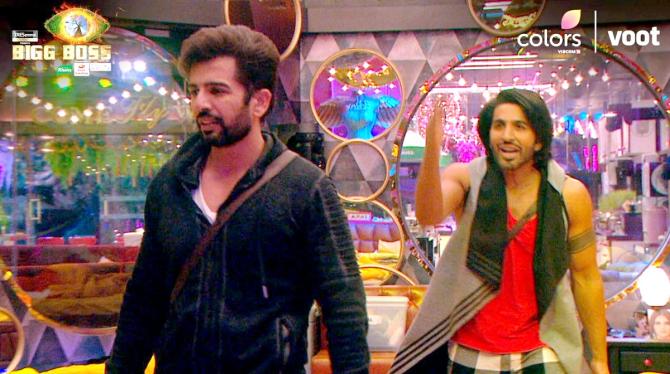 Tuesday's episode was high on drama as housemates locked horns with one another over food rations.
As Shamita Shetty and Afsana Khan broke the house rules, Bigg Boss punishes all the contestants, leading to more fights and arguments.
After Salman Khan's grilling over Weekend Ka Vaar, Vishal Kotian gets emotional and breaks down.
Tejasswi Prakash is also in tears and feels she doesn't really know anyone in the house.
Vishal is hurt because of Shamita's behaviour and says he's going to play the game from here on without any emotions.
Umar Riaz consoles both of them. Tejasswi is upset with Karan Kundrra and makes it very apparent to him.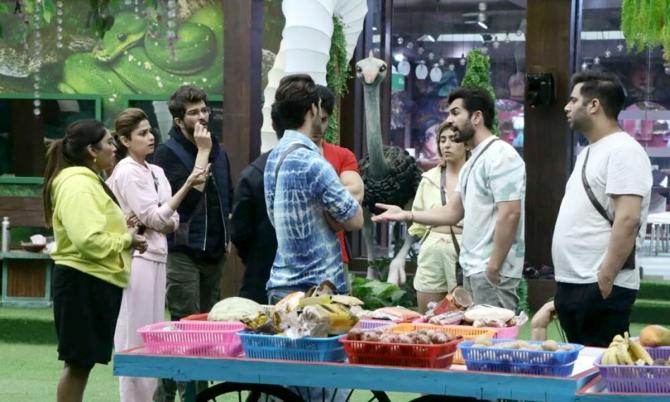 Jay Bhanushali chats with Nishant Bhat and Pratik Sehajpal about the game. They all decide to play the game solo.
Later, Jay approaches Vishal and the two argue over an old dispute. Their argument gets intense as both of them say nasty things to each other.
Karan and Tejasswi try to talk things out, but she isn't ready to listen. Vishal and Umar ask Tejasswi to understand Karan's point of view, but she continues with her rant.
Jay talks to Shamita and tells her to sort things out with Vishal as they would need him in the game going forward. Karan gets candid about Tejasswi to Raqesh Bapat.
The latter advises him to not ignore their misunderstanding and strongly put across his point.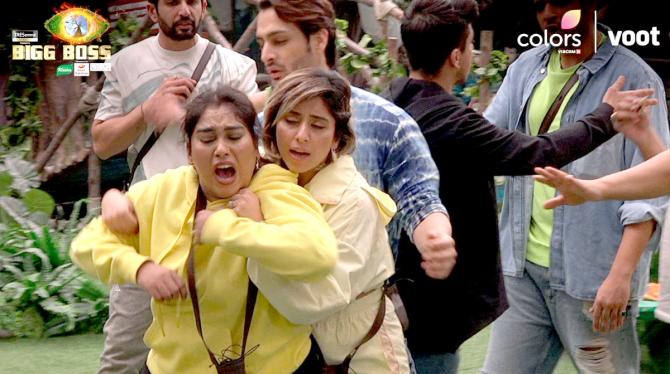 At night, Karan and Tejasswi finally patch up. Next morning, Vishal and Shamita try to talks things out and so Karan and Nishant Bhat.
Bigg Boss gathers everyone in the garden area for the luxury budget task wherein the housemates will get a chance to choose food items.
Bigg Boss warns everyone to follow the rules while doing the task. The activity begins and Pratik gets into an argument with Shamita over what food items to take.
When Afsana is called to participate in the task, she doesn't oblige and instead goes off to sleep. Vishal, Umar and Jay get annoyed with Afsana and tell her to stop sleeping.
Pratik, on the other hand, argues with everyone regarding the food items.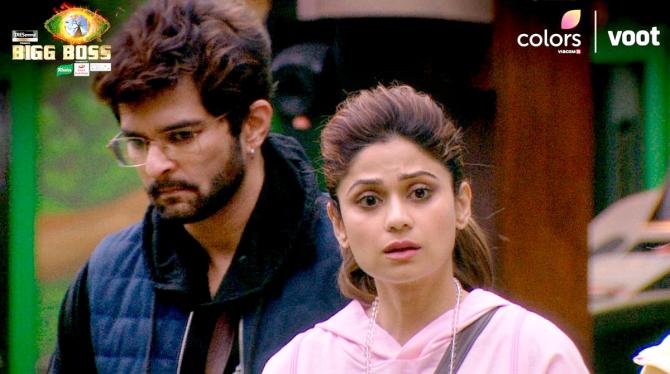 Amidst all the chaos, Bigg Boss announces the task is cancelled as Afsana and Shamita broke the rules. Afsana slept during the task whereas Shamita spoke in English.
Everyone is furious, especially Jay who attacks both the ladies for not following the rules. In a fit of rage, Shamita walks away, saying they can take away all her food as well.
Afsana throws tantrums and says she never slept. She keeps yelling and defending herself. Jay loses his cool and tells Afsana to stop lying and yelling. The Punjabi singer doesn't listen and her behaviour goes out of control.
Raqesh and Tejasswi try to stop Afsana from doing anything stupid. Shamita talks to Raqesh. Vishal tells Shamita that Jay was wrong in blaming her; instead he should have supported her. Shamita apologises to everyone for the punishment. Raqesh tries to cheer her up.