Which contestant will be the fifth member to enter the finale week?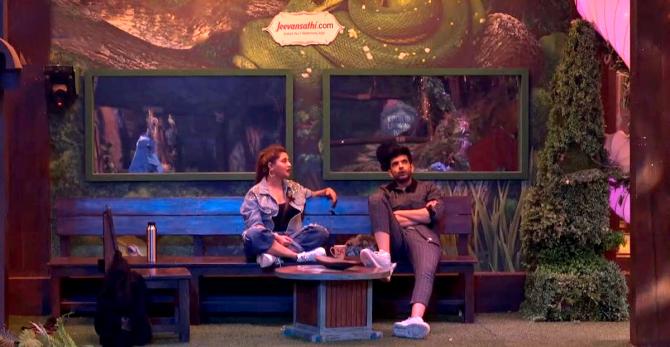 Day 94 starts with Karan Kundrra and Rashami Desai discussing their problems. While Karan talks about Tejasswi Prakash's rude behaviour, Rashami reveals that Umar Riaz is upset with her.
Late at night, Karan tries to sort things out with Tejasswi. He says he loves her and they eventually patch up.
But just a few minutes later, Tejasswi gets annoyed when Karan changes Shamita Shetty's battery, and they fight again.
The next morning, Umar and Tejasswi have a heated argument on whether the VIP members should do the household duties.
Tejasswi creates a scene for no reason, making Nishant Bhat and Pratik Sehajapl crib about her.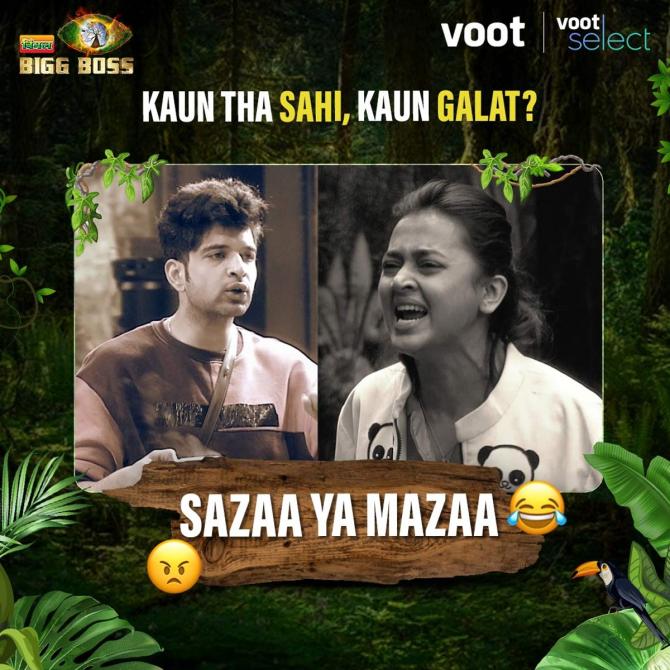 Next, Tejasswi taunts Karan when Umar makes tea for him. Karan gets miffed with her behaviour and gives it back, saying she should stop fighting with people for no reason.
Rakhi Sawant chats with Karan and Umar about Tejasswi.
She tells them that if Tejasswi joins them in the top five, she will definitely win the trophy. If she doesn't, Karan has good chances of winning the show.
Karan tells Rakhi that they would continue to be fair in the next task irrespective of who is winning.
In the afternoon, Karan and Umar indulge in friendly banter while convincing Abhijeet Bichukle to clean the living area. They pull his leg as finally picks up a broom to do his duty.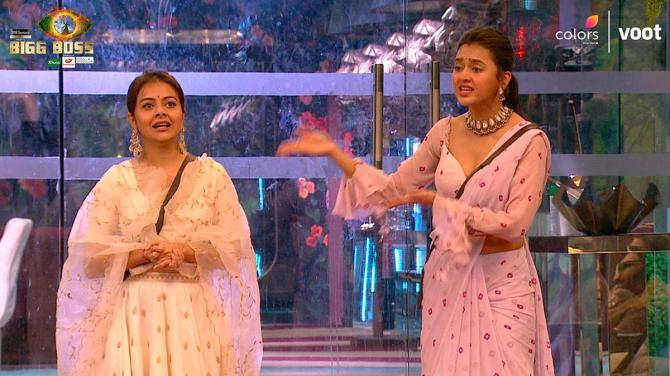 In the evening, Rakhi announces that someone kept the women's toilet unhygienic. Everyone laughs as she gives details about her experience cleaning the toilet.
Rakhi feels it was Tejasswi as she doesn't think about anything else except Karan and the trophy.
Ultimately, Shamita decides to clean the toilet again and Pratik helps her.
When Bichukle asks Pratik to make tea for him, Devoleena Bhattacharjee gets angry. The housemates ask Pratik to not oblige as Bichukle abused him in the last task. But Pratik doesn't say no. This irks Devoleena even more and she confronts Pratik.
He tells Devoleena at least he doesn't talk to Bichukle and is keeping distance but she always ends up being friends with him despite their fights.
Pratik asks Devoleena to first correct herself.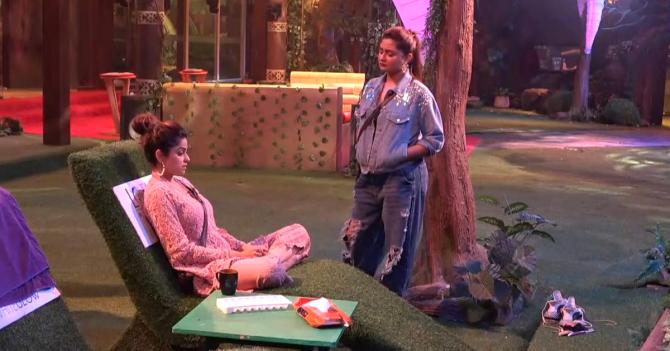 In the morning, Rashami gives Devoleena a leg massage.
The ladies have a fun conversation after being at loggerheads for a long time. Karan tells Tejasswi that Rakhi is trying to create a rift between them by bringing Shamita into the picture.
Tejasswi, on the other hand, takes the topic on a different tangent and starts accusing Karan of being a hypocrite.
Rakhi again points out to Karan that he should partner Shamita, as Tejasswi keeps fighting with him.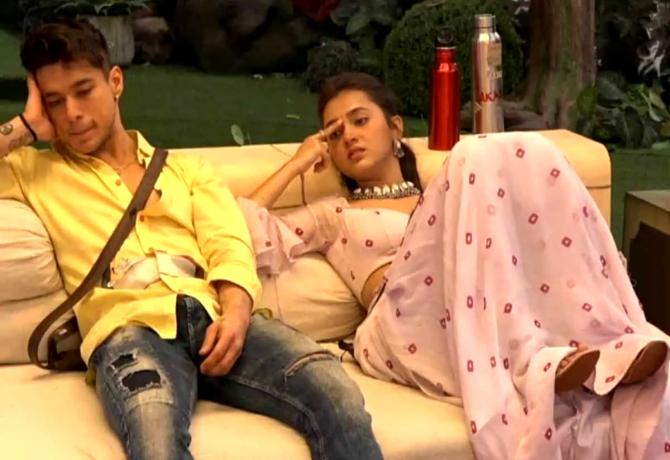 On Day 96, Bigg Boss announces a new Ticket to Finale week task. Since Rakhi, Umar, Karan and Rashami are already in the finale week, they will be the sanchalak.
The other housemates have to debate and defend themselves.
In the first round, Devoleena accuses Tejasswi of keeping the washroom area unhygienic. Both of them argue well.
Rakhi declares Devoleena as the winner whereas the rest vote for Tejasswi.
In the end, Tejasswi wins the round.