No, Pratik's injury is not caused by a contestant.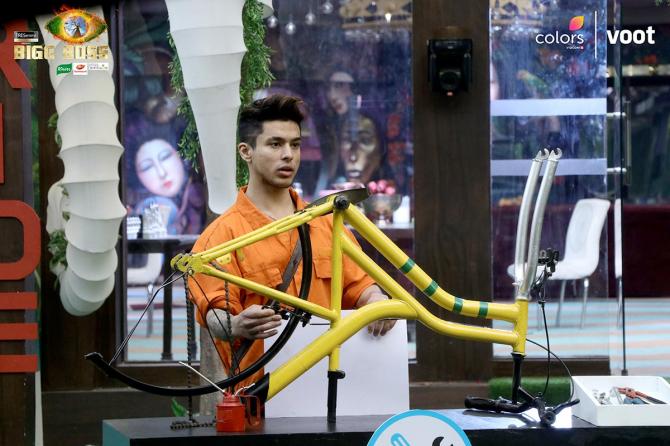 The episode resumes with the BB Cycle Shop task wherein Pratik Sehajpal and Tejasswi Prakash compete with each other for VIP status.
Nishant Bhat isn't happy with Rashami Desai who is suddenly supporting Tejasswi in the task. He's angry with Shamita Shetty as well for being nice to Tejasswi in the game.
He fights with everyone saying he wants be the shopkeeper in the task for the second time.
After a lot of argument, Bigg Boss tells Shamita that shopkeepers can be repeated.
Nishant yells at her for not letting him play the game as he's right.
The task is stopped for the day, but Bigg Boss announces that Pratik and Tejasswi will have to protect their cycles during the night.
When Pratik tries to destroy Tejasswi's cycle, they get into a ugly fight. Tejasswi even hits Pratik with a tool and this upsets him.
Karan tries to pacify them.
In the garden area, Nishant and Shamita discuss her decision to downgrade Tejasswi, not Rakhi.
Nishant feels Shamita let her personal bias come in the way, but she disagrees. The conversation doesn't end well.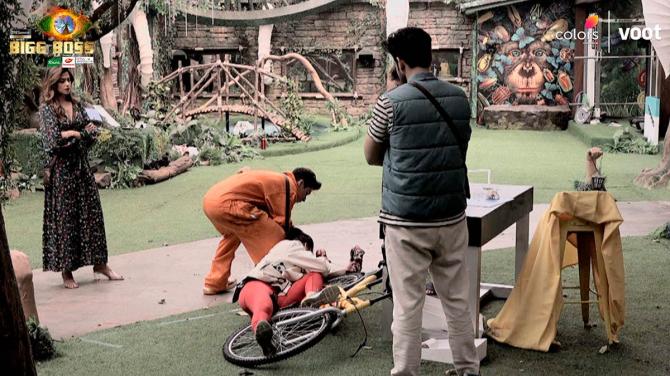 Nishant gets emotional and starts crying while chatting with Rakhi and Abhijeet.
Rakhi assures him that she will play for him whenever she gets a chance.
Rashami, Karan and Tejasswi are confused why Nishant isn't playing for himself anymore.
When Tejasswi asks Nishant, he explains himself.
Meanwhile, Tejasswi feels Shamita was being nice to her in the task.
She feels she's always been right about Shamita, but Nishant isn't convinced.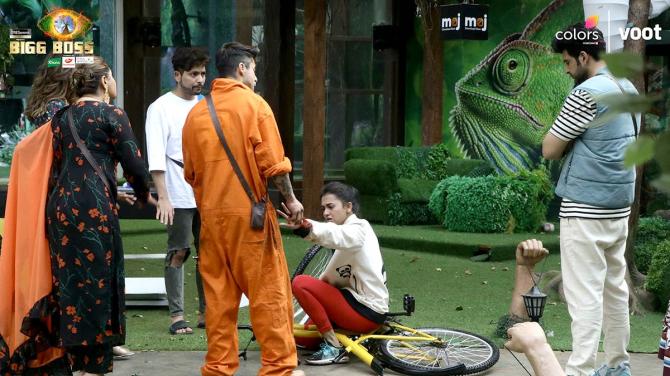 The next day, even before the task begins, Rakhi tries to throw Tejasswi's cycle in the pool, but doesn't succeed. When the buzzer goes off, Pratik decides to destroy Tejasswi's cycle and the latter tries to protect it.
Both Pratik and Tejasswi get into a fight.
Tejasswi hits Pratik in order to defend her cycle. Once Pratik leaves, she starts crying, saying it's obvious who is physically more stronger and she can only defend her cycle.
Rakhi becomes the shopkeeper and plays for Pratik. He hurts his nose while fixing his cycle.
Bigg Boss calls him in the medical room as his nose starts bleeding.
Tejasswi passes a nasty remark about him, and Devoleena loses her temper. She defends Pratik and tells Tejasswi to stop accusing others for the sake of sympathy.