Why did Neha Bhasin lose her temper?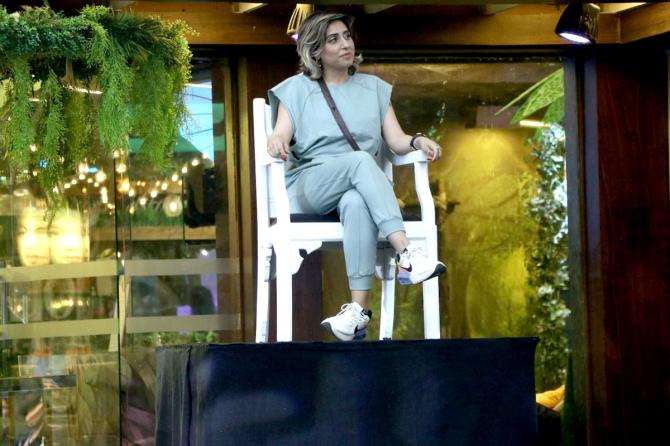 Tuesday's episode begins with Bigg Boss asking the VIP members to rank the non-VIP members.
Umar Riaz, Nishant Bhat, Vishal Kotian, Tejasswi Prakash and Karan Kundrra give Rajiv Adatia the lowest points. He is unhappy with their decision and starts arguing with them.
Nishant and Rajiv get into an ugly war of words. Nishant then calmly tells Rajiv that they can discuss their disagreement after the task is completed.
Later, the housemates have to shop for their food ration and other household necessities. However, they have just two minutes to do so.
Everyone starts suggesting what Simba Nagpal and Rajiv should get from the food pantry.
Chaos and confusion reign as all the housemates voice their views.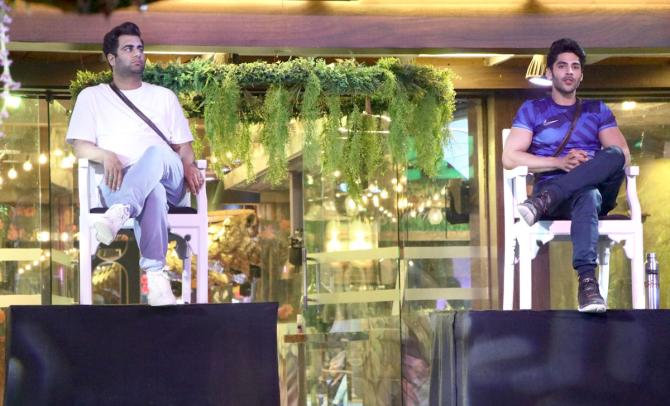 When Rajiv and Simba shop for the ration, they forget to pick up lentils, rice, tea and vegetables.
Neha Bhasin and Pratik Sehajpal get angry with Tejasswi for emphasising on eggs and milk. Neha blasts Tejasswi for not letting anyone speak which, she says, resulted in the blunder that happened.
Tejasswi is stunned when Neha calls her brainless.
Later, even Nishant tells Tejasswi that she misjudged the food ration.
Karan tells Rajiv that he wants him in the VIP zone.
Umar and Vishal discuss Neha's behaviour.
Neha and Rajiv rant against the VIP members and curse the current scenario in the house humorously.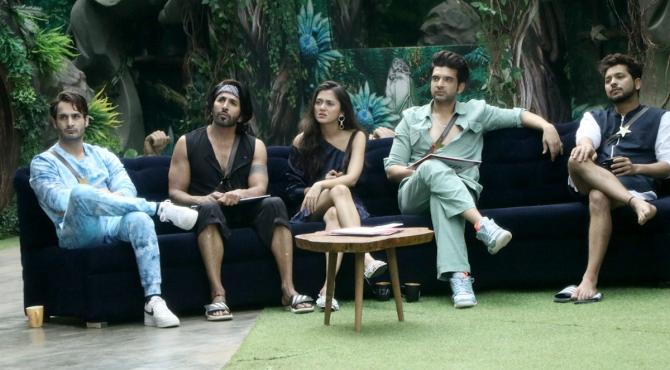 In the evening, the housemates are surprised to see a jail section built in the garden area.
Everyone gets ready for a new task.
The VIP members have to decide who deserves to go in the jail. The non-VIP members, on the other hand, will have to debate with each other and convince the VIP members why they don't deserve the jail punishment.
Everyone starts strategising.
Since Karan and his gang wants Rajiv in the VIP zone, they think he would get a lot of footage if goes to jail. That way, he would also get all of votes and wouldn't be evicted this week.
Karan and others reveal their plan to Rajiv. Vishal shares the plan with Neha.
When Neha and Rajiv talk, the latter says he isn't convinced with their strategy. Neha agrees with him.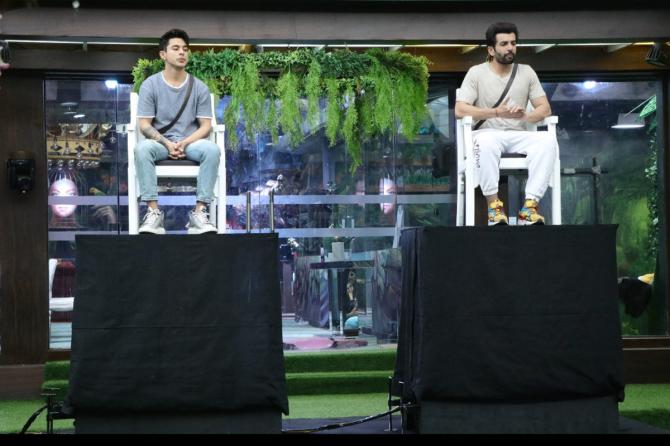 The task starts with Jay Bhanushali who challenges Pratik for the debate.
During the activity, Umar gets annoyed when Nishant, Tejasswi and others interrupt his question. He retaliates angrily and tells Tejasswi that if he respects her, he expects her to respect him back.
Umar also tells off Vishal, Nishant and Kundrra for not taking him seriously.
In the first round, Jay is declared safe from the punishment.
Karan discusses Umar with Vishal and Tejasswi.
In the next round, Pratik calls Neha for the debate.
The two put their points across and Pratik ends the discussion saying he doesn't think Neha deserves to go to jail. Nishant agrees, but the rest of the VIP members don't.
Tejasswi and Karan argue with Pratik and say he wants to go to jail as that's his game plan.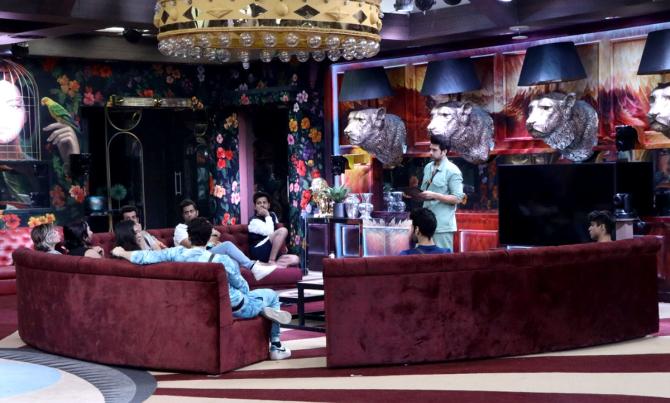 The VIP members try to convince Nishant, but he stands his ground.
Vishal and Nishant even get into a heated argument, but the latter doesn't budge.
Tejasswi says that Nishant is going against the VIP members as he is playing solo.
Nishant makes it clear that he agrees with Pratik only because Neha beat him in the debate fair and square.
After a lot of arguments, the VIP members ask Neha to go back into the house.