Weekend Ka Vaar turned out to be rather thanda as Salman Khan let off Karan Kundrra and Jay Bhanushali too easily for the blunders they committed last week.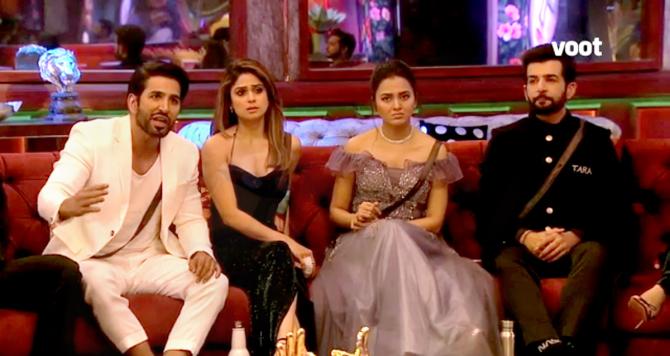 Saturday's episode was about celebrity guests taking centrestage and Salman Khan introducing us to the first wildcard entrant of the season.
The housemates are given a task where they have to choose who is fake, who is original and who is 50/50 amongst Karan, Shamita Shetty and Jay Bhanushali.
Karan is chosen as most original whereas Jay gets picked for being fake and Shamita for being 50 percent fake-50 percent original.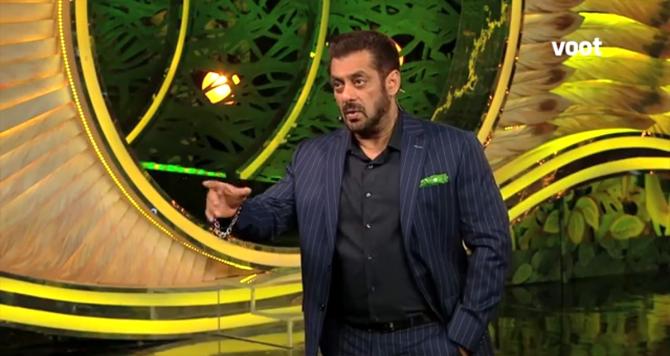 Jay reasons that he is not fake and that there are others who are.
Karan is happy to be called original, but Salman pulls him up for getting physical with Pratik Sehajpal during a task.
He warns him to control his anger or he may be shown the door.
Salman states since Pratik didn't ask for action, Karan was spared, but he won't be the next time. That's bizarre because Zeeshan Khan was thrown out off Bigg Boss OTT for getting too aggressive, but no action has been taken against Karan despite him actually getting physical.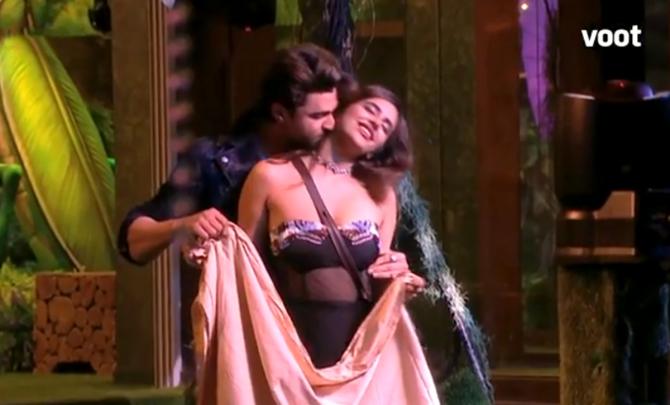 Later, Hina Khan arrives on stage.
She praises Karan and Pratik for playing the game well.
She asks Vishal Kotian, Simba Nagpal and Umar Riaz to mop a table while being shirtless.
Umar wins the task, but Vishal is annoyed as his clothes get dirty. He behaves rudely in front of Hina and sits wearing a towel.
Hina then gets Ieshaan Sehgaal and Miesha to dance. Their chemistry is hot.
Karan and Nishant Bhat also show off their moves and make everyone laugh.
Back on stage, Salman introduces us to Rajiv Adatia, the first wild card contestant and also Shamita's Rakhi brother.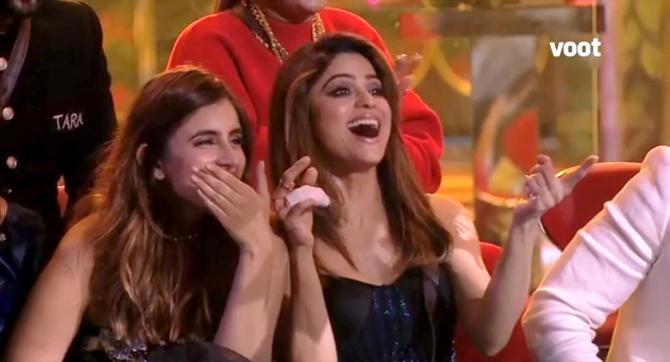 Sunday's episode sees the contestants playing the Galatfemi Ka Gubbara game. Most of the contestants target Vishal and call him manipulative.
Salman interacts with the housemates and praises Pratik for handling the situation with Karan well. He tells him that he is doing well in the game.
Karan gets teary-eyed when Salman asks him about hurting Pratik unintentionally. He apologises to Sehajpal and promises to control his anger.
Salman moves onto Umar and Ieshaan. He tells them to stop following Karan and use their own minds.
Salman finally comes to Jay Bhanushali and asks him why he kept ruining the money task.
Jay defends his action, but Salman says it will cost him going forward if he doesn't change his attitude.