Is it for real or is Miesha just doing it for the game as Umar suspects?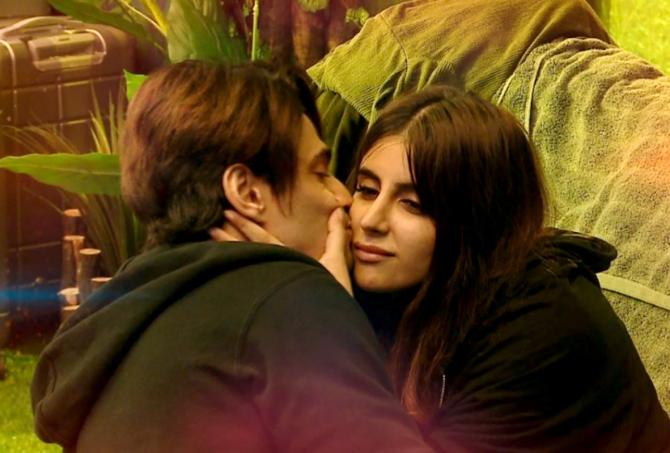 Over the years, a lot of contestants have found love inside the Bigg Boss house. While some love stories were genuine, other prem kahanis were only created to grab eyeballs and stay in the game.
It's just week two of Bigg Boss 15 and Ieshaan Sehgaal and Miesha Iyer seem to have fallen for each other.
Tuesday's episode begins with housemates teasing Miesha and Ieshaan. Jay Bhanushali makes fun of the lovebirds and asks Bigg Boss to put a full stop on their PDA.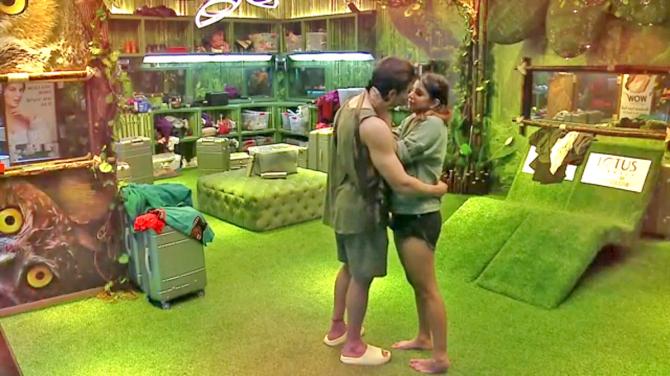 Ieshaan and Miesha spend some time alone to flirt with each other. On the other hand, OTT contestants Nishant Bhat, Shamita Shetty and Pratik Sehajpal sort out their differences and agree to play the game together again.
At night, Ieshaan tells Miesha that he loves her and that his feelings are genuine. He asks her to trust him and not question his feelings.
Next morning, Umar Riaz has a chat with Ieshaan and advises him to not get carried away with Miesha. Dr Riaz tells Ieshaan to play the game using his brain and not just his heart.
Later, Umar tells Vishal Kotian that Miesha is doing everything only for the game.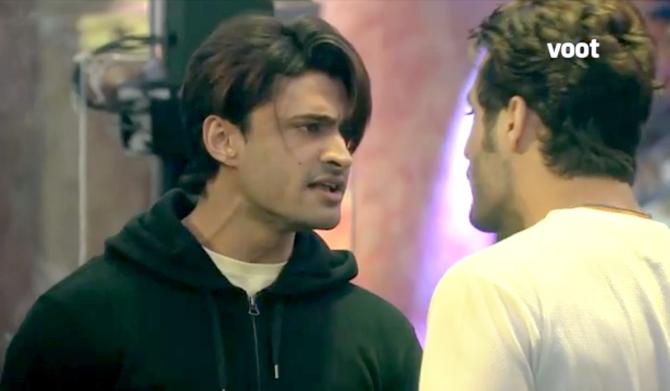 Ieshaan and Pratik get into a fight when Bigg Boss sends the map for the junglewasis to complete the pathway so that they can enter the main house.
Ieshaan gets hurt while protecting the maps from Pratik and loses his calm. Both lads engage in a war of words and Miesha tries to pacify Ieshaan.
Later, Miesha and Ieshaan have a tiff as he pushed her during his fight with Pratik.
In the evening, Bigg Boss announces the nomination task. Since the OTT contestants are safe, they are asked to not take part in the nominations.
Miesha-Ieshaan are called to nominate one contestant with mutual agreement.
Though Ieshaan wants to pick Donal Bisht, Miesha chooses Afsana Khan and her bae eventually agrees to do likewise.
Tejasswi Prakash and Karan Kundra nominate Donal whereas Vishal and Vidhi Pandya target Ieshaan.
Jay and Umar get into an argument during the nomination task as the former wants to nominate Akasa Singh and the latter doesn't.
Ultimately, they agree on Akasa and nominate her. Simba Nagpal and Afsana choose Vishal and Donal-Akasa nominate Vidhi.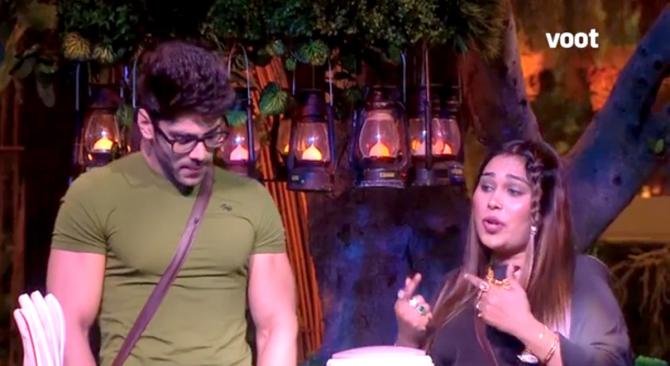 After the nomination task, arguments erupt among the junglewasis.
Afsana and Vishal get into a huge fight. Though the Punjabi singer later tries to apologise, none of the junglewasis are interested in her apology post her rude behaviour.