Is there a new couple in the house?
Day 79 begins with Rakhi Sawant and Abhijeet Bichukle discussing Devoleena Bhattacharjee. She feels it is evident he likes Devoleena but she is close to Pratik Sehajpal.
In the garden area, Devoleena expresses her feelings to Pratik and reveals she is attracted to him. She adds that she lost her focus in the game because of that and hence wanted to express everything to him.
In the evening, Umar Riaz tries to persuade Bichukle to join their team by saying that Devoleena's priority is Pratik, not him.
Just when Rashami Desai and Umar are spending some alone time, Rakhi joins them and starts teasing the two as she sees Rashami hugging Umar.
The next morning, Rakhi teases Umar and Rashami again. She tells Devoleena about them cozying up at night and states they are doing drama just for the cameras.
Umar gets annoyed when he sees his photograph being crossed with Rashami.
Rakhi denies doing it, even though she did.
Rakhi declares she is upset as she has no love interest in the house.
Karan Kundrra says she can romance him, but Rakhi isn;t interested.
Later, Pratik and Rakhi indulge in friendly banter and lighten the mood just before the nomination task.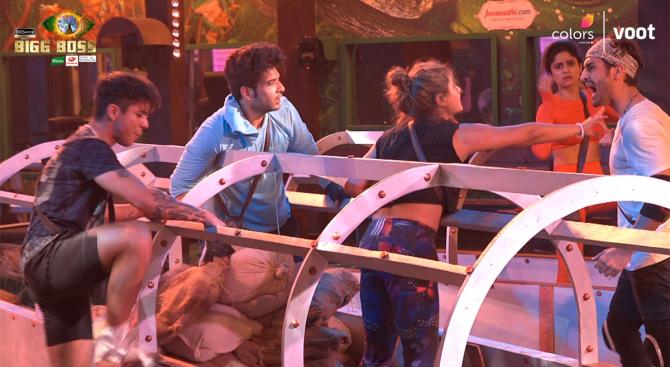 Karan reveals the new task.
Two tunnels have been kept in the garden area and two contestants will compete in each round.
The person who comes out of the tunnel the fastest will be the winner.
Rakhi is the sanchalak.
The task begins and Pratik goes against Karan Kundrra. Karan wins.
Karan and Umar then decide to oust Shamita Shetty for the ticket to finale race, but eventually, Kundrra picks Nishant Bhat.
Since he is the winner, he announces that he wants Nishant out of the race.
In the second round, Shamita competes with Tejasswi Prakash.
Everyone becomes aggressive while doing the task and Rakhi even calls Umar for cheating in the game.
Rakhi declares Shamita the winner. As a result, she kicks Umar out from the race.
Next, Umar goes into the tunnel with Abhijeet Bichukle.
The task begins and soon there's a fight between Pratik and Umar. Devoleena gets into a nasty verbal spat with Rashami.
In the end, Umar wins the round and removes Shamita from the finale race.
In the fourth round, Devoleena and Rashami go against each other, and the latter wins.
As Rashami removes Pratik from the race, the two get into a heated argument.