Salman pulls up Abhinav for misunderstanding Rakhi's behaviour, but he misses the bigger picture.
Let me confess, this is the first time I haven't been following Bigg Boss 14 since the beginning.
But ever since Rakhi Sawant entered the house, I've been reading about how she amped up the entertainment quotient with her quirky expressions and drama.
Like it or not, I am a huge admirer of Rakhi's videos and silly drama, but during the last few weeks, I haven't been hearing good things about her.
So naturally, this Weekend Ka Vaar raised my anticipation to see how Salman Khan would deal with her antics.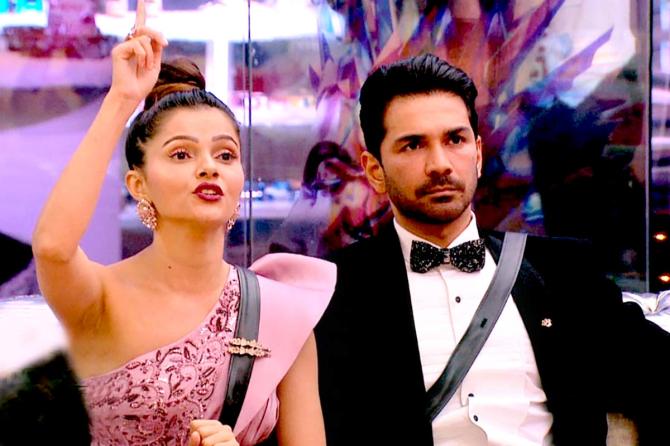 The episode began with Salman critiquing Rubina and Abhinav about their hypocrisy and unfair game strategies.
Most housemates agreed with the superstar host that the couple, especially Rubina, only favours those who stand by her opinions and Abhinav gets influenced by his dominating partner.
Vikas and Rahul got to express their opinions too and Salman agreed with most of it.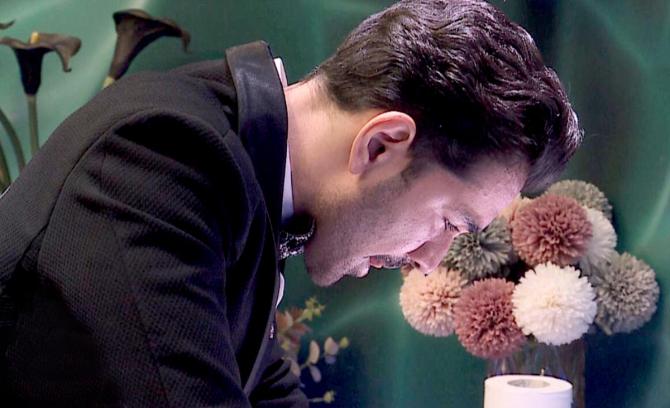 Earlier in the episode while nominating each other, Abhinav broke down and called out Rakhi for her indecent behavior.
And rightly so, Salman chose to raise the issue to clear the air.
It was surprising that Salman pulled up Abhinav for misunderstanding Rakhi's behaviour.
He kept insisting it was done in good faith and friendship.
Well, Salman, sorry to say, pulling someone's naada is definitely not entertainment. And especially when the guy is not comfortable, you have no reason to side with Rakhi's indecent action and make her look like a saint.
It is true that people like Arshi amplified the situation to make things worse for Rakhi, Abhinav and Rubina.
But when finally Rakhi replayed the episode in her own words, it was obvious that Salman was wrong and Abhinav was right about his concerns.
But then, of course, Salman never admits his mistake. So he casually told Rakhi to grow up and stay in her limits.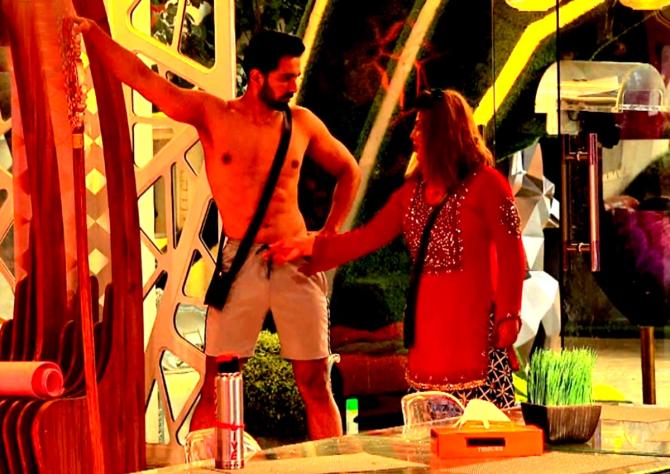 Salman then blasted Nikki for her rude behaviour, especially towards Rakhi and said it was the last time he was warning her to behave.
Nikki's expressions were a dead giveaway that she doesn't care what people think or say about her.
Between Rubina, Arshi and Nikki, it is hard to tell who is more jealous and insecure about Rakhi's popularity.
Salman clearly dislikes Rubina-Nikki and supports Rakhi in his own way.
In Sunday's episode, the contestants are asked to make chaat based on ingredients that define their personality in the show.But it was the saand (bull) task -- introduced by guest Mouni Roy -- that was more entertaining.
The housemates ensured that Rubina and Arshi paid the price for their diplomatic answers.
Ultimately, Rahul and Nikki are declared safe and Vikas is eliminated.