Nikki calls Rubina-Abhinav's relationship 'fake'.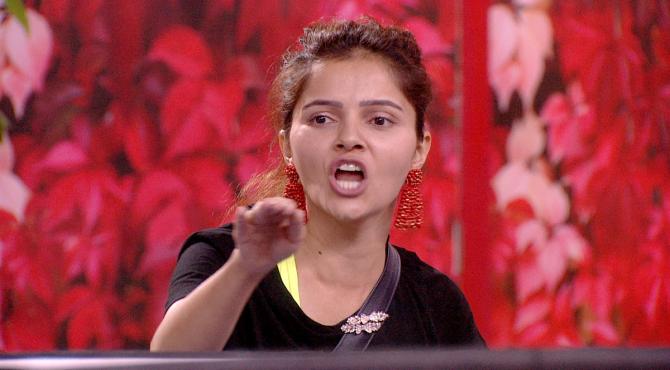 Thursday's episode begins with Rubina Dilaik suggesting that the housemates break the monotony of their duties and work on their free will.
This irks everyone, including her husband Abhinav Shukla.
Rahul Vaidya disagrees and says that it will create confusion in the house.
Rubina claims she wants everyone to get out of their comfort zone since the finale week is close.
Rahul discusses Rubina and Abhinav's relationship with Nikki Tamboli and Jasmin Bhasin. He says that the Shakti actress must have taken the decision regarding their divorce.
Nikki agrees and says she feels sorry for Abhinav as he even tries to stop her from fighting and meddling.
Unaware Rubina is listening, they continue to talk.
Later, Rubina narrates the entire conversation to Abhinav.
They get upset as Jasmin is a part of the discussion.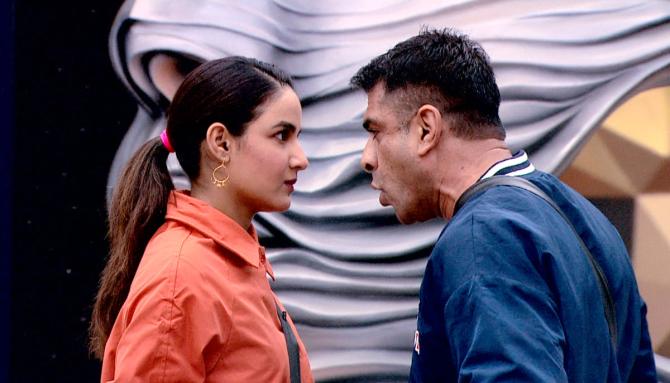 In the kitchen area, a big fight takes places between Jasmin and Eijaz Khan.
Rahul jumps in to defend his friend, Ms Bhasin. He tells Eijaz to accept her apology. Eijaz doesn't and continues his spat with her.
Jasmin asks Rahul to stay away, but he continues to fight with Eijaz.
After their drama, Nikki and Rubina get into an argument over a petty issue. Nikki ends up calling her relationship with Abhinav 'fake'.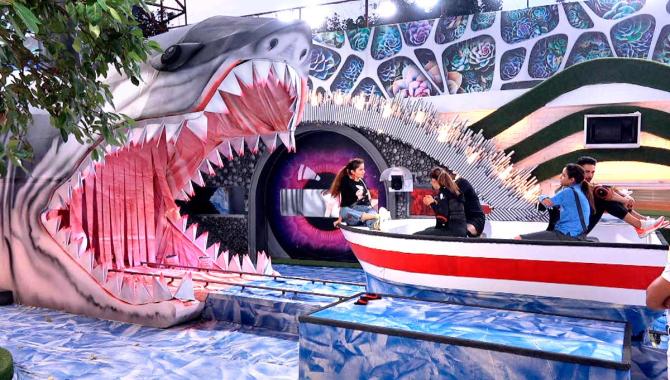 Bigg Boss gathers everyone in the living area and gives them another opportunity to earn a place in the finale week by resuming the Shark Attack task.
Everyone takes position.
When the buzzer goes off, the contestants try to grab their seats.
Rubina is left standing.
Rubina asks Eijaz and Jasmin to help, but they both refuse.
She and Rahul continue their war of words.
While Abhinav thinks he should let Rubina have his seat, she disagrees.
Ultimately, she is out of the task.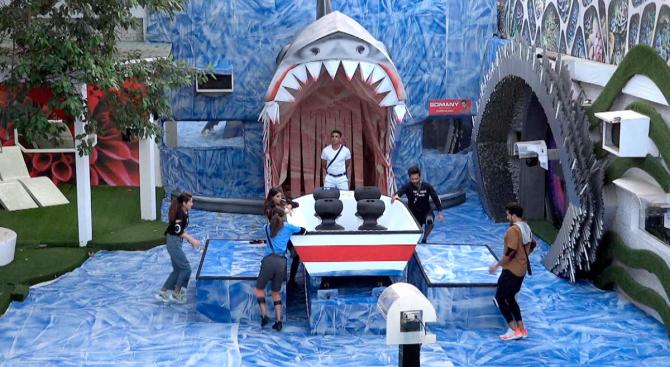 The next round begins and this time Rahul fails to find a seat in the boat.
He hurts himself while getting on the boat.
Rubina tries to help him but they end up fighting.
When the buzzer rings, he is ousted from the race.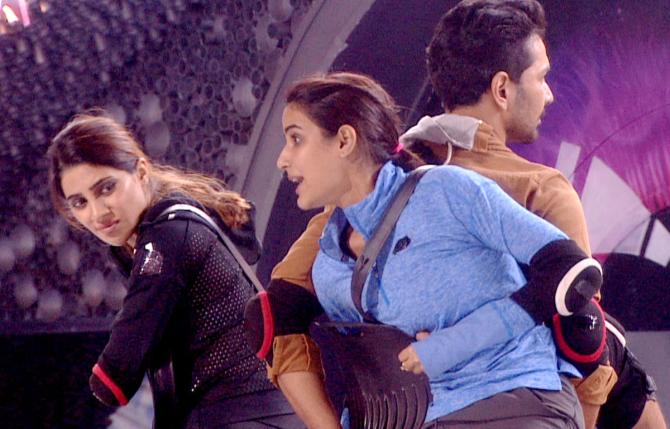 The task begins again and this time Jasmin doesn't find a seat in the boat.
She accuses Abhinav for pushing her and they start fighting.
Bhasin pushes the chair to make Abhinav fall, but he doesn't. Rubina intervenes and asks Jasmin not to get physical.
This leads to another argument.
Abhinav gets angry at Jasmin and asks her to overthrow Nikki instead.
After arguing and fighting with Abhinav for a while, Jasmin tries to grab Nikki's seat. but fails.
Eventually, when the buzzer goes off, Jasmin is out of the race.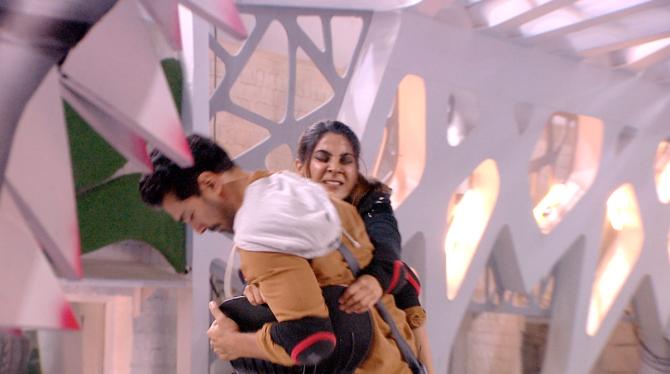 The final round starts and Abhinav gets the seat. Nikki tries her best to snatch it.
Initially, she talks to Shukla but when it doesn't work, Nikki sits on Abhinav's lap.
Rubina intervenes and asks Nikki not to get physical.
Soon, there's a big argument between all of them.
Abhinav and Nikki fight it out, but he keeps the seat till the end.
When the task is over, Eijaz announces Abhinav the winner and he becomes the second finalist to move in the finale week.
Nikki is disappointed and breaks down.
Both Eijaz and Abhinav try to cheer her up and praise her for the performance.
Nikki apologises to Abhinav for passing remarks during the task and the two hug it out.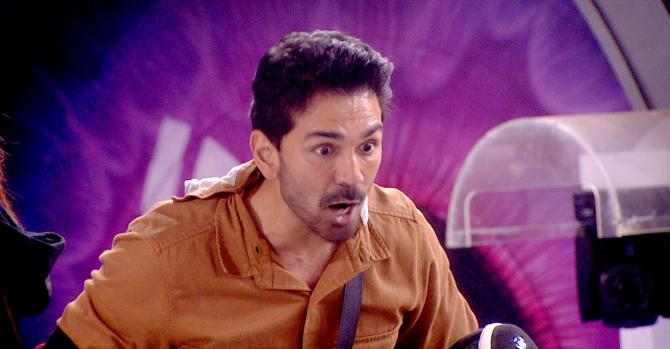 Before the episode ends, Rubina and Abhinav get into a ugly fight.
Abhinav gets so upset that he even removes his mic.