Why is Rakhi Sawant scaring everyone in Bigg Boss 14?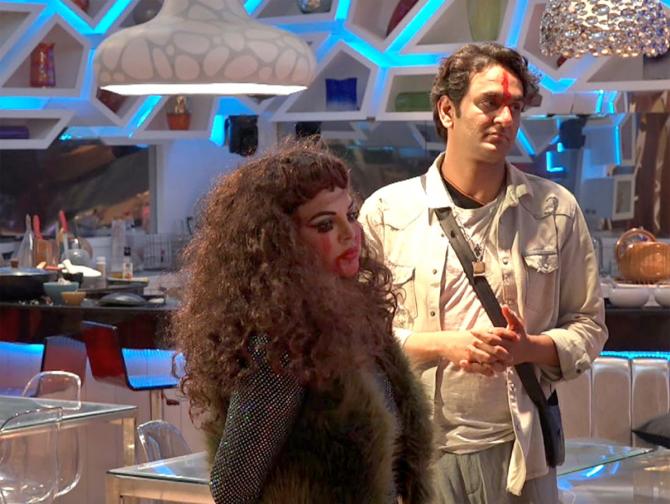 Wednesday's episode begins with Jasmin Bhasin telling everyone why she is upset with Bigg Boss.
As she starts crying, Rahul Vaidya makes fun of her.
Aly Goni, Rahul, Nikki Tamboli and Abhinav Shukla advice Jasmin to stop discussing the matter and whether Rakhi Sawant actually got hurt because of her.
Late at night, Vikas Gupta has a chat with Arshi Khan and talks about his family situation. They talk for a while and Gupta gets emotional.
The next morning, Jasmin talks about Vikas and how he Is acting different in the show. She states she feels sorry for him because something is really wrong in his life.
Rakhi has a conversation with Rahul Vaidya and reveals how her family was very conservative.
She talks about her struggles and starts crying.
She also points fingers at Jasmin and says that if she Is doing drama and then so is everyone else.
Bigg Boss calls Rakhi to the confession room and asks her about the pain in her nose.
Rakhi says she Is fine and will manage in the house.
As soon as she comes out and enters the bedroom area, everyone asks her what happened.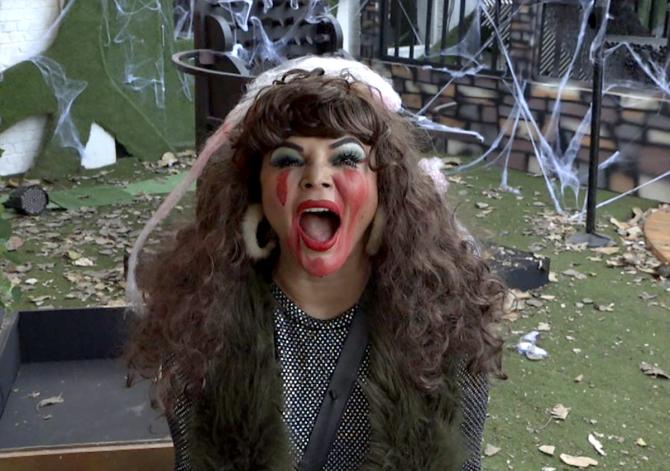 Soon everyone gathers in the garden area and Vikas announces the new captaincy task.
The contestants are surprised as the Bigg Boss house is converted into a haunted haveli.
The haveli is haunted by Rahul Mahajan's first wife Julie (Rakhi).
Mahajan is now married to Jasmin.
The other housemates are their guests.
Every time a buzzer rings, Rahul and Jasmin will send a guest out in the garden area who they don't want to see as captain. The guests can use their coins to come back in the captaincy race.
At the end, contestants with most number of coins will go ahead as the captaincy contenders.
Jasmin and Rahul start strategising about the game.
Rakhi, on the other hand, gets into character and acts like a chudail. It's hilarious to watch her!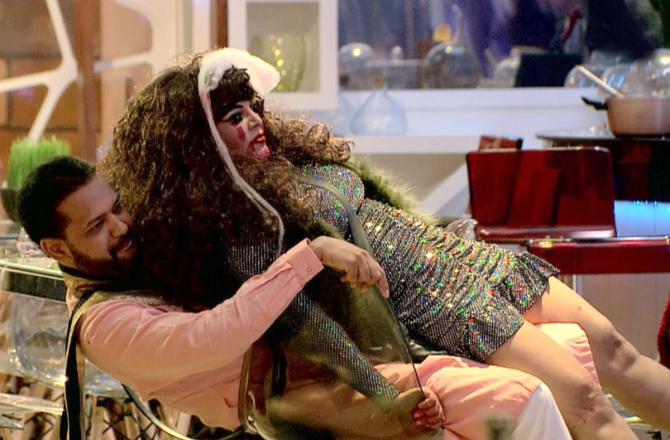 Rakhi enters the house to distract the contestants, but everyone ignores her as per the task rules.
Rubina agrees to go first in the garden area after discussing with Jasmin.
Rubina also has a word with Rakhi and convinces her to send her back. Rakhi agrees if Rubina will get coins for her.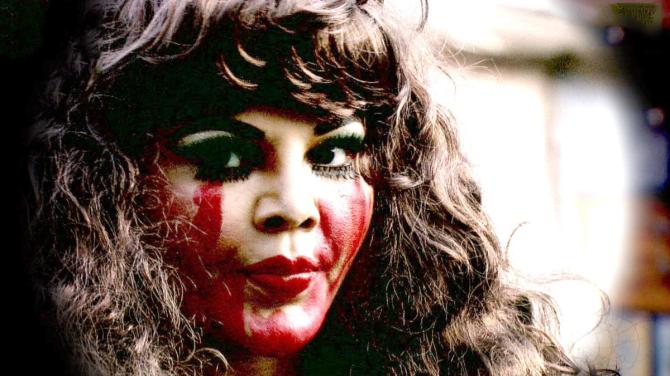 In the second round, Rubina is sent outside once again and she decides to play the game along with Rakhi.
Vikas is also thrown out in the garden area and he asks Rakhi to play smartly and collect as much coins as possible to win the task.
Arshi isn't happy knowing that Vikas is supporting Rakhi and Rubina for the captaincy.
Vikas and Rakhi confront Rubina about her game plan and who is she supporting. Rubina gets annoyed with Rakhi as they had made a strategy together.
After Rubina and Vikas, Eijaz is sent out in the garden area.
Rakhi enters the house again and starts distracting everyone with her antics. In doing so, she ends up tearing Rahul Mahajan's dhoti, making everyone upset.