Bigg Boss 14's latest fight just got really, really, UGLY.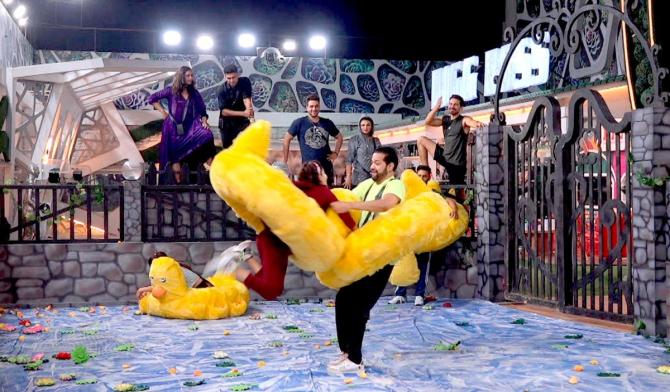 Thursday's episode resumes with the Duck task.
Rahul Vaidya and Rahul Mahajan are the feeders whereas Abhinav Shukla, Aly Goni, Manu Punjabi and Eijaz Khan are asked to enter the duck park wearing their suits.
All the contestants take their position in the garden area and get ready for the game to start.
That's when Rubina Dilaik and Arshi get into a verbal spat.
Eijaz Khan also ends up fighting with Rubina, Jasmin Bhasin and others while laying out the rules for the task.
Nikki Tamboli gets irked when Eijaz indirectly taunts her and she gives it back to him.
Arshi accuses Rubina of body shaming her when the latter calls her a duck.
Arshi loses her cool and starts arguing with Rubina.
Rahul Vaidya and Abhinav jump in to defend the Shakti actress and allege that Arshi is making an issue for no reason.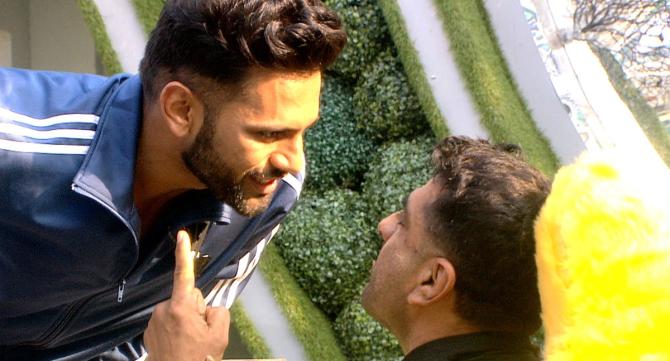 Soon, Eijaz and Rahul Vaidya get into an argument and their fight quickly turns ugly.
Rahul says he can't wait to expose him. Eijaz tries his best to give him a befitting reply, but fails.
The two continue to yell at each other and hurl abuses for a good 10 minutes.
After all the drama, the buzzer rings and the four men start collecting their fodder without creating much ruckus.
At the end of the round, Aly is declared the winner and Jasmin is visibly happy for him.
Rubina has a word with Jasmin and Rahul about saving Abhinav this time.
Nikki and Manu, on the other hand, continue to bond and Rakhi teases them.
In the next round, Rahul Mahajan, Rubin and Jasmin are the ducks while Eijaz is the sanchalak.
Rubina and Rahul entertain everyone with their antics and make the task fun.
At the end of the third round, Eijaz declares Jasmin the winner. She becomes the captaincy contender along with Aly and Rakhi.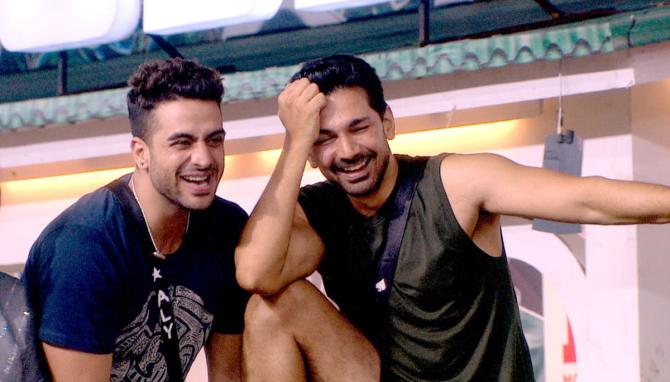 Later, Kashmera discusses with Rahul how Rubina doesn't perform in tasks and is coming across very boring. Nikki, on the other hand, feels like quitting the show and shares the same with Jasmin.
When Nikki and Manu chat with each other, Rakhi and Arshi start teasing them.
Rakhi even sings a song for them which is hilarious.
But things turn worse as Nikki vents her anger and fights with Arshi for continuously provoking her.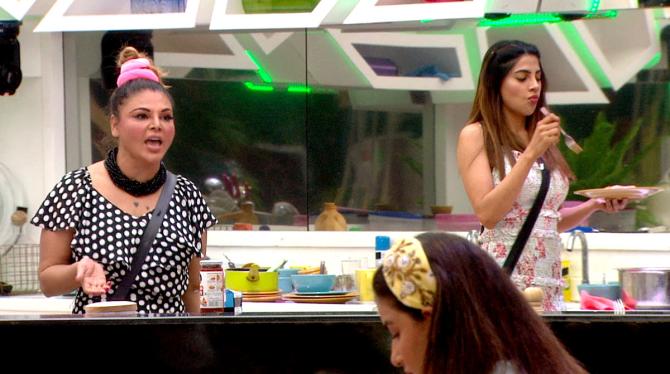 The next morning, Rahul and Jasmin talk about Rubina and her game strategy. Rakhi and Arshi get into a friendly banter, leaving everyone in splits.
Kashmera gets annoyed when Nikki doesn't complete her dish washing duty.
Aly, Rakhi and Arshi are also miffed with Nikki for the same reason.
Rakhi taunts Nikki and the latter questions her friendship with Mahajan.
This leads to another little argument between Rakhi and Rahul. Jasmin gets jealous seeing Arshi and Aly flirting a bit but they do it intentionally. Later, Aly and Jasmin share some romantic moments.
Rahul plays a prank with Rakhi regarding the captaincy task and the latter falls for it.
Late at night, the housemates get to see in the garden area what the captaincy task will involve.
Will Rakhi win the task and become the new captain?