Sidharth Shukla feels Nikki Tamboli is perfect for Bigg Boss! Namrata Thakker offers a recap of Day 2.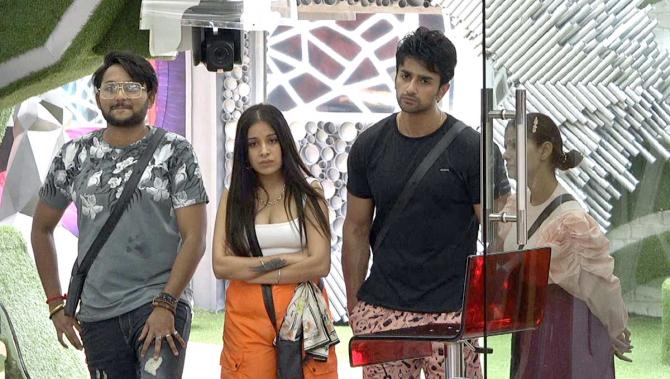 Day 2 inside the Bigg Boss house starts off with Hina Khan warning the celeb contestants that they can't use the gym without her permission and that only four people can use the gym area at a time.
During lunch time, Pavitra Punia gets angry when Gauahar Khan interrupts her just when she's about to have her food.
But they hug it out in no time.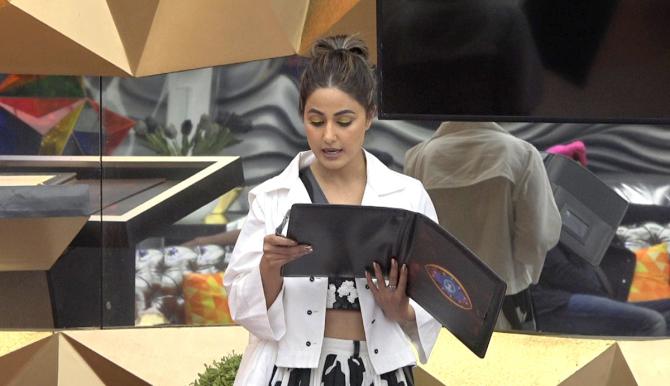 In the afternoon, Hina announces the first task for the rejected contestants called the Entry Pass.
The Toofani seniors will give the rejected celebs a few tasks and if they succeed, they will get to enter the Bigg Boss house.
Gauahar, Hina and Sid strategise about their game.
They first ask Rubina that if she wants to live inside the house, she will have to wear the same pair of clothes for a week.
The television actress refuses saying she prefers personal hygiene over luxury.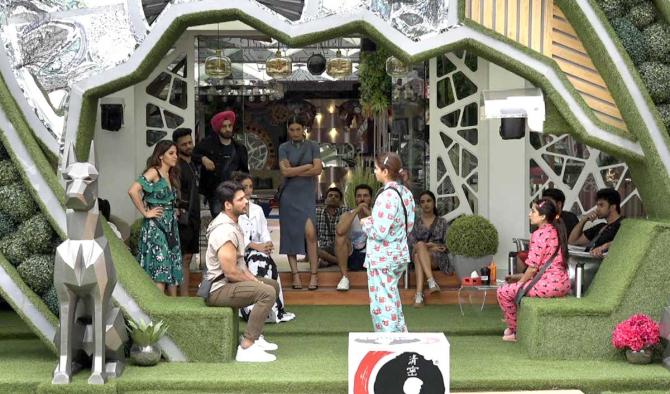 Nishant is asked to wear a bikini top over his clothes and he readily agrees.
The good-looking lad also has to write rejected on his forehead and has to say 'I am the rejected contestant' every time he sees the Toofani seniors in the house. He agrees to do the tasks.
Jaan Sanu is asked to get a Mohawk haircut and he does.
Sara Gurpal is also asked to cut her hair she complies.
The celebs are given a few more tasks and while some succeed, others try their best.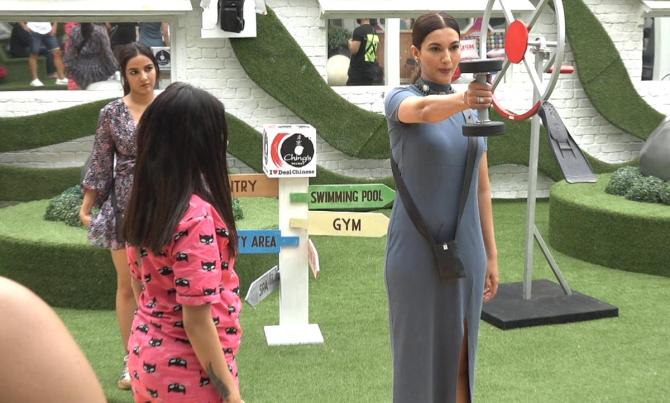 When it's time to decide the winner, Bigg Boss announces that the rejected contestants will have to pick one name who performed poorly in the task according to them. Only that celeb won't be allowed inside the house.
Nishant, Sara and Jaan announce Rubina as a poor performer but she doesn't accept their verdict.
In the end, Bigg Boss goes with the majority votes and orders Rubina to stay in the lawn area until further announcement.
The rest of the celebs are welcomed inside the house.
Nishant isn't happy and says he won't let his friend sleep alone outside which is nice to see.
Will Nishant and Rubina become the new BFFs inside the house? Only time will tell.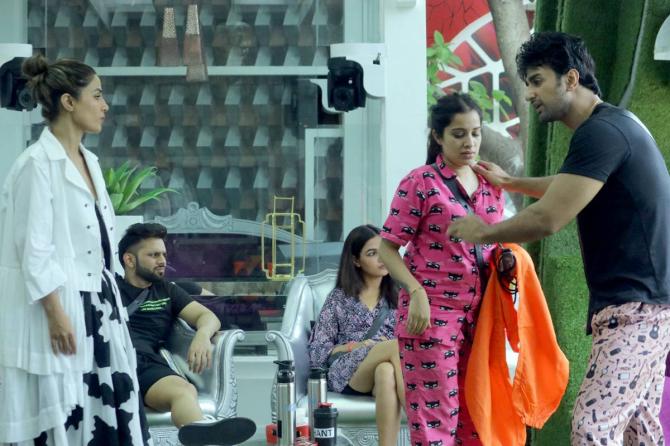 Day 3 inside the house starts off on a rough note.
On one hand, Rubina and Jasmin Bhasin get into a heated argument as the former wants her footwear from the BB mall whereas the latter says she can't do without her make-up kit anymore.
Rubina tries to make everyone understand that she IS using someone else's slippers and it's hard for her to stay without sandals and shoes outside the house.
But Jasmin doesn't budge.
Nikki also wants heels for herself and stands her ground.
Ultimately, Hina gives Rubina sometime to think about what she wants from the BB mall.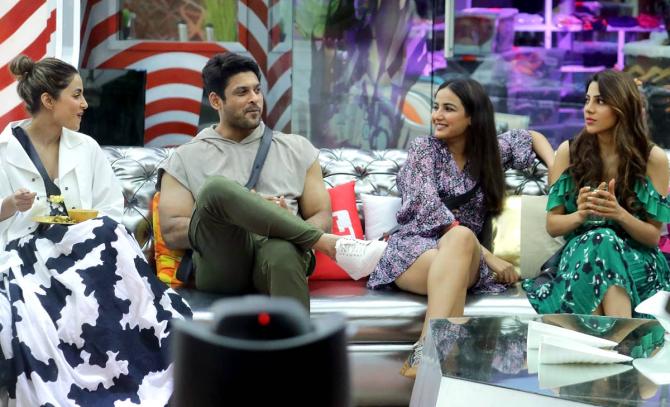 Later, in the living area, Nikki and Sara get into a verbal spat.
Sidharth, who is siting with them, provokes Nikki further and the situation escalates.
But Nikki doesn't let Sara walk all over her and strongly puts her points across.
Both Sid and Hina are impressed with her and the former even says that she is perfect for the show.
Sara and Nikki eventually patch up.