Arshi is all set to take advantage of Jasmin and Rubina's catfights.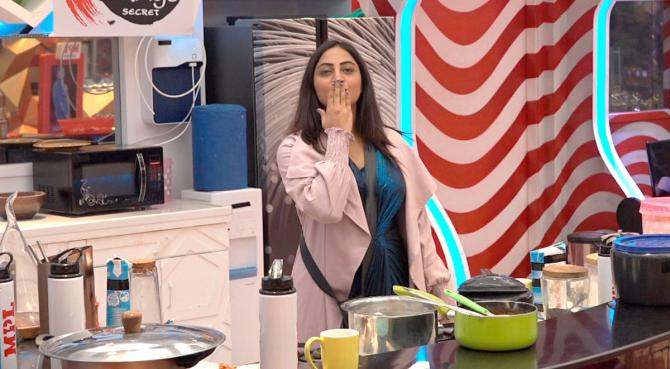 Monday's episode begins with new captain Rubina Dilaik assigning house duties to everyone.
While doing so, she gets into a spat with Eijaz Khan.
Rakhi Sawant and Rahul Mahajan have a chat regarding the actress's marital life whereas Rahul Vaidya talks to Nikki Tamboli and reveals that his girlfriend has told him to stay away from her.
Jasmin Bhasin and Aly Goni get all romantic and express their feelings to each other.
Manu Punjabi, on the other hand, is unwell.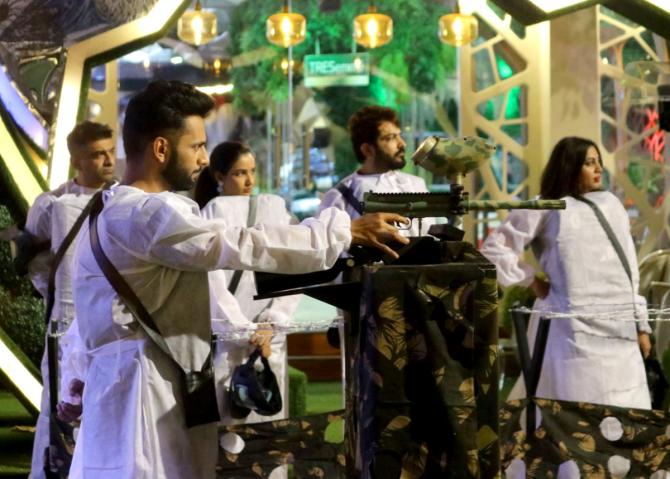 Soon Bigg Boss announces that it is time for this week's nominations.
Since Rubina is the captain, she has the power to send someone in the danger zone directly.
She targets Eijaz, saying he has't been giving his all to the game in the last few weeks. With that, Eijaz gets nominated.
The housemates gather in the living area and have to shoot two people they want to nominate this week by using a paintball gun.
Rahul Vaidya chooses Abhinav Shukla and his wife Rubina. He says Shukla is boring and Rubina is rude.
Nikki also targets Abhinav along with Arshi Khan.
Arshi nominates Abhinav along with Rahul Mahajan.
Jasmin nominates Manu saying he is lost in the game and targets Mahajan for not fully participating in the house.
Aly echos her views and nominates Manu and Mahajan too.
Abhinav picks Arshi for provoking Vikas Gupta while he was in the house as well as Rahul Vaidya.
Eijaz nominates Vaidya and Rubina whereas Manu targets Jasmin and Rakhi.
Rakhi nominates Manu along with Rahul Mahajan for not respecting their friendship.
Mahajan goes after Jasmin and Manu.
At the end, Bigg Boss announces that Eijaz, Abhinav, Manu and Rahul Mahajan are the nominated this week.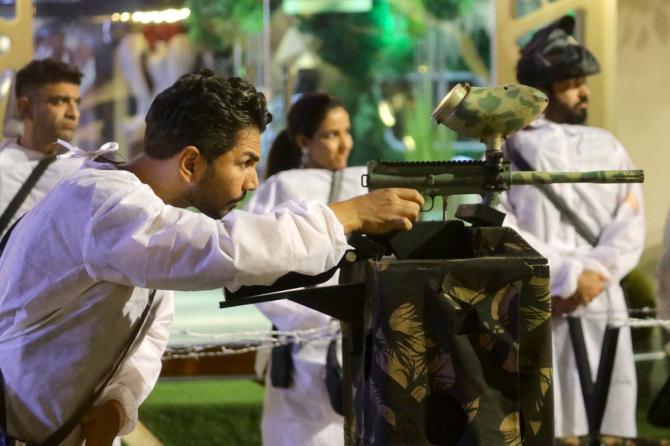 After the nomination task, Rubina confronts Rahul Vaidya for calling her rude, and it turns ugly very soon.
Eijaz tries to jump in as well, but Rubina gives him a befitting reply.
Abhinav tells Rahul that just like him even Rubina has an opinion regarding his personality.
As if all this drama wasn't enough, Aly joins the bandwagon and starts defending Jasmin.
Rubina ends up arguing with all of them.
Her verbal spat with Jasmin intensifies and both ladies get personal.
In the bedroom area, Rahul Vaidya passes some unsavoury remarks about Abhinav and the latter gets irked. Abhinav barges in and shuts Rahul up.
At night, Arshi discusses her game plan with Eijaz and Manu. She says they shouldn't let Jasmin and Rubina become friends again and take advantage of their situation.
Arshi wants to isolate Rubina and Abhinav, but Manu doesn't agree with this idea.
Abhinav asks Nikki about nominating him instead of her enemies in the house.
Nikki tries to dodge the situation, saying she considers him as competition.
In the afternoon, Bigg Boss announces that Manu will have to leave the house for a few days due to medical reasons. He is therefore no longer in the danger zone.