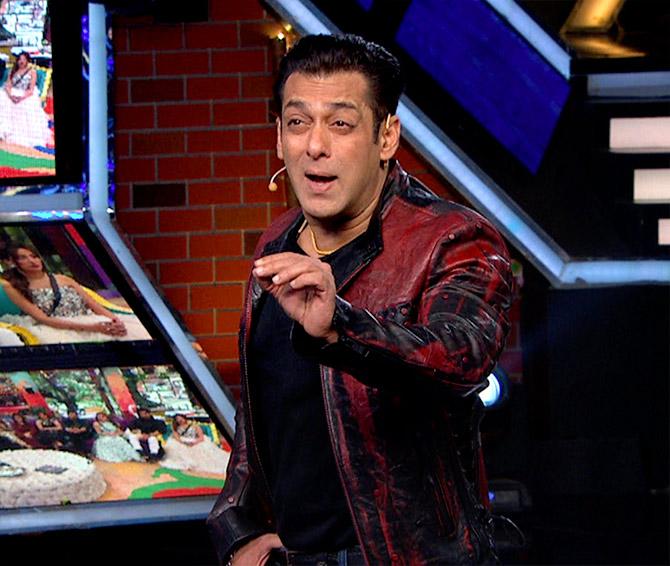 It's been a dramatic weekend on Bigg Boss 13.
It starts with Mahira and Asim Riaz's spat over rotis. As it escalates, other housemates get involved.
Paras tries to solve the problem but Mahira walks away and starts crying in the bathroom area.
When he tries to console her, she slaps him in a fit of rage.
This upsets Paras and retaliates angrily, asking Mahira to stay away from him.
Eventually, the two patch-up.
Since captaincy task was cancelled, Bigg Boss asks everyone to vote whether sanchalak Madhurima should become the next captain Asim, Vishal, Shefali Bagga and Rashami vote in her favour, but the rest go against her.
Bigg Boss then declares that no one will be the captain this week.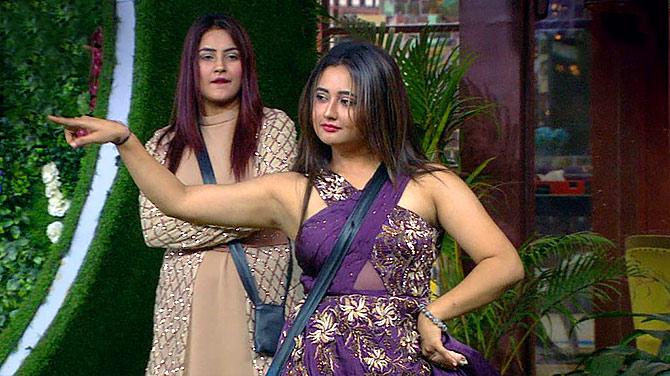 Salman Khan reprimands everyone for their rude and aggressive behaviour.
He pulls up Asim for talking badly about Sidharth's late father.
He confronts Rashami for making comments on the cameraman about showing her in bad light. Khan says she can leave the house if she feels they are showing her in a negative way.
Salman bashes Sid for using foul language.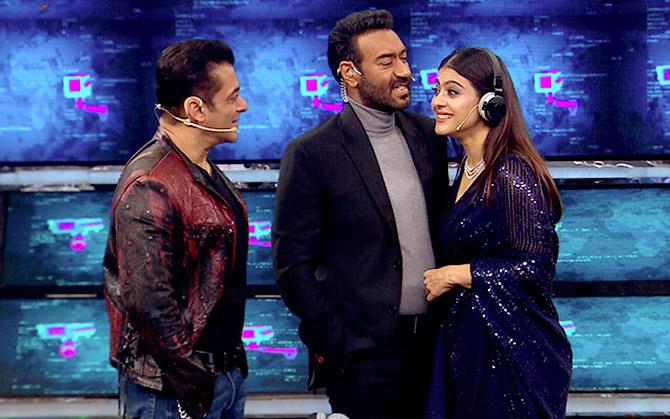 Ajay Devgn and Kajol promote their upcoming film Tanhaji: The Unsung Warrior on the show.
Salman has fun with them, as they play games.
Later, the star couple enters the house and plays an interesting task with the contestants.
During the task, Paras passes some unsavoury statements about Rashami, Vishal, Asim and Madhurima and that upsets Desai.
After Kajol and Ajay leave, Shefali Bagga argues with Paras for disrespecting girls time and again.
When Salman makes a sudden entry in the house, he finds an upset Rashami. She tells him about the food fight and what Paras said in front of Ajay Devgn and Kajol.
Salman gets angry with him and puts him straight.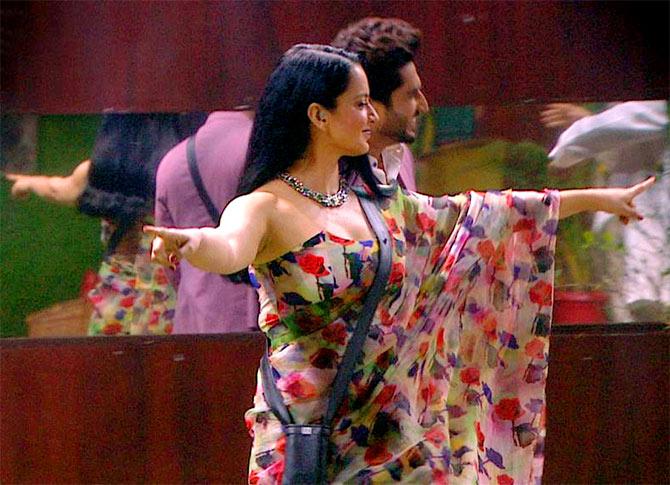 Kangana Ranaut arrives on Bigg Boss to promote her upcoming film Panga. She indulge in some hilarious banter with Salman, and then enters the house.
Salman ends the episode announcing that Shefali Bagga and Madhurima Tuli are in the bottom two.
Late at night, Bigg Boss announces that it's time to decide who will leave the show. The contestants have to vote and Shehnaaz picks Bagga.
The rest vote in favour of Madhurima which is surprising as she doesn't get along with most of the housemates.
---
Namrata Thakker has been covering the entertainment beat for more than seven years and has quite the eye for celebrity fashion. She can be contacted at movies@rediff-inc.com
---