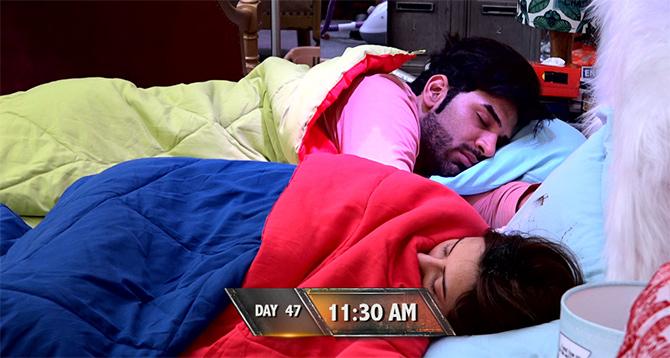 On Day 46, Asim Riaz blames Siddharth Shukla for losing the cave task.
This obviously does not go down well with Siddharth, so he asks Asim to play his game individually or join the other group. This irks Asim further.
Arti Singh and Shehnaaz Gill discuss Asim and how he is getting affected by her patch-up with Siddharth.
The next morning, Shefali Jariwala and Rashami Desai have a spat over food.
Rashami breaks down in the garden area in front of Arhaan Khan and Hindustani Bhau. They ask her to not use cuss words as it doesn't suit her.
While some of the housemates are busy in the living area, others sleep during the day -- including the four captaincy contenders.
After trying to wake them up repeatedly, Bigg Boss asks Rashami to assemble everyone in the living area.
Bigg Boss cancels the captaincy task as the contenders aren't following the rules.
So there no captain this week; even Shefali's tenure as a captain comes to an end.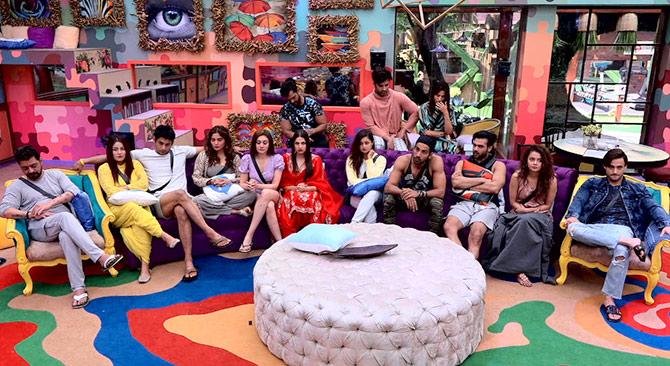 In the kitchen area, Shehnaaz gets upset with Khesari Lal Yadav.
When Asim tries to poke fun at her, she gets angry and asks him to clean the bedroom area.
Asim retaliates by saying that she should ask Siddharth to do the work, as he is also in charge of the bedroom.
The conversation turns ugly when Sid joins in and gets angry with Asim.
The two former friends even get physical but Arti and Shehnaaz intervene.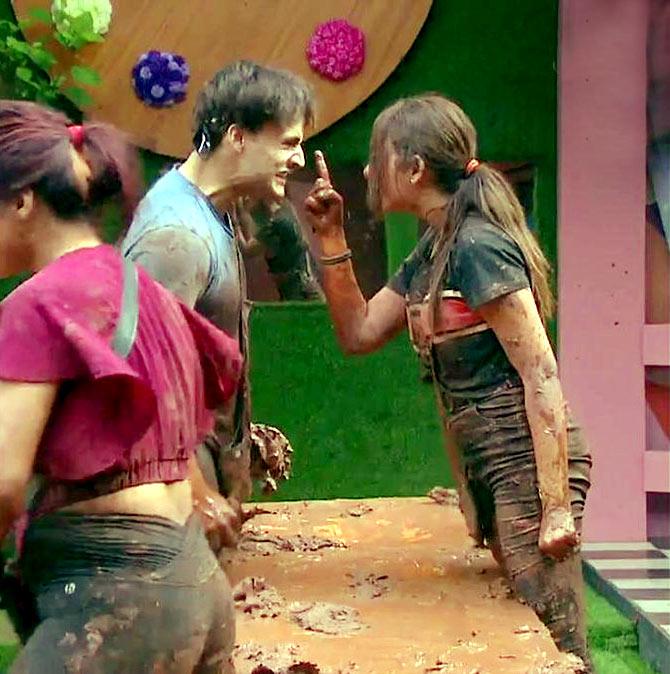 Bigg Boss then announces the next luxury budget task, where contestants are divided into two groups and asked to build a house.
Shefali and Devoleena will have to supervise the challenge as well as play it.
Sid, Asim, Arhaan, Shehnaaz, Himanshi, Shefali and Bhau are Team A whereas Devoleena, Rashami, Arti, Vishal, Mahira, Paras and Khesari are Team B.
The team that makes the house properly will win and will get to keep the luxury budget items for themselves.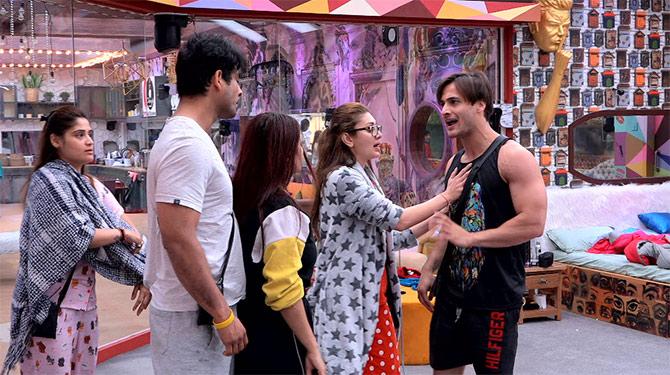 Initially, all the contestants perform the task nicely.
Then Shehnaaz tells Asim that they should do something to make the task more interesting.
She destroys Team B's house, infuriating everyone.
We get a sneak peek of the next episode, where Team B retaliates and destroy Team A's house.
The fighting gets so intense that Bigg Boss has to intervene again.
Will the luxury budget task get cancelled yet again? Let's wait and see.