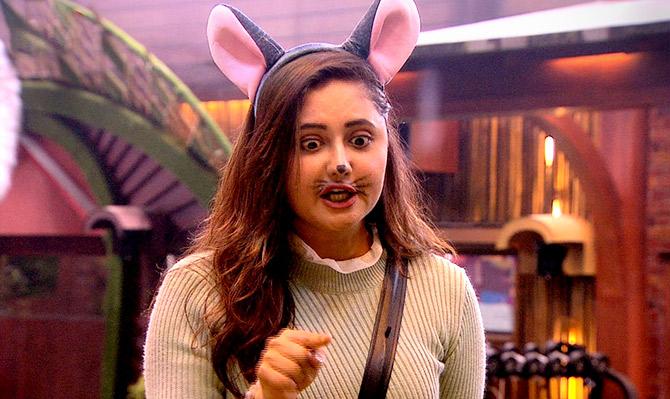 During the captaincy task, Siddharth Shukla, Paras Chhabra and Shehnaaz Gill instigate Shefali Bagga to fight against her team and she does, but Rashami Desai loses her cool and the situation turns nasty.
The episode starts off with Shehnaaz Gill having a discussion about Paras Chhabra with Vishal Aditya Singh, Madhurima Tuli and Arti Singh. Gill says she is hurt as Paras never supports her when it comes to the captaincy task. She gets teary-eyed and Vishal consoles her.
Shehnaaz asks him to go and confront Paras about this. In the kitchen area, Vishal tells Paras he should at least show some support for Shehnaaz even if it's fake just to keep her happy.
Asim Riaz joins in and agrees with Vishal, but Paras clearly states that he only loves Mahira Sharma and she is her priority. However, he does promise to have a word with Shehnaaz. Mahira, who listens to the whole conversation, gets upset and later starts crying.
Paras tries to cheer her up, but Mahira says she can't deal with this whole love triangle situation anymore.
Shefali Bagga, on the other hand, gets annoyed with Siddharth Shukla as he keeps teasing her with Arhaan Khan. Rashami gets miffed with Shukla when Bagga tells her what the latter has been saying.
Arhaan asks Rashami to not confront Siddharth as he has been saying everything for fun and not seriously.
Later, Bagga has a word with Sid and asks him to not tease her with anyone as she already has a connection outside. Shukla doesn't entertain her much and only nods.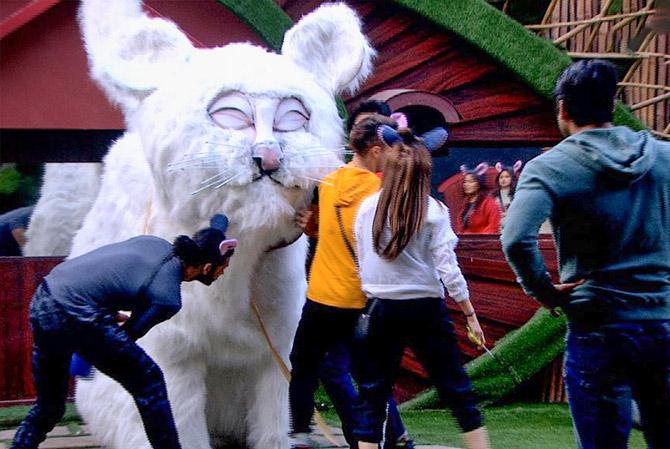 In the afternoon, Bigg Boss announces the new captaincy task and the housemates are divided into two teams.
Shukla is the sanchalak. Asim, Paras, Arti, Shefali Jariwala, Mahira and Shehnaaz are in one group whereas Vikas Gupta, Arhaan, Vishal, Rashami, Bagga and Madhurima are in the other group.
The teams have to tie a bell around the neck of a huge cat which has been placed in the garden area.
In the first round, Shefali and Asim go against Arhaan and Vishal. The four contestants give a good fight, but nobody wins the round.
As a result, one member from each team has to be thrown out from the task. Rashami and Paras volunteer for the same as both are injured and can hardly perform the challenge.
In the second round, Asim and Arti try their best to win against Arhaan and Vikas, but yet again no one succeeds.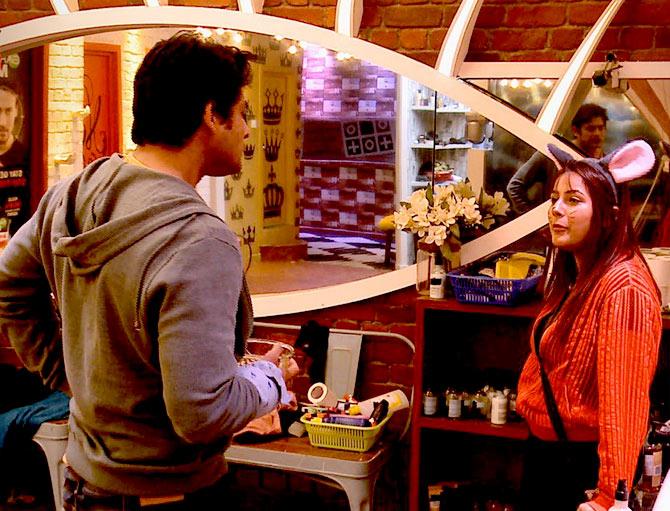 Amidst the task, Shehnaaz throws tantrums as she wants to become the captain, but Sid and Paras always back out on her. She starts yelling and throwing stuff around the house.
Shukla and Paras try to calm her down, but she doesn't budge and says she will flip again as that is what they keep saying about her.
Also, Gill openly says that she loves Paras, but his priority has always been Mahira and that's upsetting for her. Shehnaaz further states that even she has feelings and is tired of getting hurt again and again.
After all the drama, Mahira decides to step away from the game and as a captaincy contender after the second round.
As for the other team, everyone decides that Bagga should sit out, but she doesn't agree.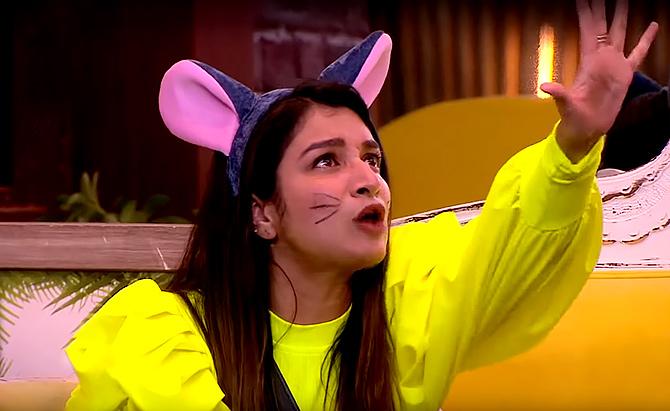 Shefali Bagga fights with her teammates and says she wants to do the task. However, everyone is hellbent on letting her go.
Just when Sid is about announce the same, Paras and Shehnaaz ask Bagga to not give up on the captaincy task.
Shukla also tries to subtly provoke her against her own and Bagga eventually retaliates. She starts yelling and fighting with Rashami.
The latter also gives it back to Shefali, but loses her cool and in a fit of rage breaks a plate.
Rashami storms out of the garden area and when Arhaan tries to calm her down, she yells at him as well. She states that Bagga is doing all the drama because of the other team. And everyone is enjoying their fight too.
She sternly tells Arhaan he should have said something to Bagga as well, but he didn't.
Madhurima arrives in the kitchen area and asks them not to fight with each other because of Shefali.
Asim also tries to calm down Rashami and the two later talk in the garden area.
Bagga starts bad mouthing Desai in front of Shukla and Shehnaaz. Rashami hears everything and tells Asim that she has totally lost it.
In tonight's episode, Bagga won't let anyone sleep in the night which will irk all the housemates. Guess Siddharth Shukla is no longer the villain in the house at least for now!
---
Namrata Thakker has been covering the entertainment beat for more than seven years and has an eye for celebrity fashion. She can be contacted at movies@rediff-inc.com
---