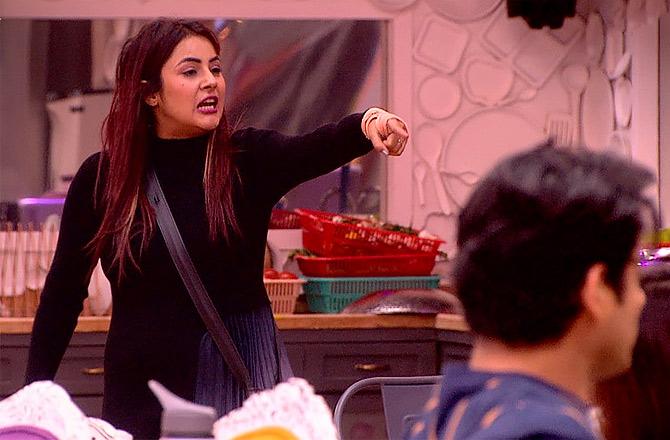 While the atmosphere in Bigg Boss 13 lightens up courtesy with the Comedy Club task, Shehnaaz Gill and Mahira Sharma get into a ugly fight.
The episode starts with Sidharth Shukla and Shehnaaz Gill goofing around.
Then Sid drags Paras Chhabra into their fun and Mahira Sharma gets upset.
Paras and Mahira fight and though Sid tries to solve the issue, she is hurt by Gill's taunt and starts crying after Paras walks away from her.
At night, Arti Singh tells Paras to bury the hatchet with Mahira. He does and they patch up.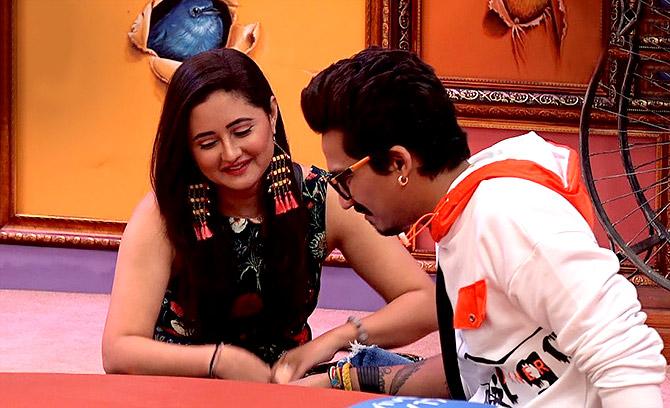 The next morning, Rashami Desai, Madhurima Tuli and Asim Riaz are in the kitchen area discussing Shehnaaz. Desai feels she is head over heels in love with Shukla.
Madhurima states she will have a hard time once she is out of the house and in the real world.
Asim sides with Shehnaaz and says that it's good that she loves him and isn't afraid to say so.
Everyone gets ready for a fun task in which they have to prepare a special dish for renowned chef Vikas Khanna, who visits the house for the same.
Housemates are divided in two teams: Rashami, Siddharth, Asim, Mahira and Shehnaaz are in one and the rest are in the second team.
After tasting the dishes, Vikas Khanna declares that Rashami's team is the winner.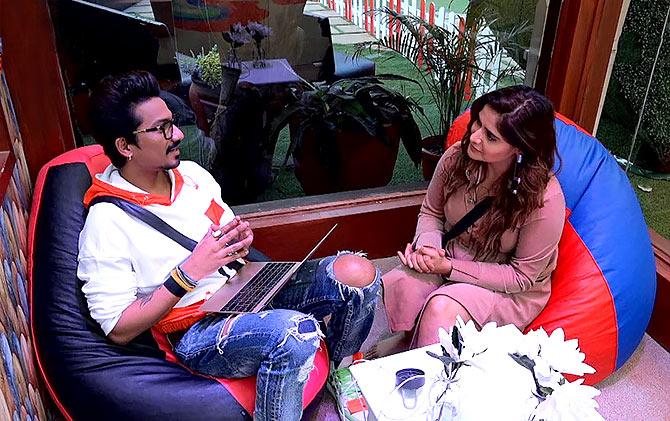 Later in the day, Sid starts flirting with Madhurima once again in the bedroom area, and everyone around enjoys their banter.
Bigg Boss announces the Comedy Club task.
Harsh Limbachiyaa enters the house to explain what it entails and also to mentor the housemates with their comedy gig.
After he leaves, a huge fight erupts when a fun discussion started by Mahira turns ugly.
During the discussion, Madhurima talks about Mahira's lips and that leads to a fight between the two ladies.
Madhu gets annoyed when Asim starts praising Mahira in front of everyone, and yells at him.
Another showdown follows between Shehnaaz, Paras and Mahira.
Shehnaaz starts yelling at Asim, Paras and Mahira for not doing any work when she doesn't find a cup.
Rashami tries to defend them but Shehnaaz is in no mood.
Paras finally loses his cool and starts fighting with her.
Sid intervenes and tries to take Shehnaaz away but doesn't succeed.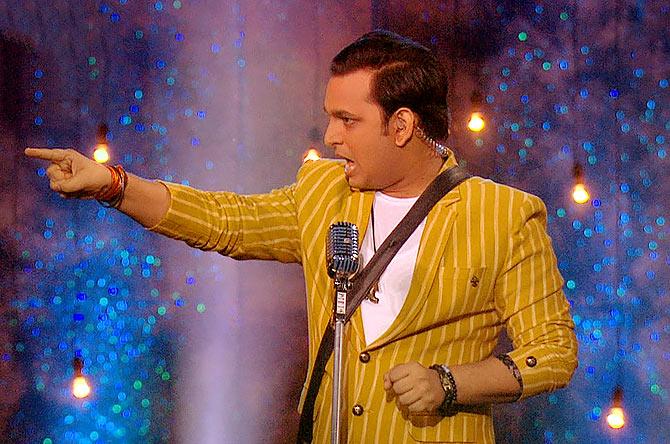 After all the drama, stand-up comedian Paritosh Tripathi arrives for the Comedy Club task.
The housemates assemble in the garden area and get ready to perform.
A live audience is seated in front of them.
After roosting all the contestants, Paritosh announces that Sidharth will perform first.
Will he make everyone launch? Let's wait and watch.
---
Namrata Thakker has been covering the entertainment beat for more than seven years and has quite the eye for celebrity fashion. She can be contacted at movies@rediff-inc.com
---