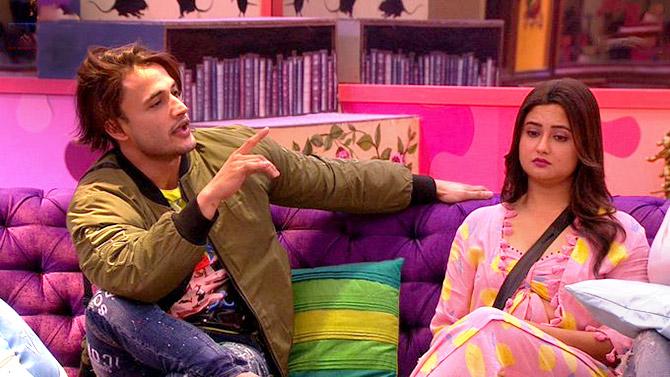 Monday's episode starts off with Sidharth Shukla teasing Rashami Desai in the kitchen area for hiding food items.
Their banter is friendly but Desai doesn't entertain him much.
She is surprised by Sid's behaviour and tells him that she doesn't want to fight anymore.
In the garden area, Rashami asks Sid why he is suddenly being nice to her and whether it's his new strategy. Shukla laughs it off saying he isn't really that smart.
The next morning, Sid and Rashami get into a friendly banter once again.
Asim apologises to Sid, as he wants to sort things out.
But Shehnaaz gets into an argument with Sid, when they discuss their equation.
Everyone assembles in the living area and then Bigg Boss shows them a clip of Asim asking Vishal to stay away from Paras Chhabra and not give him any footage.
Paras, Mahira Sharma and Arti Singh are shocked with the video.
Paras loses his cool with Vishal and Asim and assures them that he will not leave the house without winning the trophy.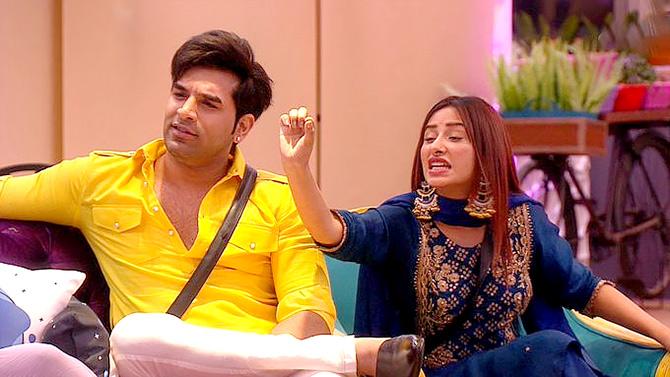 Meanwhile, Shehnaaz and Sid patch-up and she shifts her bed next to his once again. Everything seems normal between them.
In the evening, the nomination task is announced.
Contestants have to sit in a dome kept in the garden area for exactly 17 minutes. Those who manage to do so will be declared safe.
When someone is inside the dome, the other housemates have to disturb them and ruin their strategy.
Since Asim and Sid are elite club members, they can use their power and save themselves from nomination. But they refuse to do so and agree to perform the task.
Vishal is the first one to go and Arti tries her best to distract him.
Mahira and Paras help each other for the task.
When Rashami goes inside the dome, Paras and Mahira try to distract her but she keeps her calm.
The same thing happens when Shehnaaz and Asim go inside the dome.
Arti and Sid compete the task.
Everyone is surprised when Bigg Boss announces the result.
Instead of 17 minutes, Vishal sat in the dome for 33 minutes and gets nominated.
Arti came out of the dome too early and has to join Vishal in the danger zone along with Shukla and Shehnaaz.
Paras, Mahira, Asim and Rashami are declared safe.
---
Namrata Thakker has been covering the entertainment beat for more than seven years and has quite the eye for celebrity fashion. She can be contacted at movies@rediff-inc.com
---