Bigg Boss 13 begins with fights, as the contestants form their groups.
On Day One, everyone wakes up to the annoying sounds of Siddhartha Dey's snores.
After a lazy morning, the celebs chill in the garden area.
In the afternoon, things spice up when Ameesha Patel enters the house and greets the contestants.
She reveals that every week there will be a 'Bathroom Queen' and she will enjoy certain privileges.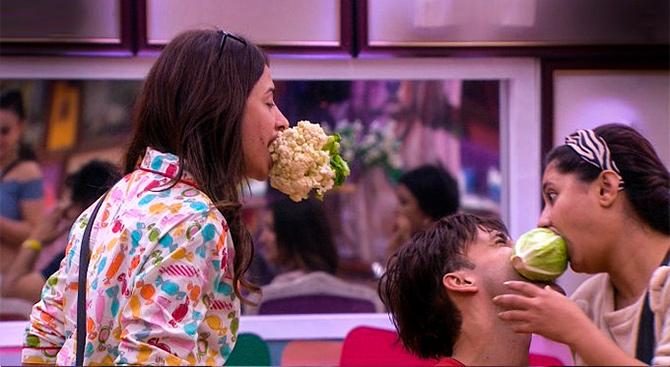 Ameesha then announces that it's time for contestants to do a task in order to earn their rashan. It's a fun activity that everyone does without using their hands.
Ms Patel then exits the house with a promise to return soon.
The celeb contestants are relieved about getting food and rush to the kitchen to finally have a cup of tea.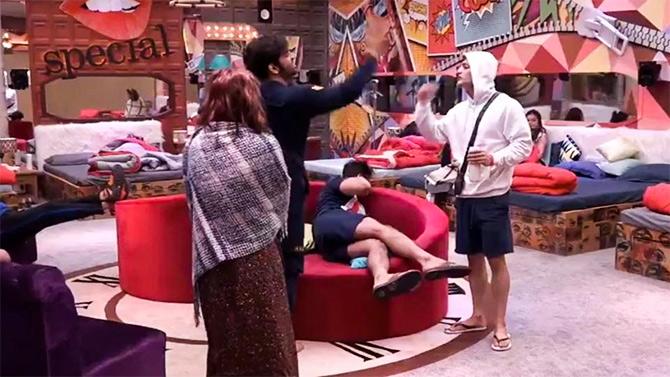 In the afternoon, Shehnaz Gill sings and Asim Riaz raps to entertain the housemates.
Things turn ugly when Asim and Paras have a heated argument. Even Siddhartha gets upset with Asim's rap and joins the fight.
Earlier in the day, Asim gets had been called out for being racist by Paras and Siddhartha.
Well, though the good looking model is having a hard time gelling with the guys, he is certainly stands out and gets more screen time. Good going then, Asim!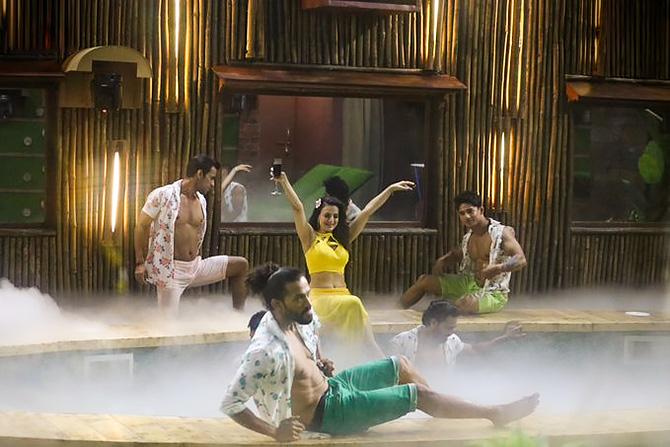 Ameesha enters the house again to give a sizzling performance at the pool.
She then announces the new task Malkin Chahti Hai, where the female contestants have to choose two boys.
The ladies have to write their first impressions about them on their bare chests with lipstick.
Asim Riaz and Abu Malik are chosen for the same and the former ends up with bad comments from everyone and so, receives a black heart from Ameesha.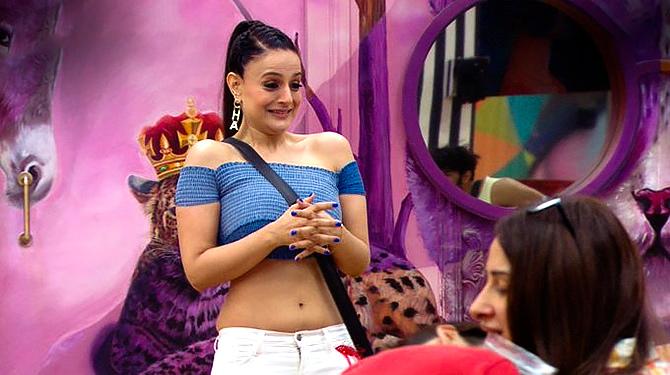 Ameesha tells the contestants that the Bigg Boss will soon reveal what the black heart means.
For another task, Asim and Siddharth Shukla are chosen and they perform satisfactorily.
Lastly, Ameesha asks Abu Malik and Siddhartha Dey to get into the pool and entertain her. Both of them do well but Dey gets the second black heart from Ameesha before she leaves the house.
Day One was definitely entertaining but Day Two will be even juicer, as contestants will participate in the nomination task.
Who will end up in the danger zone and who will be safe? Let's wait and watch!
Photographs: Kind courtesy Colors TV/Twitter