When Katrina Kaif broke hearts inside the house!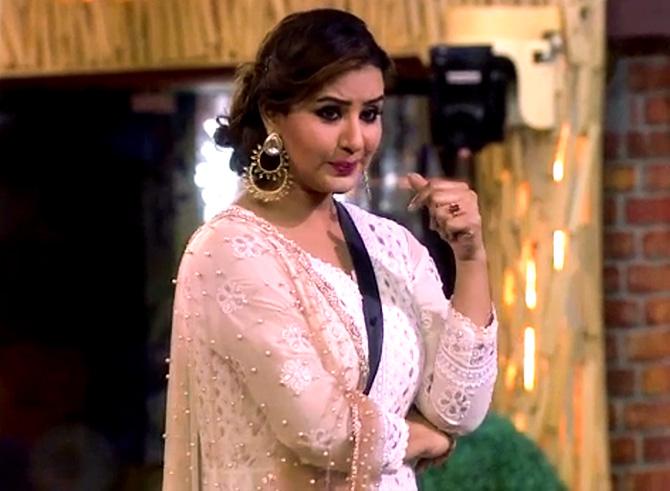 Bigg Boss's Weekend Ka Vaar with the Tiger and his tigress -- Salman Khan and Katrina Kaif -- made our Sunday even more delightful.
Kat enters the house on Day 63 in search of a 'tiger'.
The male contestants are given a series of tests.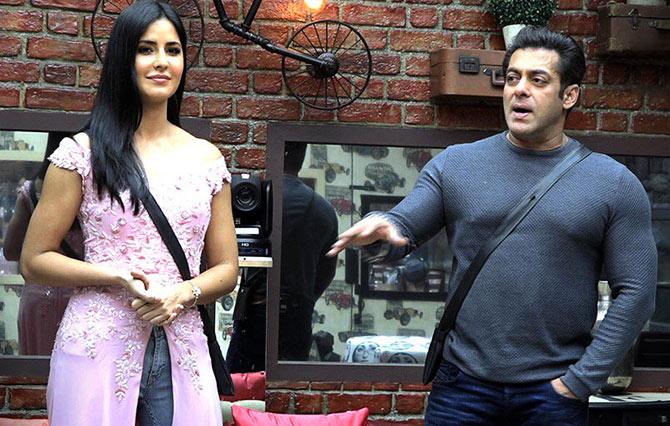 The first is that they have to make a perfect roti.
Akash Dadlani's roti is the worst, so he's out of the race. Puneesh tops the round.
The second round is belly dancing.
Vikas Gupta rocks the stage with his moves, along with Priyank Sharma and Hiten Tejwani. Puneesh comes last, so he gets out.
The last round is drawing Katrina's portrait. None of them win this round, and Salman has to save the day.
Katrina breaks hearts when she declares Salman the winner.
It's time for the Sultani Akhada now.
Nominated contestants Luv and Puneesh have to fight each other.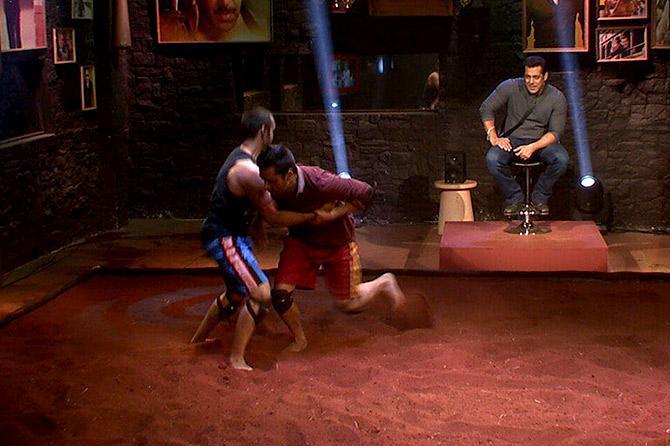 First round: Verbal
It's a tie.
Second round: Physical
Close contest: 1-2
Luv wins.
Salman then comes up with an extravaganza task where the contestants have to go to the swimming pool.
Every time he asks a question and the answer is 'yes', they have to take a step forward and go deeper into the pool.
Hina goes first, and she is waist deep in the pool.
Vikas almost goes under, but Salman stops him.
Shilpa and Arshi go next.
Controversial statements are made during this round.
Priyank feels Hina is insecure about her position in the house.
Shilpa makes it clear that she will never forgive Akash and Arshi.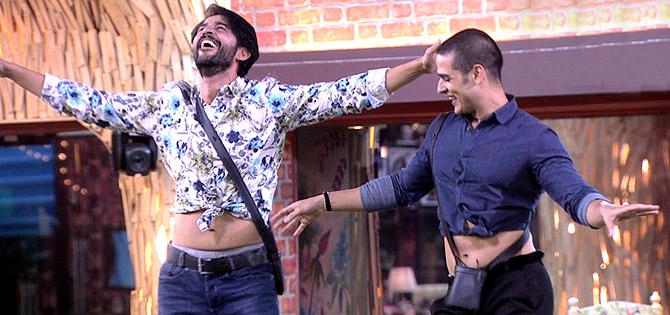 Eviction time!
The majority of the house feel Luv should go.
Salman says he is safe and it's clear that love birds -- Puneesh and Bandagi -- will be separated.
Salman asks them to spend some time alone in a room, and check if both want to quit together or one of them should leave.
Puneesh and Bandagi get very emotional after watching a clip of their moments in the house.
Later, Salman clarifies that the person with the least votes will have to go.
And that's Bandagi.
They say their goodbyes, and Puneesh can't stop crying.
Later, we see Akash consoling Puneesh.
We also see Akash and Arshi strategising their game; the former says his motive is not to get close to Shilpa.
Will Arshi stand by him?
I am happy that Bandagi is gone!
Puneesh can finally use his brains and go forward in the game.
Do you think Salman is taking Shilpa's side a little too much?