Over the weekend, Akanksha was evicted. Good riddance. Cavorting in the jacuzzi and flashing that tattoo did not really help her, says Divya Nair.
If she doesn't up her game, Nitibha is likely to be shown the door this week.
The last few days have seen equations changing in the house as people showed their mean sides.
Manveer and Karan seem to be quietly leading this race in terms of strategy. While Manveer's strategy is to poison people's minds for his benefit, Karan seems to be playing a different game altogether. Those who think Karan is the sweet laddoo in the house need to take stock of how he treats Lopamudra when she seeks his help.
And then, there's the way he ignored Mona's cries when she was sent to jail.
For now, Manu and Manveer are acting like brothers from hell, trying to lead the unruly team of Indiawales. Their target clearly is Nitibha, as she is the only sensible person in the Indiawale group who can see through their strategies.
Nitibha, I liked the way you called Manveer's bluff when he lied about Swami Om linking him and Bani. And the way you stood up to Manu's loud mannerisms. But you need to do more if you want to survive.
Manveer obviously has zero manners -- the rudeness with which he talked to Lopa shows he needs lessons in acceptable human behaviour. It is shameful how no one stepped in and put him in place. He should have been whacked and put in jail right away!
Lokesh, what is wrong with you? You are hidden among the two gundas you fondly hang out with and seem to be getting carried away. If you want to stay in the game, you need to be more expressive and move out of the bully gang.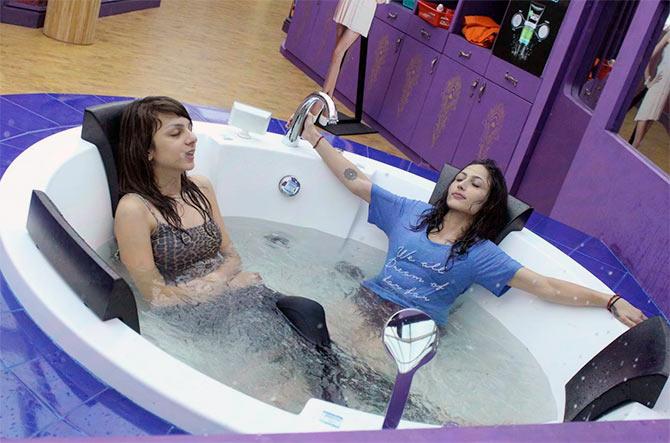 Monday's nomination task has clearly raked up the trust issues in the house.
Bani, I know you got hurt that Gaurav nominated you but I believe you understand the game better than anyone else in the house; Gaurav is the last person you can trust there.
Swamiji, if you want to be a blockbuster hero, you must know how to cry (without glycerine) at the drop of a hat. You gave such a poor performance in the confession room when you complained about Manu and Manveer. And what is this profound message you are trying to give your fans with your silly behaviour in the house? You are running out of alternate career options every day.
Also, it is high time you changed your clothes. I am tired of your red avatar. Seeing so much red on you, my urjja (energy) is getting all heated up (wink wink).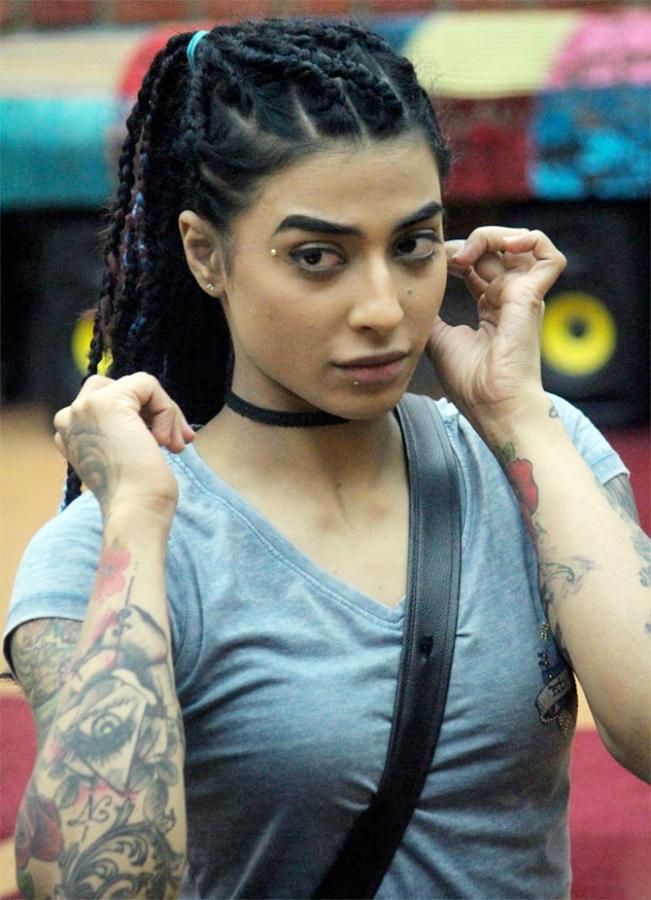 Mona darling, I must say, you are slowly getting into the groove. After playing victim and surviving two evictions, you have mastered the art of staying in the game.
That pool dip was so timely.
It must have enticed your fans, just like it did Manu and Swamiji. Smart move, girl!
And then your masterstroke -- that aggressive kiss on Manu's cheeks may have won you some more enemies in your team but you made your case stronger. People will now want to see more of you and Manu's romance in the weeks to follow. Since you kissed him twice, I wonder if it was a deliberate publicity stunt, your way of irking your teammates who nominated you or just you being bindaas. It definitely did not look like you were performing the task.
Cheater Navin's game makes me believe he must have been a snake in his last life. The way he finds opportunities in the unlikeliest of people makes me believe he can survive long and strong. Now that his teammates have turned their backs against him, he is slowly approaching Mona and winning her trust.
The Raja vs Rank task needs to go on for the next few days so we get to see more real action from the contestants.