Which is *your* best moment of the show?
The 10th season of reality show Bigg Boss has been quite entertaining. The contestants have done their bit for creating drama and its interesting guests on the show has brought it up a few notches too.
We present a recap before the grand finale this weekend.
Meet the Baby Boss!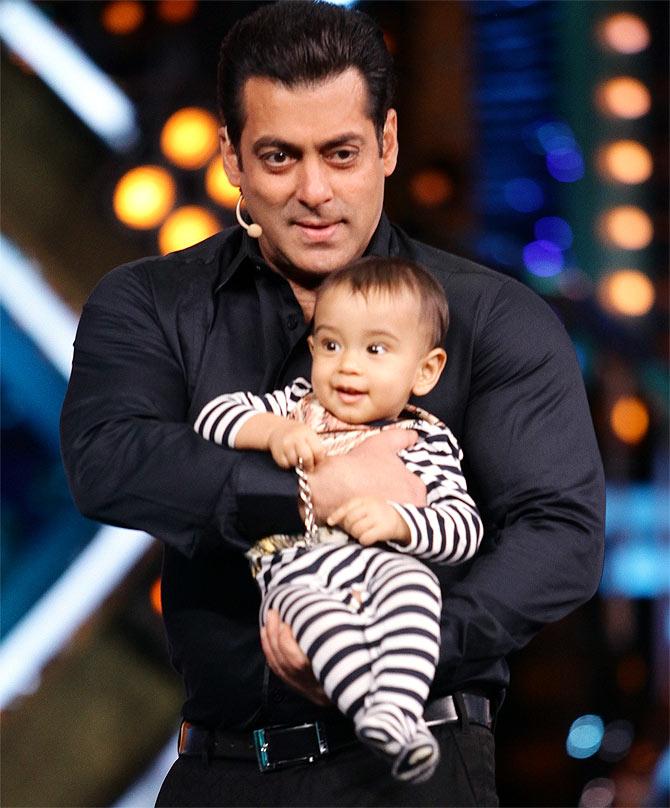 Host Salman Khan's nephew Ahil Sharma made his debut on the show and won hearts instantly. Ahil's parents Arpita and Aayush watched indulgently as Ahil 'hosted' the show with his mamu!
Jacqueline Fernandez, Karan Johar and Ganesh Hegde were also shooting with Salman for the special weekend show and they showered love on the baby.
When Salman gave Ahil the mike and asked him if he would like to host Bigg Boss along with him, even teaching him the opening line, the little one seemed to enjoy himself!


Piyanka urinates on national television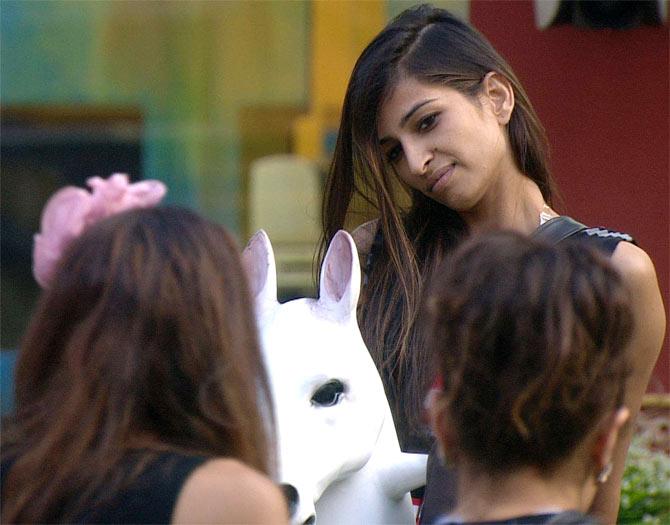 Motor mouth contestant Priyanka Jagga urinated in her pants during a task, in her desperation to win it.
She did win the task but lost brownie points among her housemates when she asked Bani to wash her wet pants.
Salman tells Priyanka to leave!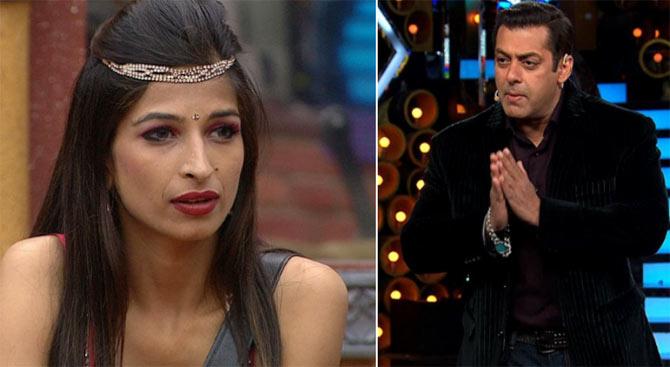 It all began with Salman scolding Priyanka for her misconduct in the house and demanding an explanation.
Priyanka as usual turned nasty.
Her arrogance irked Salman so much that he asked her to leave the house immediately. He also said that he will not work with the Colors channel if they bring Priyanka back on the show.
Swami Om flings urine on Bani-Rohan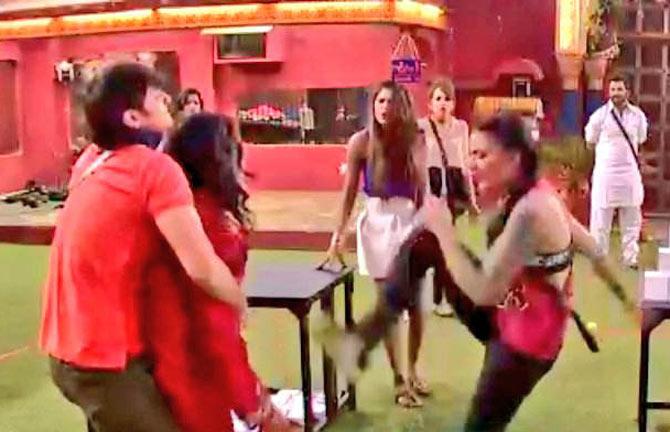 Swami Om has made bad television many times on the show, when he made derogatory comments against Bani's mother and Mona.
He has also faced flak from Salman many times on the show for his unruly behavior.
But he was at his worst when he flung his urine on Bani and Rohan.
In the captaincy task, Swami Om and Bani were required to build a pyramid with blocks provided by the Bigg Boss. In an attempt to support Bani, the contestants did not let the baba complete his pyramid and this infuriated him. What he did next was completely unexpected.
When the Bigg Boss asked him to leave immediately, Swami Om refused to budge. Finally, bouncers had to get Swami Om to finally leave the house.
Mona's wedding
Mona's boyfriend Vikrant Singh Rajpoot entered the Bigg Boss house and proposed marriage to Mona. She said yes, and she had a fairytale wedding on the show. The wedding festivities included the haldi and mehendi functions. Her mother was also invited.
The housemates were divided into gharatis (Rohan, Lopa and Manu) and baratis (Manveer and Bani).
But were Mona and Vikrant paid for the wedding? Rumours suggest that they were paid Rs 50 lakh but Mona denies that here.

Scuffle between Lopa and Bani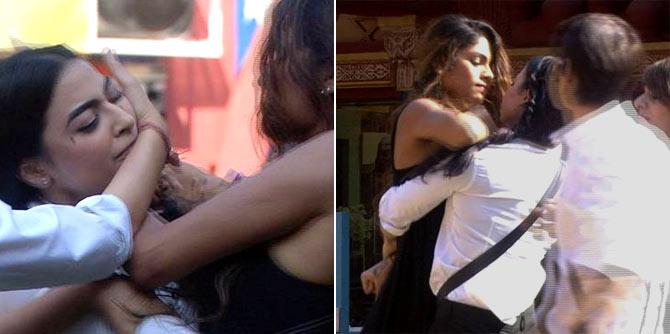 Since the beginning of the season, Bani and Lopa have been getting on each other's nerves. Their dislike took an ugly turn during a task and they got into a fistfight, even as the others looked on stumped.
During the Call Centre task, Lopa said that Bani uses her mother as a weapon to gain sympathy.
Bani lost her cool and tried to bang the phone several times. The scuffle got so intense that Bani tried to choked Lopa's waist with her arms while the others ​tried to stop ​them. But they refused to calm down and started to exchange blows.
Rohan slaps Swami Om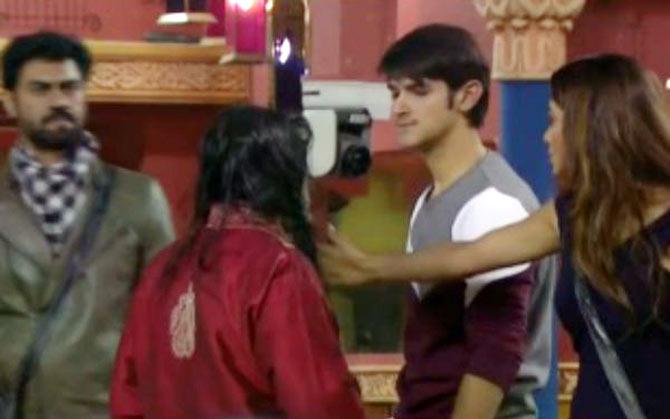 Swami Om has played dirty with almost everyone in the house. But he crossed the line with Rohan in the Toofan task.
During the captainship task where Rohan and Manveer were competing against each other, Swami Om tried to sabotage Rohan's game. While the other housemates tried to stop him, he did not.
Things got out of hand and in a fit of rage, Rohan slapped Swami Om.
Swami Om cried foul and Rohan was punished by being nominated for the entire season.
When the Sultan met the Badshah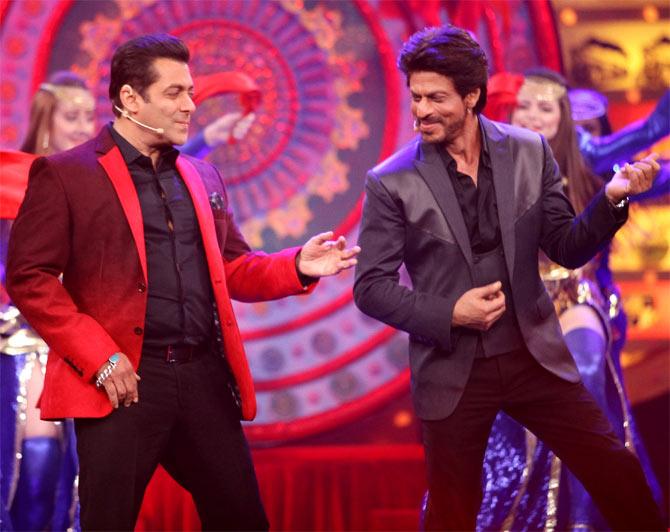 Shah Rukh Khan joined Salman for an episode and they put the house on fire with their amazing chemistry. SRK had put in an appearance to promote his film Raees.
They cracked jokes, danced and had everyone in splits with their humour.
Sunny Leone, who has done an item song Lailaa O Lailaa song in Raees, also returned to the show that gave her a break in the film industry.


The M3 gang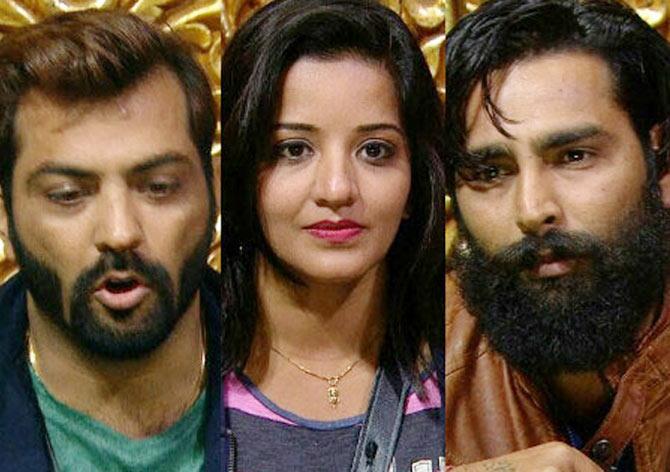 Manu, Manveer and Mona have become such close friends on the show that they nicknamed themselves the M3 gang!
Their friendship has been the talking point of the show and one of the reasons they managed to sail through the season. Things did seem patchy at one point, after Manu's re-entry into the show, when he got upset to see Manveer's growing intimacy with Nitibha.
But it all ended well.


Salman Khan and Govinda's reunion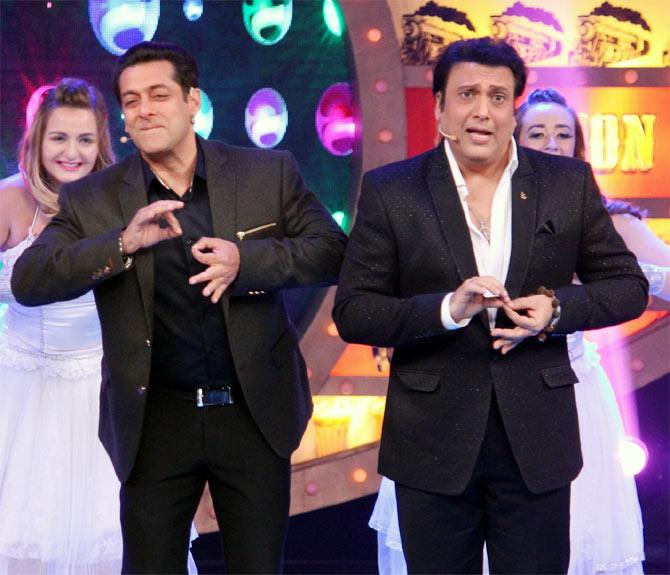 Govinda joined his Partner Salman on an episode to promote his film, Aa Gaya Hero.
He talked about their good old days of shooting Partner and how Salman showed extreme faith in him and helped him make a successful comeback.
Govinda's nephew Krushna Abhishek joined the duo on stage and added to the unique comedy on stage.
They danced to Govinda's songs and set the stage on fire.