'Aapka parda mein faash karke jaunga.'
The Bigg Boss war has begun!
Okay then!
Day Four, and Om Swami sprays himself with deodorant. Not only does he keep spraying on himself but the self-confessed gyaani -- who had claimed to have saved the world from missiles earlier in the show -- wraps one of the deodorant bottles in a red cloth kept in the bathroom area. Really! Did he forget the cameras?
Moving backwards, Rohan is sent behind bars for spilling water (by mistake, as he insists throughout the episode) on Priyanka Jagga. The hot mama of two with a firang husband gets so furious that she claims she knows the 'fair and handsome boy' Rohan from before. Ahem! Seems like there's something interesting yet to be disclosed.
After all the drama, Rohan walks out of the jail, looking upset.
While he locks himself in the washroom, his doting onscreen dad Karan Mehra comes to his rescue. (Quick flashback: Karan and Rohan had essayed the roles of a father and son respectively in the popular Hindi daily soap Yeh Rishta Kya Kehlata Hain.)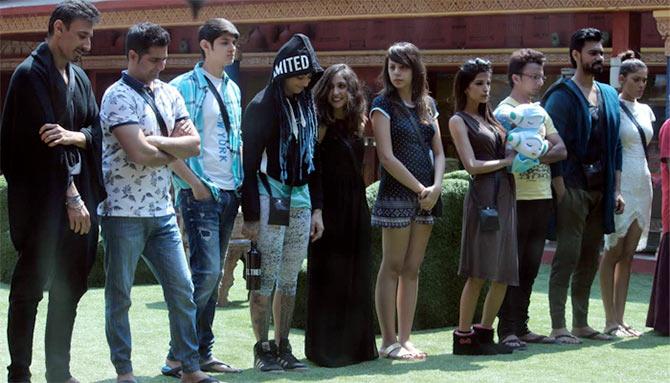 IMAGE: The contestants assemble on Bigg Boss 10
Meanwhile at the dinner table, Priyanka Jagga tells the contestants that she has never observed a fast on Karwa Chauth. In fact, she remembers the first time she had kept the fast and had asked her husband Tim if she could just have water. Her husband asked her to have a drink instead, as he did not know much about the rituals.
Bigg Boss shows three riddles to the celebrities. They start chatting with the Indiawalles to find answers. But yet again, they fail at the getting the right answers.
Kudos to the Indiawalles to have put up a good show by keeping their secrets intact, being successful in confusing the celebrities every time they came up to the 'commoners' to extract information.
Bigg Boss asks Indiawalles to reveal their secrets. The celebrities lose the first task 'Raaz', they continue remaining sevaks of the house.
Video: Watch the Bigg Boss action unfold here.
Later in the day Rohan tries to clarify issues with Priyanka, while Om Swami intrudes and tries to put forward his point of view. Irritated, Rohan says he has sorted his problems with Priyanka but does not think that the same would happen between Swami and him.
Rohan adds, "Aapka parda mein faash karke jaunga." (I will bust your lies).
To this, Om Swami requests Bigg Boss to put Rohan back in jail for using inappropriate words against him.
On the other side, Priyanka teaches Lopa how to clean the room with a broom, which Lopa doesn't like. A verbal spat ensues.
Meanwhile, Bigg Boss announces that each team will nominate a candidate's name from their respective teams, based on their poor performance in the task 'Raaz'. The nominated contestants will be liable for punishment in jail.
Mona Lisa nominates herself while the Indiawalles give Om Swami's name from their team. Both prepare to leave the house for jail.
Priyanka, the new beti of Om Swami, helps him get ready while Mona Lisa dabs on her make-up... as if she will have to perform a peppy number in the jail!
It's Karwa Chauth and Karan Mehra is fasting for his wife. He is waiting for the chaand (moon) to appear. Priyanka can't wait for the moon and starts performing the pooja.
Before her pooja starts, Priyanka appeals to ladies through the camera that even if they are not fasting, they must do the rituals for their husbands. She adds that she wants to win the game by any means.
Om Swami chants mantras for the pooja but Priyanka gets distracted by Rohan and Lopa, who chat with Mona Lisa.
Priyanka asks them to keep quiet but Mona Lisa claims the pooja is only for the camera. A cat fight begins and Manveer jumps in to support his team member Priyanka.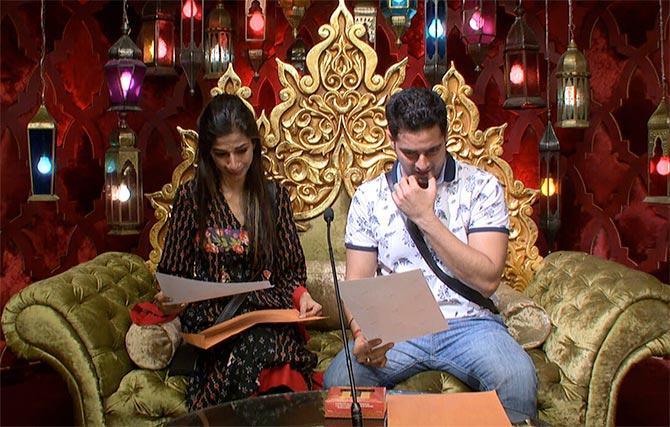 IMAGE: Priyanka Jagga and Karan Mehra in Bigg Boss 10
In the bedroom area, the Indiawalles get into a discussion. Manveer asks Lokesh which team she is on. Lokesh replies in her animated tone and gestures that she's all for 'Insaaniyat' (humanity).
Karan and Priyanka are called by Bigg Boss to the confession room and are shown their family pictures. Karan gets emotional when he sees wife Nisha's photograph.