The discomfort between Bani and Lopa is becoming more obvious, says Divya Nair.
With each passing day and task, Bani seems to forget that she is the byproduct of another reality show. Her tantrums are over-the-roof and contain no logic.
Why should anyone be nice to you, Bani?
When was the last time you warmed up to anyone on the show?
Now that the Indiawalles are sevaks, I want to know why no one is pulling up Manu and Manveer.
I never see them do any household chores; they chit-chat and strategise all the time.
Every time they open their mouths, I feel like muting the television set.
Bigg Boss, you have been really unfair in punishing people this week.
You were so quick in reprimanding Rohan for hurting Bani, but when it came to punishing people speaking in English, you forgot Lopamudra and Nitibha.
Even while performing the sewing machine punishment task, Bani continuously speaks in English.
What good does your punishment serve, Bigg Boss?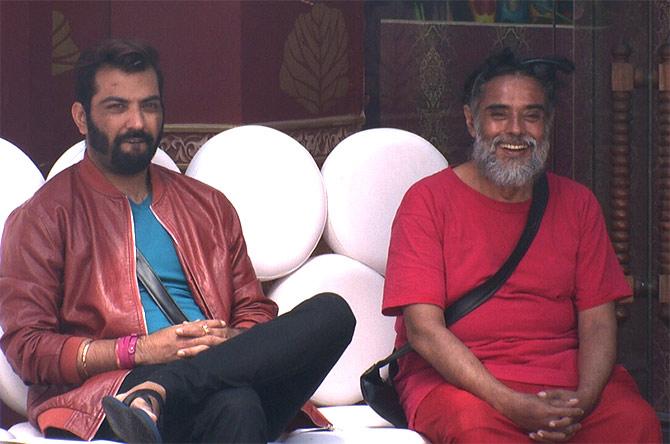 IMAGE: Manu Punjabi and Swami Om.
Lopa and Mona jumped into the pool on Thursday and Dhongi baba and gang were enjoying it as if it was a paid event.
I am looking for the definition of 'charitraheen' (characterless) in Baba's disappearing dictionary.
VIDEO: Watch Lopa and Mona in the pool
Overall, there is a lull inside the house.
The lack of unity among Indiawallas is becoming apparent by the day.
Google girl Nitibha seems to be the new delicate darling of the house.
Since when did jail become luxury for you?
Aren't the jailmates supposed to cook their own food?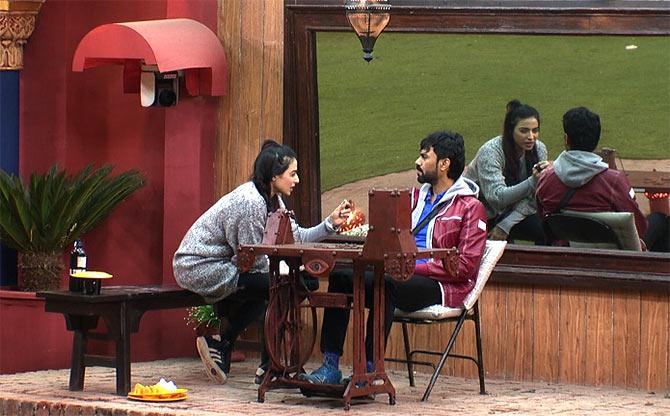 IMAGE: Bani and Gaurav Chopra.
Gaurav seems to forget that there are cameras tracking every conversation.
If you want to make a point to Bani or Mona, you do not need to hide behind 'someone told me' or 'I thought I heard'.
If you think Bani snaps at you, just say it bro!
And speak YOUR mind, don't twist your words like you do all the time.
I am really looking forward to Friday night's episode where Bani and Lopa will lock heads while competing with each other in the immunity task.
Sparks will fly! For sure!