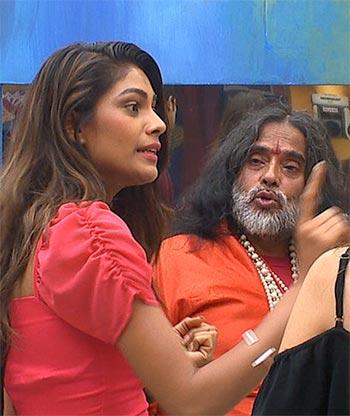 It is less than 100 hours since the Bigg Boss 10 contestants entered the game show but people have already found their ways to steal the thunder.
For the first time, maybe in the history of Bigg Boss, the kitchen is not the focus -- at least the celebrities have made it clear that they are not interested in cooking.
The episode starts with Om Swami ringing the bell in the middle of the night. Om asks Mona Lisa to prepare food for him so he can take his medicine.
This leads to an argument between the Indiawalles and the celebrities at the dinner table, citing that asking for food late in the night was wrong.
Om gets aggressive and Priyanka Jagga joins him. The celebrities stand as a team and argue that Om should mind his language and temper.
In the morning, Om has a discussion with Naveen and Manu Punjabi and says that Gaurav Chopra is manipulating Akanksha Sharma by making her believe that he will marry her.
In the bathroom area, Om apologises to Lopamudra Raut for his behaviour and blames his high temperature as the reason behind his temper. Lopa busts his lie.
Photograph: Nitibha Kaul and Bani J ask Manu Punjabi to calm down during breakfast.
Meanwhile, there is a loud fight at the breakfast table between Manu and Rohan Mehra.
Rohan requests everyone to let him at least eat in peace but everyone keeps yelling at each other.
Priyanka takes Rohan out, talks to him and everything is back to normal.
Mona Lisa, on the other hand, attempts to cry in front of the camera (she can easily bahg all the awards for terrible acting) and requests Bigg Boss to take her out of the house as she cannot tolerate the yelling and screaming.
As a part of this week's task, Bigg Boss poses three questions.
The first raaz is: Aasman ke chaand par dhyan se dekho daag nahi hai, par Bigg Boss ke iss chaand pe dekho daag ek nahi hai.
Celebrities guess that the riddle is for Lokesh, but that turns out to be the wrong answer.
The second question is: Apne desh se pyaar toh sabhi ko hota hai, par mujhe kuch jyada hi hai, main apne desh ko pyaar ki missile se bachana chahta hu, kaun hu main?
Bani takes Om's name and gets it right.
Later, Lopa confronts Om and asks him if he was happy now that his secret was out without her revealing it.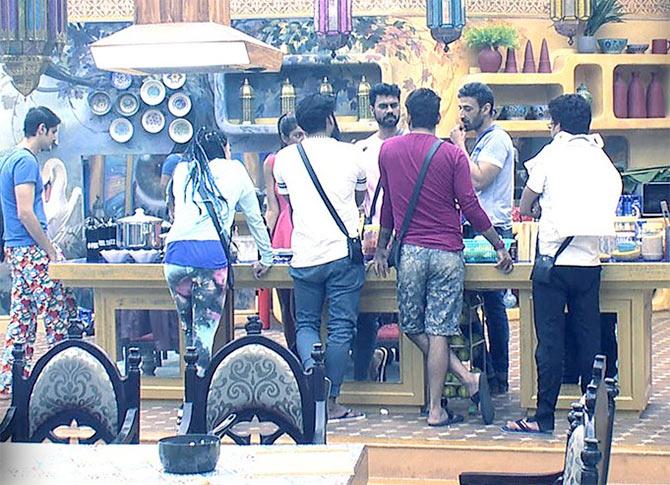 Photograph: Contestants have quick a chat in the kitchen area.
Lopa asks him if he does tantra vidya to which Om rants about how through tantra vidya, he can bring ghosts to life (Ektaa Kapoor, I hope you are taking notes).
Another riddle is asked about the person who is so scared that s/he sleeps with a toy. Celebrities guess Priyanka, but the answer is wrong.
Nitibha tells the camera that the riddle was about her and that she is glad she could trick the celebrities from knowing the truth.
Later that night, Priyanka rings the bell and ask the sevaks to get water for her and Om.
Rohan and Mona Lisa walk to the kitchen and get two mugs of water. Rohan tries to force the mug of water down Priyanka's throat because she'd said "paani pila do."
Priyanka gets upset, drops the mug and creates a scene, waking up everyone.