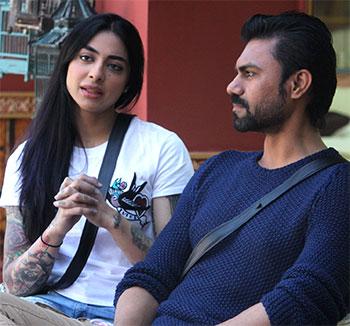 Bani has no leadership skills, says Tista Sengupta.
Just like every Monday, last night's episode was packed with excitement and high energy. Why?
It's the weekly nomination episode, of course.
After motivation and criticism from former Bigg Boss contestants Tanisha Mukherji and VJ Andy -- and the contestants' revelations in the Weekend Ka Vaar with Salman Khan -- the housemates looked pumped up for the week ahead.
I wonder how the three lazy stooges -- Karan, Rahul, Rohan -- entertain audiences this week!
As the day progresses, the housemates take up household chores, but don't seem happy with the division of work.
Manu tells Bani that he might ask Lokesh to help them in the household work as Swami Om isn't -- no surprises here -- doing his share of duty.
Bani's reply: If Swami Om doesn't want to do anything, that's his choice.
Come on Bani, buck up! A captain ensures everyone does their assigned jobs and if they don't, the captain can punish them.
Girl, I seriously doubt if you have any leadership skills.
Annoyed with the housemates, Bani thinks people manufacture hype out of nothing.
While she decides never to get along with Manu, she tells Gaurav how Manu went nuts when she sent him to jail.
If Manu is isolated, Gaurav declares he won't survive in the Bigg Boss house.
I agree with Gaurav.
Until he mocks, mimics and discusses the other inmates with his besties Manveer and Mona, Manu's day isn't made.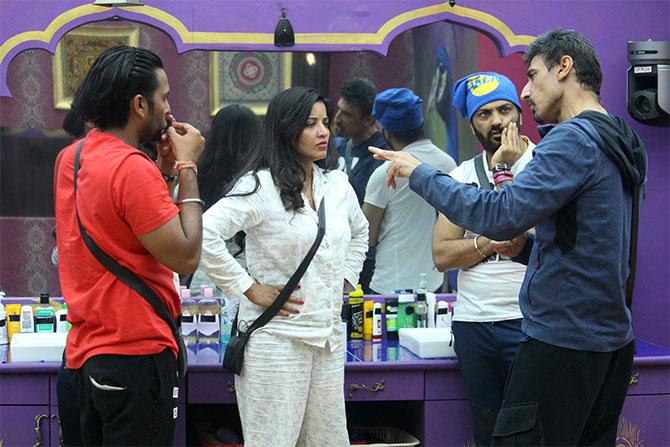 IMAGE: Manveer, Mona, Rahul and Manu on Bigg Boss 10.
In the midst of all this drama, the nominations begin.
Bani -- who is safe from this week's nominations -- can't cast her vote as the Bigg Boss thinks the contestants have broken several house laws during her captaincy.
Nitibha uses the Immunity Medallion to save herself from the nominations.
Swami Om is also declared safe as he is a wild card entry.
This week, the contestants need to unanimously nominate four contestants who they think haven't been entertaining in the house.
Jeez, such a simple thing!
Rahul, Rohan and Karan were the obvious names, but the contestants still made sure there was enough confusion to make it interesting.
After a series of arguments and two rounds of voting, the contestants reach a consensus and nominate Rahul, Karan, Lokesh and Mona for this week's eviction.
IMAGE: Watch the drama unfold on Bigg Boss 10.
Swami Om and Manu have an ugly spat when the former makes a last-minute nomination.
Manu, Swami says, has been trying to save his 'premika' Mona from the nominations.
When an infuriated Manu raises his fist to punch Swami Om, Rahul intervenes.
Mona ends up abusing Swami Om.
Babaji needs to start thinking before he speaks or he may just get beaten up.
Dear Mona, if you want people not to label you a 'premika' you have to stop giving a flying f*** as to what the world thinks.
The more you try to explain, the more people will talk about it.
On the other hand, Bani accuses Lopa of supporting the 'commoners'. Lopa -- a tough nut to crack -- replies she doesn't need Bani's opinion.
She reminds Bani that she is her sevika for 24 hours as Bani lost the wrestling match to her and demands food.
As the day comes to an end, Manu and Manveer tell Lokesh not to support the celebrities.
Manu calls Rohan a 'snack'... ummm, he means 'snake'... and warns her to be careful around him.